Volvo XC60 SUV with a starting price of Rs 52.90 lakh (ex-showroom, Delhi) is one of the safest SUVs available for sale in the Indian market. The SUV shares the structural and design elements with XC90 and comes equipped with a host of active and passive safety features. Among the prominent safety equipment, the XC60 offers a semi-autonomous driving system, a pilot-assist detection system, and autonomous braking system.
Design of the XC60 is typically Volvo – a perfect combination of understated elegance and sophisticated luxury. Upfront low slung nose defines its face while in profile, chunky alloy wheels, rising window line, and strong character streaks grab the attention. Thor hammer's in the headlight, the new grille, the subtly sculpted front bumper make the car look very fresh and modern. At the rear, dynamic curves are the ones which hog all the limelight. In sum, the XC60 is beautifully designed and crafted.
Step inside the cabin and one can easily feel the amount of effort Volvo has invested to put the interiors together. The design is minimalist, but feels very premium at the same time. Among the key features, one gets a mind-blowingly good Bowers and Wilkins audio system, 360-degree camera parking, a large touch-screen infotainment system, heads-up display, a large sunroof, adaptive cruise control, front and rear parking sensors, reversing camera, static bending fog lamps, digital rear a/c vents are segment bespoke and semi-automatic parking system.
Further, one can fold the rear seat electronically and access the boot via hands-free feature. Space in the back is segment best with more than adequate leg, knee and shoulder room. Headroom is good but not great thanks to the protruding sunroof.
Under the hood, Volvo XC60 comes powered by a 2.0-liter D5 diesel engine putting out 254 PS and 480Nm of max power and max torque respectively. The engine is coupled with an 8-speed automatic transmission and the SUV offers all-wheel-drive as a standard feature. That said, there is no manual gearbox option available on XC60.
Driving the Volvo XC60 again on familiar road reinstates that the car is one of the best in terms of isolation from the outer world as NVH and all kinds of noises are kept at bay. Stability is spot on at any given speed on the highway. Ride quality is plush at the same time thanks to comfort mode. Dynamic mode makes things more responsive but they continue to feel neutral in nature which means relaxed driving is guaranteed, at the same time, you get urgency when you need it.
The engine is the most powerful in its class as the figures above suggest and it has an explosive mid-range and top-end performance that punches through the air with sheer velocity un expirienced before. Low-end is taken care of despite a single turbo charger because of a compressor shooting air into it directly the moment the pedal is depressed entirely. Overall, a great power train on offer.
Driving dynamics also have the same character, there is body roll, but well contained, even in dynamic mode. Volvo says they are not trying to be sporty here and everything is done in the interest of comfort, relaxed and stable driving dynamics. Brakes are good with great pedal bite. Steering feedback is good enough along with precision and lightness is on offer for city duties.
2019 Volvo XC60 India Review, Verdict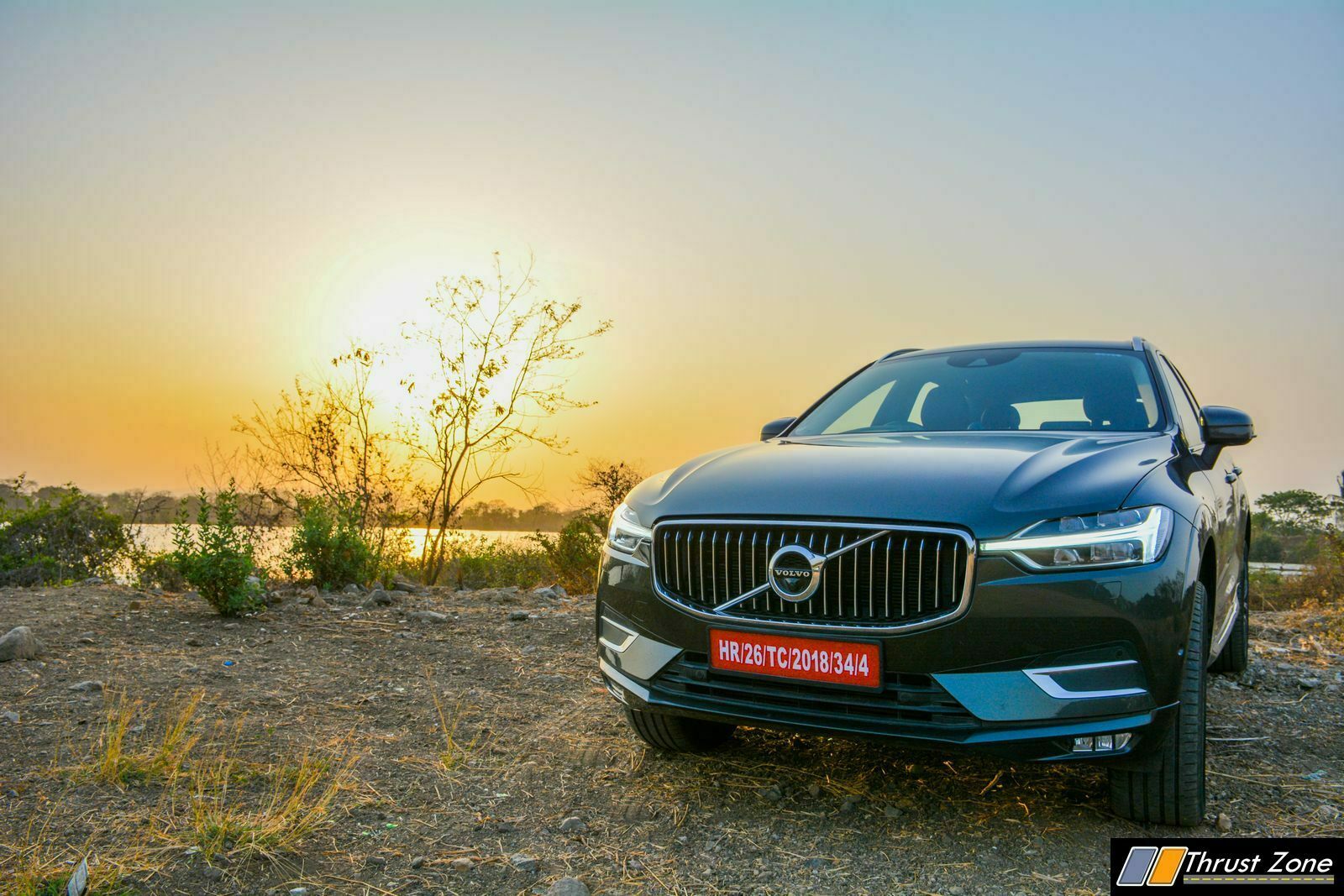 Volvo offers XC60 in India in two variants – Momentum D4 (Rs 52.90 lakh) and Inscription D5 (Rs 59.90 lakh). In terms of competition, the XC60 is competing against Mercedes GLC, BMW X3, Audi Q5, and Land Rover Discovery Sport among others. Sure, the XC60 despite AWD isn't an hardcore off-roader like some of its rival or isn't sporty to drive.
The Volvo XC60 towers over every one and wins as it offers you would ever need from a luxury car. Be it safety, bespoke-ness and standing out of the crowd are core elements of the XC60. No wonder it did well till the new model came to the Indian market. All of that and it also includes that fantastic sticker price that Volvo has put on the XC60.