Sedan sales in the world market are shrinking. The same can be said about the Indian market, just like any other Asian market. SUV's are gaining popularity. However, there are some sedans which continue to bring volumes and strengthen the brand's portfolio in the luxury space. For Audi, that is the A6. A popular model once in our country, it has come back in an all new avatar.
The A6 used to come with varieties of options when it comes to engines, this time around its just the petrol version, for now. Will it lose its appeal for what it was known for? Things such as V6 engines and quattro, that are missing now? We find out as we spend some time with it, 400 kms to be precise.
The design has changed dramatically at the front with a large grille, chunkier headlamp unit with twin LED DRL units. Rear gets Audi A8L inspired LED tail-lamps with sequential LED turn indicators. The side profile witnesses more lines, a hint of muscular lines and new 18-inch wheels which are new in design and look very futuristic as well.
Front bumper is almost seems integrated into the front grille and bonnet lines at the top make the car look fresh and masculine. At the same time the overall silhouette gets changes to preserve the standard Audi sedan look which is understated and yet sophisticated.
Audi always gets interior right and this time its no exception either. The new space age looking steering wheel with large gaps in between feels like it was designed to be a joystick but it got the usual rounded top to make it more conventional. The dashboard is more driver centric. The screen are large and have touch which feels like touching a plastic button as the haptic touch has been calibrated in that way.
The lower screen has A/C controls which can be viewed in two ways. Just like how the virtual cockpit at the top can be seen in two ways. There are new headlamp buttons which replaces the switches of the past. There are still buttons for drive modes and passive safety features. Parallel park, rear sunshade button and auto start stop are digital buttons. Meanwhile, the hazard light front and rear defogger, parking sensor and camera are still physical buttons. Lane keep assist can be bothersome on our highways. Button is on the indicator stalk to switch it off.
Quality in the cabin continues to be top-notch. Right use of colors, aluminium and piano black with faux wood makes it stand out. Space in the back is more than adequate in every regard. It continues to be a four seater. There is an arm-rest, rear a/c vent, rear sunblinds are manual and seats are downright comfortable for long distance trips. Boot space stands at 530 litres but isn't deep as you expect thanks to engine electrification items kept below it. Features list includes everything you could ever need.
Keyless entry, electric parking brake, auto hold, 10-inch touch screen, voice commands, start-stop, apple car play and android auto, wifi hot spot, four zone climate control, cruise control, automatic wipers and headlamps, 10-inch screen, all around parking sensors, wireless charging and extensively immersive Bang and Olfusen 3D surround sound system, which is clearly a downright treat if you are an audiophile. Large panoramic sunroof, ambient lighting, leather and electric seats along with memory up the luxury part. Safety includes 7 airbags, ABS, EBD and traction control and more is on offer.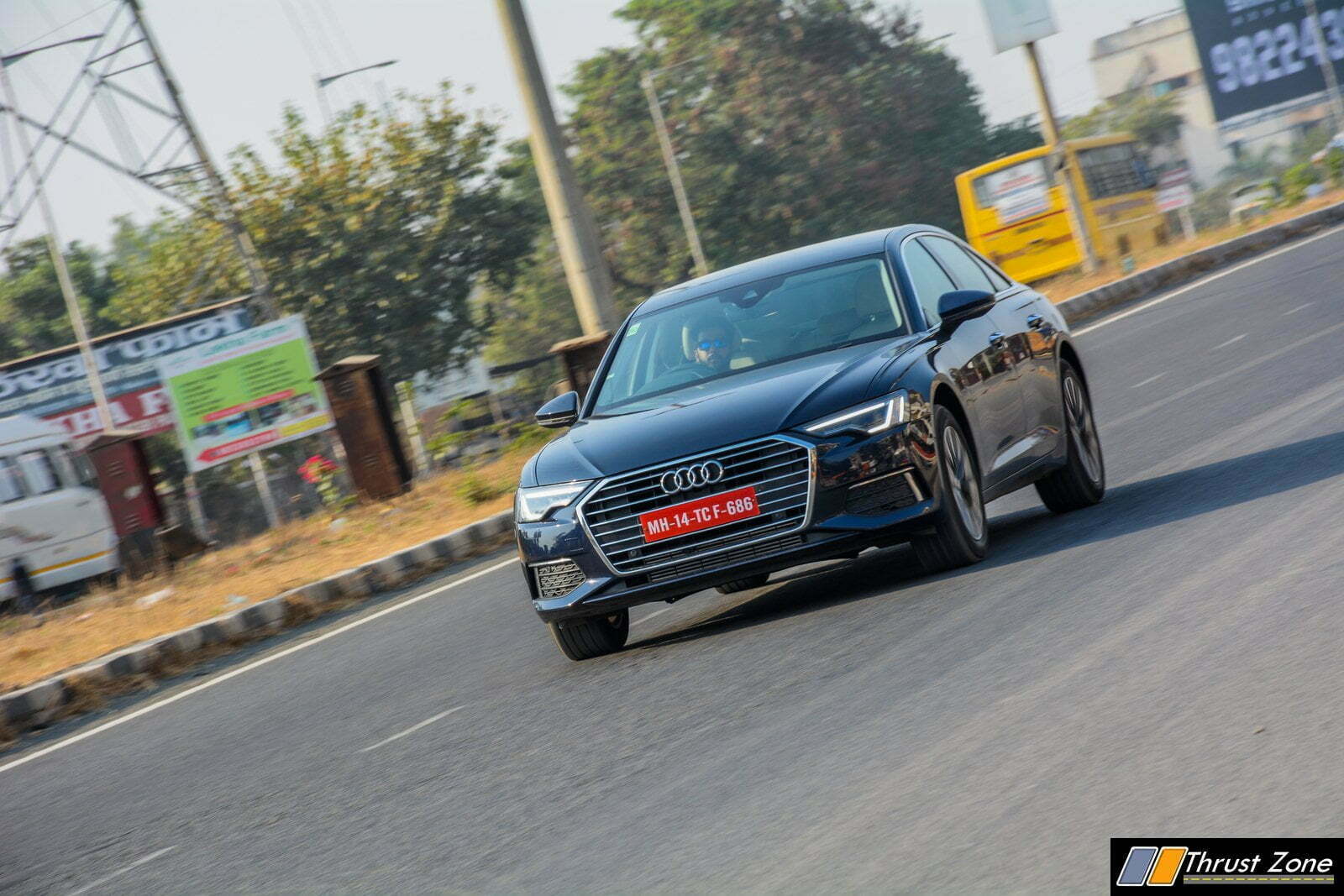 Powering the car is the same 2.0 litre motor from the past but with 48V mild hybrid system which adds more torque when you require which is stored in the integrated motor while coasting and braking via the kinetic energy. This system is flawless and works with the start-stop system to save more fuel. Motor makes 245 BHP of power and 370 Nm of torque from the four-cylinder motor. NVH level inside the cabin are very well muted thanks to the refined motor.
The power is delivered only to the front wheels via a 7-speed DSG gearbox. The shifts are smooth, fast and seamless. The motor loves to redline quickly while making torque throughout the rev range. The typical sonorous sound from the exhaust continues with this Audi as well. Audi A6 in this engine variant is quick enough at 0-100 km/hr coming in 6.8 seconds. While the motor is smooth, we think it could have been a bit more smoother or wait for BS6 fuel to come.
We were probably running on BS4 fuel in this BS6 engine. With BS6 fuel it should smoothen out even more and making creamy smooth as before, which is still present for the most part, but as expected, that last part needs to be smoothed out. We got a fuel economy of doing a Mumbai-Pune run of 9.2 km/l which was great as we used all driving modes such as economy (in city), comfort (fast moving highway) and sport (for brief periods of time). All modes delivered power as the modes would suggest and it provided driveability and performance at the same time while being economical too.
Dynamically, there is air suspension which was also adjusted according to the modes. Steering feedback was good enough but precision and ease of use was excellent. Brakes and tyres provided very good confidence as the pedal bite was impressive as well. Body roll was existent but it was well controlled. Pushing the FWD saloon saw us experience a bit of understeer. We wish the V6 with quattro would come someday or this variant also deserves quattro to make it worthy against its RWD competition. Audi A6 was stable on the highway and easy enough to be dealt with in the city. Ride quality as a result of all of this was excellent at any given speed making it comfortable for driver or while being chauffeur driven around.
2020 Audi A6 Petrol India Review, Verdict
Audi A6 sedan in its all new 2020 avatar is certainly priced well. It is loaded with technology, enough luxury and comfort to be considered by people who want to be driven around and drive from to time but not enthusiastically. While engine and gearbox in the drivetrain part is good, its the power being delivered to which wheels matters the most.
However, with its good value, Audi's improving after sales programmes, sprightly performance and badge power that it has in the country along with a loyal fan base for this car throughout these years, the A6 should find a lot of great homes to be in and they certainly won't be disappointed with this as the evolution is high and on point this time around which Audi always delivers on point.