Probably the most awaited when it came and the most frequently updated motorcycle in its class, the TVS Apache RR310 needs no introduction. It has created a niche class for itself for being a 300cc supersport bike that can do it all. Touring, commuting, weekend rides and track days. To make sure it feels home while doing everything, BS6 TVS Apache RR310 has all the necessary changes to support that aspect quite well. Riding modes are the aspect that fit every role that the RR310 can do. Other changes include a massive mobile like the colour screen in the front, which is vertically mounted which is the major highlight. It has all the essetional feature you could ever ask for. Right from fuel efficiency meter to track timer.
Changes to other things that were done before the major BS6 update came in were a claimed reduction in vibration, changes to the windscreen and other bits which riders ask constantly since launch. Other changes include a new gloss paint for the two-colour schemes on offer such as black and red. The fantastic headlight looks and illuminates well but the adjustment of beams can be off in some bikes and can point towards the sky. Tail-lamps also look good, there is a pillion seat which is quite comfortable in our test but only for short city rides which are complemented by a proper grab rail.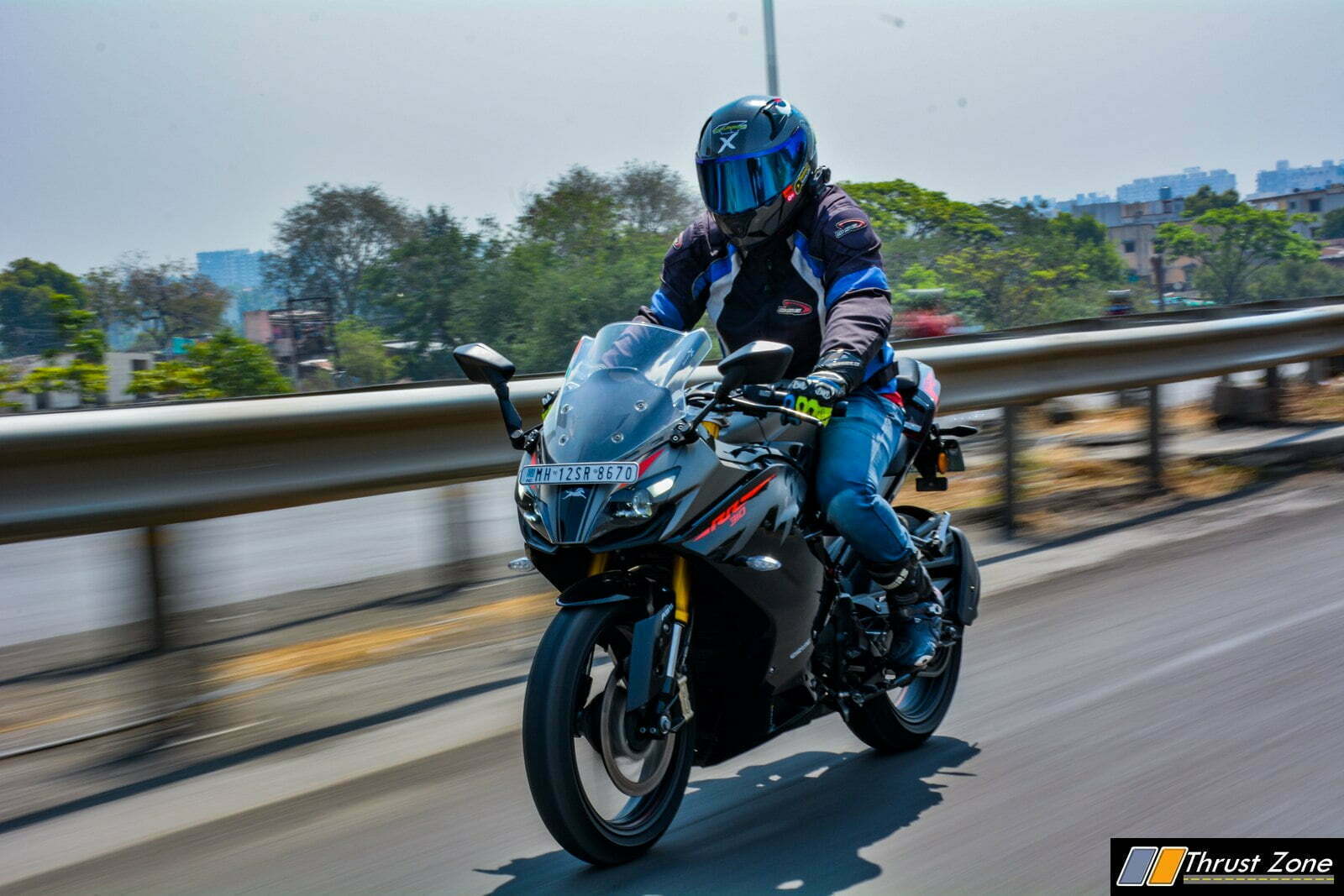 While riding what we noticed instantly over the previous version is how the chassis feels more responsive, the tyres feel much lighter and communicative than the previous Michelins which we had for long term testing as well. The bike drops into corners with much more confidence and easily and as always it feels as dynamic as the R15 despite committed ergonomics, which we always say after spending some time with the Apache RR310. It is agile and nimble which makes it easy to live with it on a daily basis. Ride quality is quite well balanced at both Ends. Be it for broken roads or smooth twisty roads, a reason why RR310 scores high marks. Brakes have enough power and the initial bite is good enough, but on the track, while pushing it quite hard, a peakier setup could be required.
The engine now gets riding mode such as Urban, Rain, Sport and Track. We started off with the track mode to realize that nothing has changed over the previous BS4 motorcycle which already had a very linear power delivery. Switching to Urban and Rain makes you realize the power deficit and how much easier it becomes to ride as the track mode and BS4 bike have near-identical power delivery even now with this version.
The reason you would stay in other modes is the additional fuel economy you can expect from them. You could use them in the rain as well to feel more secure on wet and greasy roads. We would recommend staying in Eco and City mode and then jumping to the track mode while sport touring and weekend riding in the twisty section. We did encounter ABS system acting very early in track mode.
The power remains the same at 34 Ps of power and 28 Nm of torque from the single-cylinder motor that comes mated to a gearbox which remains clunky as before. The mid-range of the engine is good but quickly runs out of steam than expected. Low-end power is adequate, a reason why the RR310 is great to ride in the city just like before. The intake and exhaust take is gruff and not even slightly pleasant to hear like the KTM's. The clutch is light and so is the downshifting from higher speeds is easier thanks to the slipper clutch on offer.
BS6 TVS Apache RR310 Review, Verdict
The motorcycle continues to look and handle great, have a ton of features and now is loaded with features as well. This should make the RR310 a great bike to consider and recommend. However, with the engine not feeling as good as its segment rival, the KTM 250 or the 390 and it just cut the deal for the enthusiast to look for something exciting. Yes, less exciting means docile and easy nature which does appeal to a larger audience and where the RR310 becomes a recommendable product.
With more changes expected in the motorcycle and the prices set to go higher in the year 2021, it remains a question that needs to be answered, which is apparently every six months, that is when a new upgrade seems to be popping up from the Hosur based manufacturer. However, the pricing now at an all-time high and it continues to get higher as well, it is only recommended if you can stretch your budget.
2020 BS6 TVS Apache RR310 Review
Design

Features

Safety

Performance

Dynamics

Practicality

Value

Comfort