The Discovery Sport is an important product for Land Rover throughout the world. It proved the same in India as well. An entry-level product that has to be priced well and perform every day challenging duties in India conditions and more importantly please the highest demanding customer in the world that exist in India. Land Rover has cracked it with the Discovery Sport and now it has launched a newer version! So why fix something which isn't broke entirely? Well, freshness and touch of every updating technology is need of the day. Discovery Sport now meets all norms and is updated inside out to be sold in India. Will it re-create magic on Indian roads for JLR India? We find out as we spend some quality time with it.
Design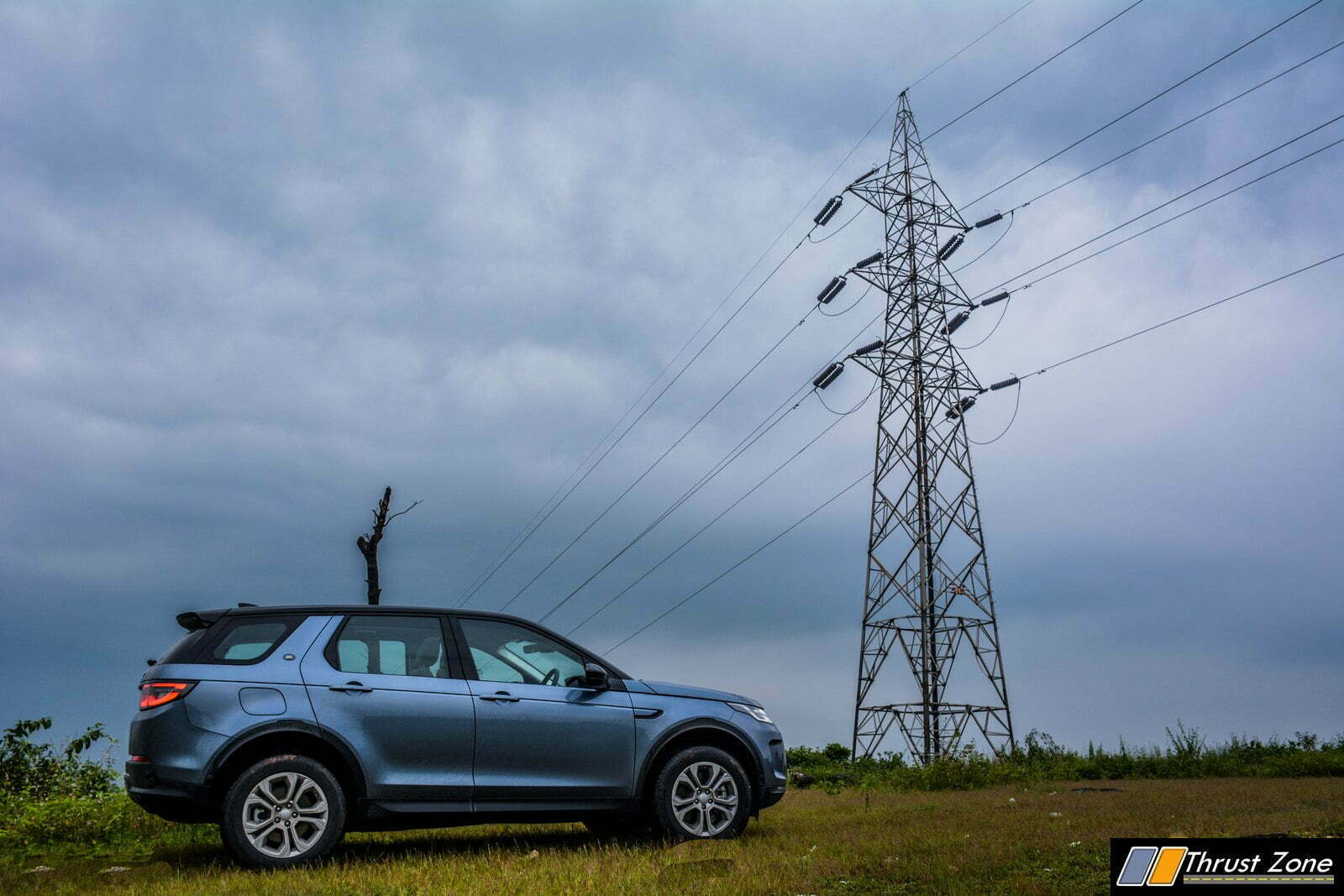 The silhouette of the Discovery Sport has been an iconic one and that has not been changed. What you get a similar stance, road presence and dual-tone paint scheme which stands out as butch British design which is just a hint away from boxy. What has changed though is the headlight which has rectangular LED DRL at the front and back inside wrap around head-tail lamps. A theme which continues from the older car of offering similar DRL at the front and at the back.
Our grey and black dual-tone car stood out while shooting and driving in the monsoons. The alloy wheels are all new and look good and so are the bumpers. The front bumper is taken from the Land Rover Discovery, the elder brother in the range.
Interiors
Talking about the interiors, the quality all around has gotten better with the introduction of wood elements included in this car along with the usual piano black and brushed aluminium with stitched leather making the cabin a plush place to be. Some plastics could be better down below in the cabin but they feel robust enough to make up for it. Space in the back continues to be adequate in all department. Be it leg, knee and under-thigh support for heights of passengers. Headroom and shoulder room are in plenty and along with good glass area all around making it an ideal long-distance car to be in. Boot space at 740 litres with 5 seats (not 7) up makes it quite spacious to keep a lot of luggage for all its passengers.
The gear lever is now taken from the F-type the iconic round dial which rises from above is gone from the car. Features list now includes a new Land Rover InControl® Touch Pro™ infotainment, fitted standard, is available with Apple CarPlay® and Android Auto™. JLR has artificial intelligence algorithms to learn driver preferences, adjusting massage and seat positions, music and climate settings and steering column positioning to suit each driver.
Wireless charging, 4G Wi-Fi hotspot, InControl Remote & Protect App allows you to connect with the car from anywhere, which allows you to see your vehicle's data remotely features such as fuel level to door and window status. There is now the option of emergency call (eCall) and breakdown call (bCall) facility as well. We experienced a sound system which was not a Meridian unit that turned out to be slightly better than the aforementioned one. Fixed panoramic sunroof means you cannot open it and that is infact is the best way to utilize a sunroof in our country.
It comes with a fabric cover which covers the glass in hot situations. There are more new features in the HSE variant but since we drove the S variant, we could only experience these. The bespoke part to the Discovery Sport against all its peers is the micro screens on the steering wheels that help you get best of the instrument cluster whichever it may be. Let it be LCD unit entirely or this part dial, part middle screen unit. It changes functionality at a touch on the button and lets you navigate with ease the trip meters, fuel efficiency parameters, vehicle settings, display and more while looking quite futuristic and cooler than its peers.
Driving
When it comes to driving the SUV, we had the 2.0 litre motor we had on test was a diesel unit making 180 PS of power and 430 Nm of torque. Mated to a 9-speed gearbox, which shifts smoothly most of the time is great for normal driving on city and highway. Making a quick run makes you realize gearbox isn't very quick to respond to your rapid requirements. You can take manual control or put it in sport mode which makes gear changes slightly more noticeable and it ends upshifting at redline.
Talking about the engine. The big change is the transition from BS4 to BS6. The motor is more linear, smoother and the kick in the pants is substantially subdued. It does feel slightly heavy and lumpy over its rivals such as the Germans but is quite close to the Volvo in the way it feels. Highly strung four-cylinder diesel turbo motor need lighter flywheels to make them feel that way. However, in-return they can increase NVH levels which would not be ideal. NVH levels in the DS BS6 have gone down quite further, the throttle response is more precise than already impressive BS4 version and it feels great specifically on-road and the off-road as well. Low and mid-range torque is noteworthy and top-end power is above adequate as well, making it an all-rounder no matter however and wherever you drive it. Fuel efficiency is in the range of 11 km/l in the city 14 km/l on the highway.
We all know Discovery Sport is a fantastic off-road and with able dynamics for the road as well and this facelift continues to do the same and more. Off-road modes thanks to Terrain response makes things easier for customers to go through sand, rocks, mud and ruts. On the road, body roll is well in check and despite that ride quality is exceptional. Be it the top stroke or bottom stroke of the suspension it takes off all imperfection at all speeds making the DS feel indestructible.
The steering wheel is light and precise at slow speeds and weighs up well on the highway too. Precision makes it fun to chuck into a corner or changing lanes and it does feel quite light on its feet despite being rock solid at highway speeds. Brakes, pedal bite and tyres provide great confidence at all times with good pedal bite feel and great mechanical grip and confidence from the tyres respectively.
2020 Land Rover Discovery Sport Facelift Diesel India Review,Verdict
The 2020 Discovery Sport continues to be an exceptional all-rounder in this segment. The manufacturer is trying its best to up its cabin quality, feature list and other wow factors to get the customer to the showroom floors. This time it has taken a substantial step in doing so and it will surely appeal to customers who take their luxury purchase seriously. Whether they use it on a daily basis and appreciate its ability, enjoy it on an occasional basis while doing trips, off-road sessions and realize how much of a special car they have in a tough skin and something that has class and soul, which makes it bespoke and enjoyable to own as time passes by.