The new GLE Coupé from Mercedes-Benz and Mercedes-AMG blends the sportiness and elegance of a coupé with the engineering of the new large premium-SUV model series from Mercedes-Benz. At the launch, powerful six-cylinder diesel engines in the form of the 350 d and 400 d are initially available. Together with the new 4MATIC with torque on demand and the wheelbase 60 mm shorter than on the GLE SUV they ensure a pleasurably dynamic driving experience. The petrol version available at market launch is the Mercedes-AMG GLE 53 4MATIC+ Coupé Preparations are under way for a plug-in-hybrid version with a practical, locally emission-free range as for the GLE SUV.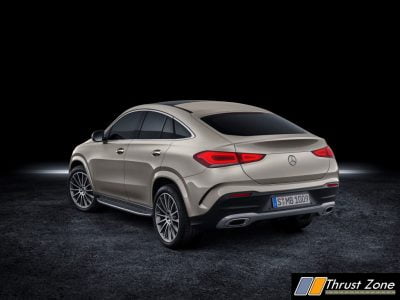 Highlights.
The exterior design places a stronger emphasis on the coupé-specific elegance and sportiness.
Improved aerodynamics cut the wind resistance by nine percent compared with the predecessor, with the same front surface.
The chassis with the optional AIRMATIC air suspension and the E-ACTIVE BODY CONTROL active suspension running on 48 V meets the most discerning requirements regarding vehicle dynamics and comfort on and off the road. It is specially tuned for vehicle dynamics, through to a more direct steering ratio than on the other cars in this model series.
The interior with contemporary luxury of a sporty nature offers a more comfortable amount of space than the predecessor.
The latest generation of the MBUX (Mercedes-Benz User Experience) infotainment system is on board, with its intuitive operating structure and brilliant graphics with a high visual quality.
The new six-cylinder in-line diesels from Mercedes-Benz offer power and motoring comfort.
The highlights of the Mercedes-AMG GLE 53 4MATIC+ Coupé
The AMG six-cylinder in-line engine with twin turbocharging and EQ-Boost achieves 320 kW (435 hp) and an additional temporary 16 kW (22 hp) of electric output. It also offers hybrid functions such as overrun mode.
The AMG-specific radiator trim with 15 vertical fins ensures an autonomous appearance.
AMG RIDE CONTROL+ air suspension with AMG ACTIVE RIDE CONTROL electro-mechanical roll stabilisation and continuously variable adjustable damping.
AMG DYNAMIC SELECT with seven drive programs: Slippery, Comfort, Sport, Sport+, Individual, Trail and Sand.
The power transmission and suspension of the Mercedes-AMG GLE 53 4MATIC+ Coupé are developments specially configured to the hallmark AMG performance and vehicle dynamics from Affalterbach.
The new GLE Coupés from Mercedes-Benz and Mercedes-AMG are being presented to the public for the first time at the International Motor Show in Frankfurt (12.-22.09.2019). They will arrive at the dealerships in spring 2020.