JLR in India and around the world has been on a product offensive path. The manufacturer is rolling out all new products and updates since the last two years. All popular models have been updated and are India bound. First three products include the Jaguar XE, Discovery Sport and Evoque for the Indian market. After driving the aforementioned two cars, we had the Evoque with us. The Evoque is a style icon and thanks to JLR India's clever minds, it is a sensation here as well thanks to a well thought out pricing which has made it capture a significant market share in this segment. Everyone seems to be trying hard to gain that. However, Evoque seems ahead! Why so? What has changed in this updated version to make it even appealing? We find out as we spend a week with it.
Design
Evoque is always synonym as a style icon because it was designed by a former spice girl! However, cutting to the chase, the new one is designed by a wind tunnel by a person who has watched a lot of sci-fi movies. Well, that is fantastic in my books, but I do miss the old school muscular and chiselled look along with a characterful design that made it stand out from kilometres away.
The new retracting door handles, flush-fitting head and tail-lamps which are LED all make the car look cooler for sure. All of this is inspired from the Velar which is now reaching every Range Rover in the family. The India spec alloy wheels continue to be mediocre but they are extremely practical which we will explain in the driving section below. Nevertheless, with all other aspects, our test car in a brown shade with black dual tone roof still garnered more attention than usual, which was more than we expected.
Interior
Despite a short wheelbase, space in the back is adequate with good under thigh support. The knee room is at a premium but leg and shoulder room make for a comfortable posture for long journeys. A lot of charging points such as 12 V charging sockets and 4 USB points proves the car is adult and child friendly.
2020 Range Rover Evoque gets LED headlights with DRLs and slim wrap-around rear tail-lights along with new flush deployable door handles. Inside you get aluminium trim finishers, cabin air ionisation, Touch Pro, Interactive Driver Display behind the steering wheel, which shows a vast amount of driving information and active safety data, along with holistic media controls.
Driver assistance features such as Lane Keep Assist, Driver Condition Monitor and 360° Parking Aid with rear camera, Clear Exit Monitor and Rear Traffic Monitor are on offer. Other features include the usual such as automatic IRVM, wipers, headlamps and electric ORVM's. Infotainment includes an in-house sound system which is good when it comes to sound quality. Apple Car Play, Android Auto, Bluetooth, Wifi Hotspot, ambient lighting, Navigation Pro, 10-way power-adjustable seats and headlight power wash are available in the S variant that we tested. SE R-Dynamic variant gets even more stuff. Safety kit includes 7 airbags, ABS, EBD, Hill Descent Control (HDC), Dynamic Stability Control (DSC), Roll Stability Control (RSC), Hill Launch Assist, Low Traction Launch and Electronic Traction Control (ETC).
Driving
The Evoque we had was equipped with a 2.0 litre diesel unit making 180 PS of power and 430 Nm of torque. Mated to a 9-speed gearbox, which shifts smoothly most of the time is great for normal driving on city and highway. Making a quick run makes you realize gearbox isn't very quick to respond to your rapid requirements. You can take manual control or put it in sport mode which makes gear changes slightly more noticeable and it ends upshifting at redline. Overall, its best to keep sedate pace to enjoy the maximum situation.
Talking about the engine. There is no Sport mode with this or the previously driven Discovery Sport. Eco and City mode are the two modes. NVH levels in the SUV have gone down quite further, the throttle response is more precise than already impressive BS4 version and it feels great specifically on-road and the off-road as well. Low and mid-range torque is noteworthy and top-end power is above adequate as well, making it an all-rounder no matter however and wherever you drive it. Fuel efficiency is in the range of 11 km/l in the city 14 km/l on the highway.
The big change is the transition from BS4 to BS6. The motor is more linear, smoother and the kick in the pants is substantially subdued. It does feel slightly heavy and lumpy over its rivals such as the Germans but is quite close to the Volvo in the way it feels. Highly strung four-cylinder diesel turbo motor need lighter flywheels to make them feel that way. However, in-return they can increase NVH levels which would not be ideal.
We all know Evoque is a fantastic off-road and a style icon at the same time with able dynamics for the road too. This continues this time too. Off-road modes thanks to Terrain response makes things easier for customers to go through sand, rocks, mud and ruts. The off-roading capability of the compact SUV is enabled through the Terrain Response 2 that automatically detects the surface being driven on and adjusts the set-up accordingly. The best-in-class wading capacity of 600 mm is quite a lot for a SUV which looks this good and is great on the road to drive too!
On the road, body roll is well in check and despite that ride quality is exceptional. Be it the top stroke or bottom stroke of the suspension it takes off all imperfection at all speeds making the Evoque feel indestructible. The all wheel drive system keeps getting better is great feature to have on and off the road.
The brakes, pedal bite and tyres provide great confidence at all times with good pedal bite feel and great mechanical grip and confidence from the tyres respectively. The steering wheel is light and precise at slow speeds and weighs up well on the highway too. Precision makes it fun to chuck into a corner or changing lanes and it does feel quite light on its feet despite being rock solid at highway speeds as the wheelbase is very short.
2020 Range Rover Evoque Diesel India Review,Verdict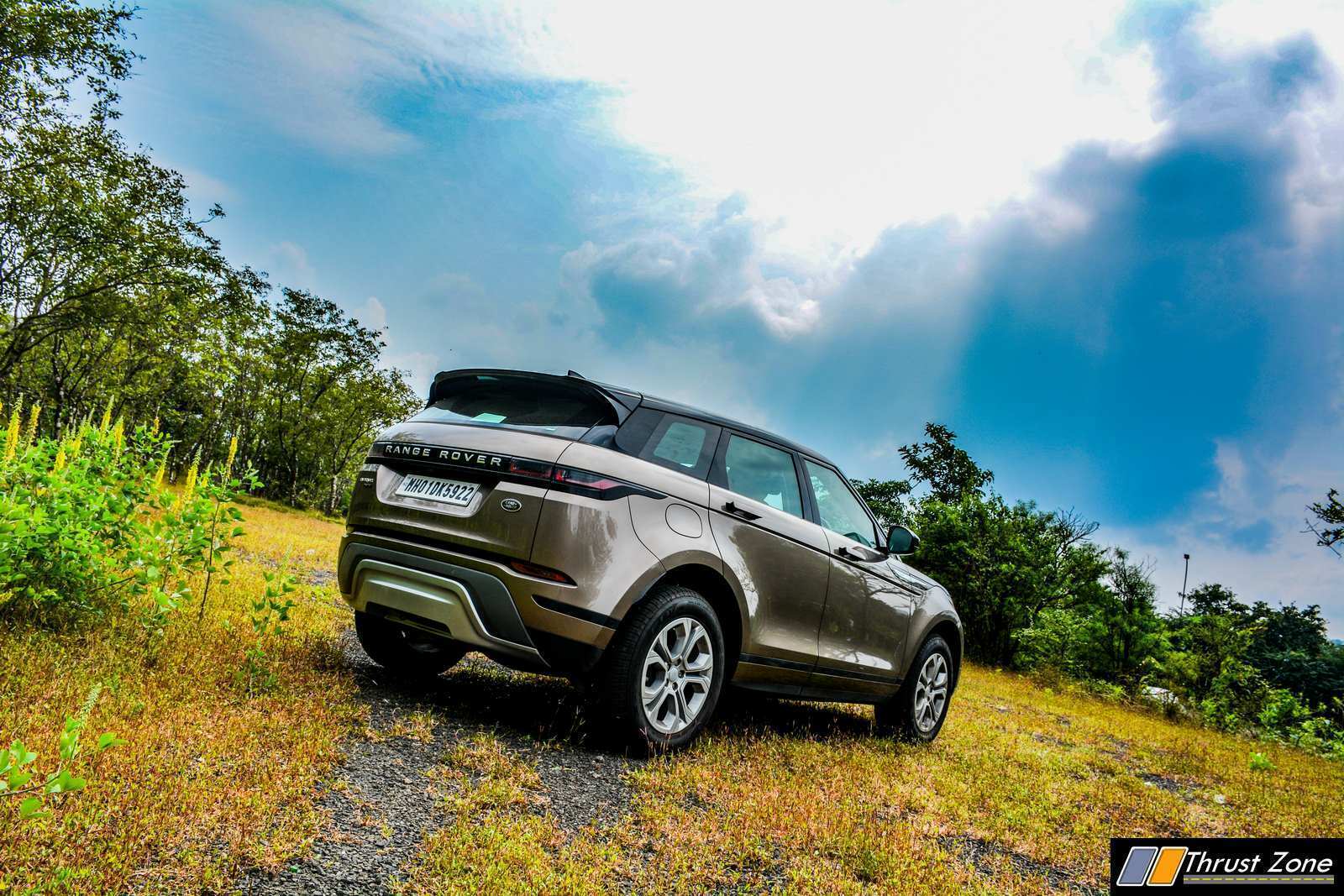 2020 Range Rover Evoque continues to be an exceptional all-rounder in this segment and it is a true blue style icon at the same time. The manufacturer has increased its cabin quality, feature list and other wow factors to get more walk-ins in the showroom. This time it has taken a substantial step in doing so and it will surely appeal to customers more promptly than before. The Evoque's party piece is also how its priced very well for an iconic machine of its time making it very approachable and desirable in its class by a long shot over its other European peers.