2020 SsangYong Tivoli Facelift is here and in India, its called the Mahindra XUV 300 with many changes done to it by Mahindra. Company's best selling model till date which has the best to offer after its bigger brother, the XUV 500. This facelift could trickle down to India and we could get the interior changes seen in this facelift to India if we were to speak optimistically. Also because the main two changes seen here are screens and dials in front of the steering which does need an upgrade in the Mahindra. Most importantly, the panel below the main screen could do with an update.
Mahindra XUV 300 had a lot of changes over the Tivoli last time but its core platform, design and wheelbase remained the same which led to a different niche being created and hence Mahindra is now a very strong contender against its rivals such as the Maruti Vitara Brezza, Ford Ecosport, Tata Nexon and Hyundai Venue. Let's look at what SsangYong Tivoli has in store for us.
2020 SsangYong Tivoli Facelift boast new exterior front styling, and the space and capabilities of a traditional SUV and features a whole range of enhancements to the outgoing model. It pairs new stylish exterior and interior design with advanced safety and infotainment technologies, as well as efficient new powertrains complying with future emission standards. All wrapped up with a comprehensive and market-leading 7-year/ 150,000-mile warranty.
2020 SsangYong Tivoli Facelift takes its name from the Italian town near Rome with a reputation for style. Noted for its cultural heritage and beautiful location, the gardens at Villa d'Este have inspired others to use its name, including Tivoli Gardens in Copenhagen. SsangYong's new Tivoli takes inspiration from its Italian namesake with a design that blends excitement with style and performance. With a renewed exterior design and brand-new interior, SsangYong's B-segment SUV Tivoli offers European styling, class-leading safety and competitive fuel efficiency.
Tivoli was launched in Korea in January 2015, and immediately achieved sales in its home market of over 3,000 vehicles a month. Its international debut was at the Geneva Motor Show in March 2015, and sales of petrol engine models began in June following its media launch in Europe. Since Tivoli has been praised universally for meeting a wide range of customer requirements and in the region of 50,000 cars have been sold in Europe from its launch to date.
Five years since its initial launch, new Tivoli is now available with a brace of new high-tech petrol engines – a 1.2 GDi Turbo 3-cylinder engine and a 1.5 GDi Turbo 4-cylinder engine – and an uprated version of the 1.6 diesel engine.
2020 SsangYong Tivoli Facelift has a choice of brand new 1.2 GDi-T and 1.5 GDi-T litre direct injection and turbo charged petrol engines or an uprated 1.6 litre diesel engine compliant with the latest Euro 6D emission standards. Drawing on considerable knowledge of petrol engines, the new 3-cylinder 1.2 litre GDi-Turbo engine is aimed at delivering a powerful yet eco-friendly, quiet and refined driving experience, and is combined with a 6-speed manual transmission. The 1.2-litre engine output is 128PS @ 5000 RPM and 230NM of torque at 1750-3500RPM. SsangYong's 1.5-litre turbo petrol engine boasts a robust performance of a maximum output of 163PS at 5,500RPM and maximum torque of 280NM of torque at 1,500 to 4,000RPM with automatic transmission. Also, a double carbon accumulation prevention valve system has been applied to increase reliability. The Tivoli's uprated 1.6 diesel engine performs with a maximum output of 136PS at 4000RPM with a maximum torque of 324NM at 1500-2500RPM with automatic transmission.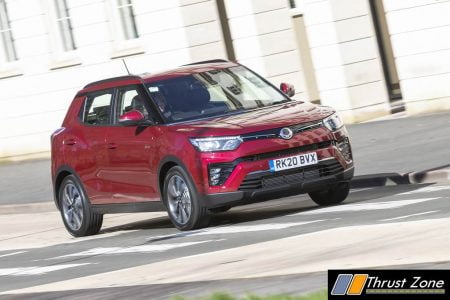 The has a 4* NCAP safety rating. It's built on a high-strength construction and features a comprehensive suite of the latest electronic safety aids. An increased level of Active Safety has been applied to new Tivoli that helps prevent accidents and utilises class-leading technologies to provide greater safety. All trim levels have a minimum of 6 airbags and electronic safety features including Front Collision Warning (FCW), Lane Departure Warning (LDW), Automatic Emergency Breaking (AEB), Lane Keeping Assist (LKA), Traffic Sign Recognition (TSR), Front Vehicle Start Alert (FVSA), Driver Attention Alert (DAA), Emergency Stop System (ESS), Safety Distance Alert (SDA).
2020 SsangYong Tivoli Facelift Ultimate variant features an LCD smart instrument cluster. It's a 10.25" high resolution LCD instrument cluster which provides driving information in a style to suite consumer style and taste. There is a choice of a bold digital screen with bright red graphics or a sophisticated analogue style format, the cluster provides the whole range of data, giving the means adjust safety, comfort and technological features, ranging from the sensitivity of Tivoli's automatic braking system to the choice of welcome chime when turning on the ignition. Each trim level features DAB+ for the clearest of sounds and use Bluetooth technology to connect to phone and to stream music. 8" Screen Smart Audio System
This system, standard on Ventura and Ultimate models, includes:
DAB radio with RDS
MP3, M4A, APE, OGG, WMA, FLAC and WAV file format play
USB port
Apple CarPlay and Android Auto to connect your smartphone
Rear camera
The line-up
Now available with new 1.2 GDi-T and 1.5 GDi-T petrol engines and an upgraded 1.6 diesel engine, the SsangYong Tivoli is extremely well equipped and comes with generous levels of equipment as standard. Adorned with all round new and striking styling, this B-segment vehicle comfortably seats five with plenty of cargo space and has the versatility that you would expect from a modern SUV.
There are three trim levels to choose from – the entry-spec EX, mid-spec Ventura and the high-spec Ultimate for the UK market. The EX entry level is available with the brand new 1.2L GDi-T petrol and manual transmission only. Newly named mid-spec Ventura is also available with the 1.2L GDi-T petrol engine with manual transmission only. Finally, the high-spec Ultimate model is available with 1.5L GDi-T petrol or uprated 1.6 diesel, in both manual and automatic transmissions. India will get continue to get high powered 1.2 petrol and 1.5 diesel units which are now to be seen in most Mahindra's portfolio.