The 2021 Audi A4. The sedan from the manufacturer that aims to take on the likes of heavyweight champion, the BMW 3 Series and others is finally here with us. Audi has an aggressive strategy of launching new products from the year 2021 onwards but also heavily updated the existing lineup, yet again. This sedan got a new engine and gearbox to begin with. Be it on the inside and outside, it has what it takes to impress a set of consumers with this heavily facelifted version. We find out what the 2021 Audi A4 offers and with this new update. After all, this is the sedan that the brand heavily banks on in the country and around the world since its inception.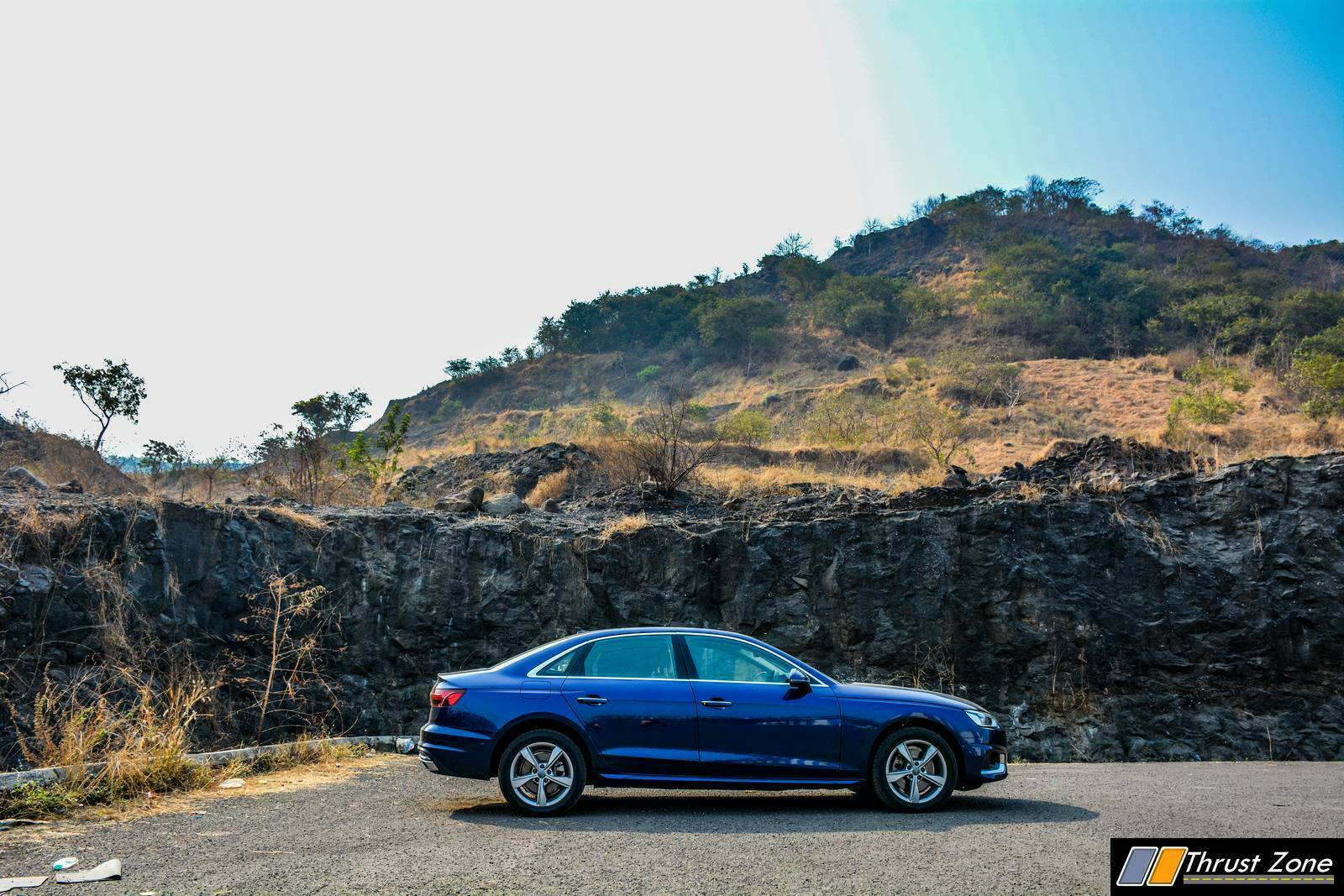 On the outside, the sedan retains its original shape and size but the elements have changed. The build quality on the outside is very good and as we know, most Audi cars score the highest marks in crash tests. The new wheels and the unique head and tail-lamps with LED's make it stand out. The large chrome grille always helps it stand out and the new shoulder line over the rear wheel arch makes it quite distinctive and a facelift to have sheet metal changes is quite an effort from Audi.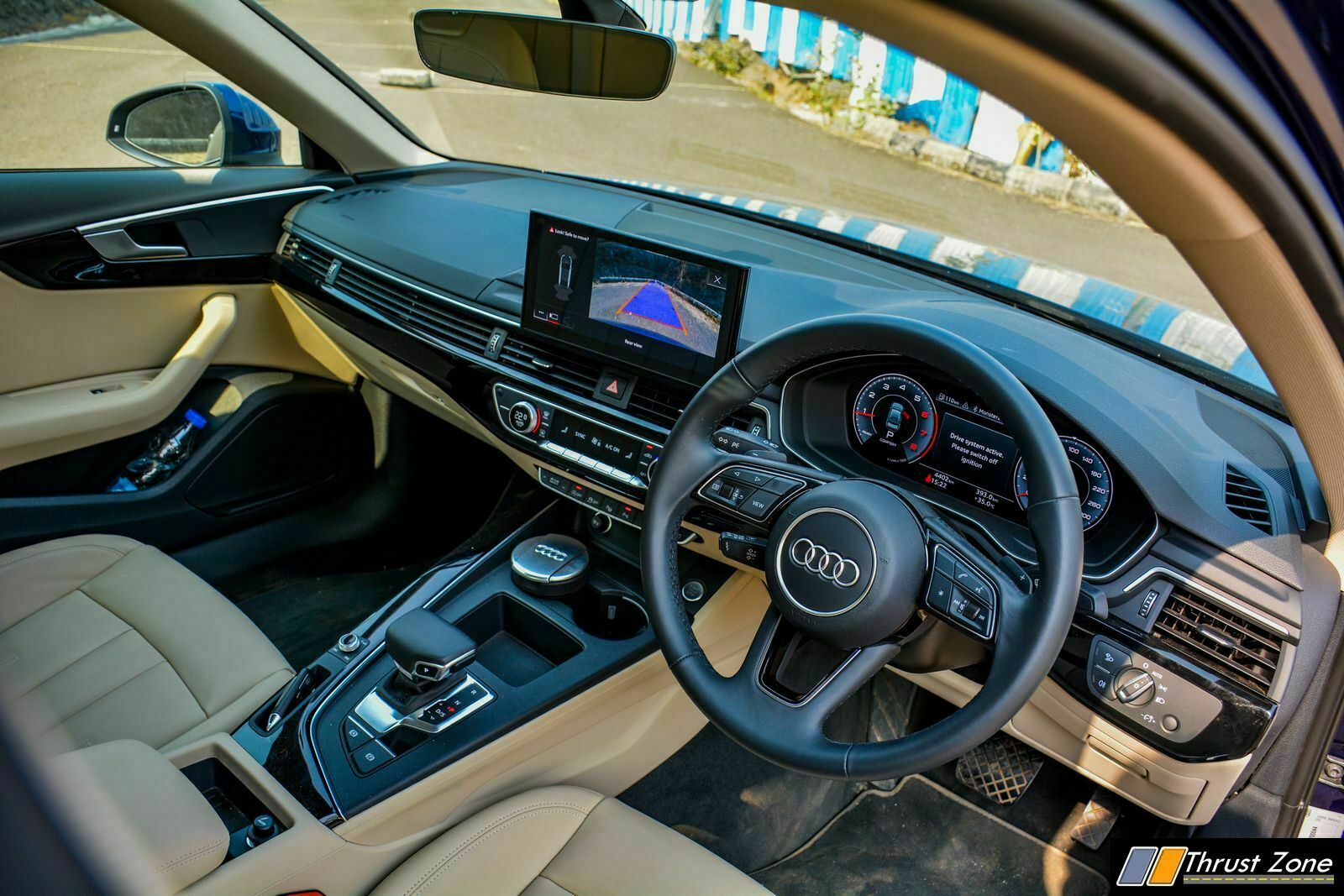 On the inside, the build and quality are the segment best. The feature list we have explained time and again in our launch reports is quite expansive. You get a very good sound system and touch screen From the A6 is a great touch to the cabin. It has a haptic touch and responds quite well. Tradition A/C controls, which is unlike A6 is a welcome move, making the Audi A4 more conventional. It has one-touch power windows on all four windows and a very good sound system that we sampled along with Apple Car Play and Android Auto. The rotary dial is gone since the screen is a touch unit. A lot of storage places, comfortable seats with power and memory function makes everyday life easier. Overall, the beige and black interior with wood and brushed aluminium inserts make the cabin a great place to stay in and look at.
Space is good when it comes to the leg, knee, shoulder and headroom are good with excellent support from the seats. The boot space is good by segment standards at 460 litres. Road and wind noise inside the cabin are also well controlled. The safety rating is good at five stars and you get Hill Hold Assist, traction control, ESP, ABS and EBD with eight airbags that come as standard.
Driving
The 2.0l TSI engine is smooth, free-revving and extremely low on NVH. Exhaust note can feel sporty at higher revs but it still isn't 10/10 smooth that we got previously in the diesel. The 2.0 TSi is smoother than its VW group peers, but it still is 9/10. The automatic DSG gearbox is quick, and seamless through the gears. In bumper to bumper traffic speeds, it can be a bit hesitant to respond. The power and torque throughout the rev range mean it picks up speed in no time and maintains quite a high speed extremely well.
Low and mid-range are good on the turbo petrol motor. Top-end is good enough making it devoid of flat spots and linear power delivery makes it good enough for city and highway duties and definitely quite fun to drive. 0-100 km/hr under 7.5 seconds is good for a car of this size. We saw a fuel economy of 11 km/l in total, which we think can be higher if you have a lighter foot than we had.
Like most Audi's, the A4 is on the comfortable side. The low to medium ride quality is quite soft and as the speeds go higher it settles down in a nice ride which is very good and despite that there is good stability at high speeds. Body roll is well in check while taking a corner or changing lanes at high speeds. The comfort side of the suspension lends it to be a great car for everyday use in our country.
The steering is light and precise and has a decent amount of feedback on offer which makes the car fun enough, but still, noticeably away from being sporty. Brakes are good with good pedal bite inspiring a lot of confidence to slow down from any speed. Overall, very easy to drive, comfortable over all types of road and a good amount of fun when the dynamics and engine combination come into play.
2021 Audi A4 Review, Verdict
2021 Audi A4 has gotten better as a package. The manufacturer has warranty schemes that suit your needs with the new car and we think that is a game-changer for people hesitant to get this brand as this promises peace of mind. Audi says it is easy and affordable to maintain as there also service packages that boost this aspect even higher. The 2021 Audi A4 gets a fresh dose with the new engine but most of the package remains similar which means you get a solid, high quality and comfortable car with everything you expect from a premium saloon. Audi A4 always has tough competition awaiting it, but this time it has brought a gun to a fight, not a knife.
2021 Audi A4 India Review
Design

Interior

Features

Space

Practicality

Performance

Dynamics

Value

Safety