Writing about an electric car while the world is going through an energy crisis due to various factors feels rather dissatisfying. Knowing that this is the future and it can come to halt because of poor management or when we run out of fossil fuels, what are we going to be left with? However, that seems a very distant future, in the very near to medium future, electric seems to be the mantra for going ahead. Be it Indian or German manufacturers, they have both adopted it quickly in the Indian market at least and given us a taste of what is it going to be like in the future. Japanese are still far away in India and worldwide. So we will sample whatever comes our way. Audi helped us sample their newly launched E-Tron 55. The top of the line out of three variants they have launched. Spending a day with the Audi E-Tron 55 allows us to tell you something about the car. Dig in.
The design has the presence of what a modern, premium crossover we have come to expect. This is no SUV, as it is not boxy nor very tall with normal suspension ride height. It is the elements such as the wheels, head and tail lamps, which are LED that grab attention. The start and stop of these lights along with illumination and spread are quite high and helps it grab attention. The length and width of the crossover along lot of character and muscular lines on the car make it look befitting of a premium badge on it.
Interior continues to be typical Audi that we have recently seen upgraded massively. Quality is top-notch, there are lot of cubby spaces, seats are accommodating at the front and rear despite battery pack right below you. Boot space is segment best too, making the E-Tron quite practical. The two big screens, the large steering wheel with big cavities make it look futuristic. The screens are tilted towards the driver which makes things easier. There is a lot to go through and there are some physical buttons to make sure you are not left wanting for it. The volume knob, the start-stop button, and of course, the button, and the gear lever, which itself is quite futuristic and new in the Audi stable. Our test car with black dashboard, wood inserts, and tan seats did seem out of contrast, luckily, you can spec your car interior to your taste.
What you will enjoy in the car is the downright fantastic 705 W, Bang and Olufsen audio system, panoramic sunroof, Audi's virtual cockpit and other everyday feature four-zone climate control, 360-degree parking camera which has cool animations to keep you occupied, heads up display, wireless charger and fragrances to choose from.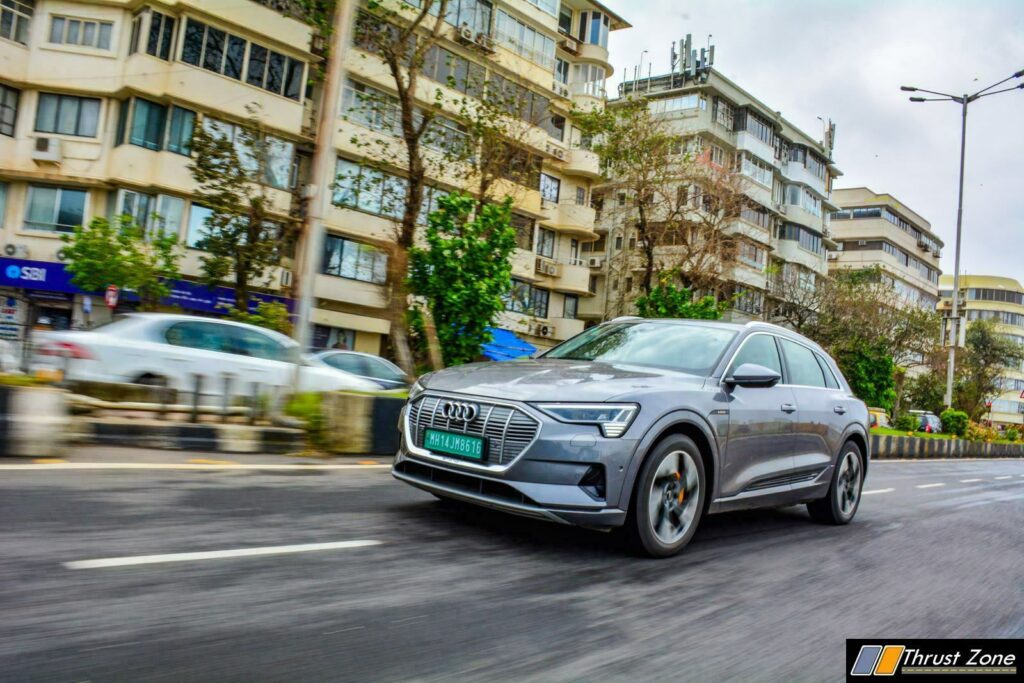 Driving the E-Tron around Mumbai felt rather special. We went to all four corners. Started our day in the middle of the city, reached south of the city and realized it is gaining a lot of attention. To get away from the attention, i use the accelerator and I am pushed back in my seat and was lucky enough not to get a speeding ticket. Acceleration as you can imagine is supremely quick and almost neck-snapping. 95 kwh battery pack making 400 PS of power and 660 Nm of torque in sport mode is colossal. All that goes through to all the wheels directly via electric motor on the front and rear wheels.
We did drive the Mercedes EQC earlier which is in the same segment, but the Audi feels quite different in the way it behaves to inputs. A day before, I was driving a 'dirty diesel' next day, I am already used to the electric powertrain? How is that possible? Driving modes! The ECO mode makes things so easier and feels almost like you are navigating an IC engine with top-notch refinement. 0-100 km/hr in 5.5 seconds is quick and is almost supercar territory from a decade ago. A genuine 200 km/hr top speed, excellent highway stability and a solid range of 300 kms plus, makes it very easy to live within our city where stop-start traffic means you will barely run out of juice while pondering all day in the city.
With ride quality being stellar for our roads thanks to underlying stiffness and enough compliance that you can go through bad roads easily, it makes it very relaxing to drive over our roads without worrying about anything. Adaptive air suspension with adjustable ride height makes the e-Tron suited to all environments. Off-road makes it go a bit higher, but All Road mode takes suspension so high you feel like you have a large SUV with ladder on frame chassis below.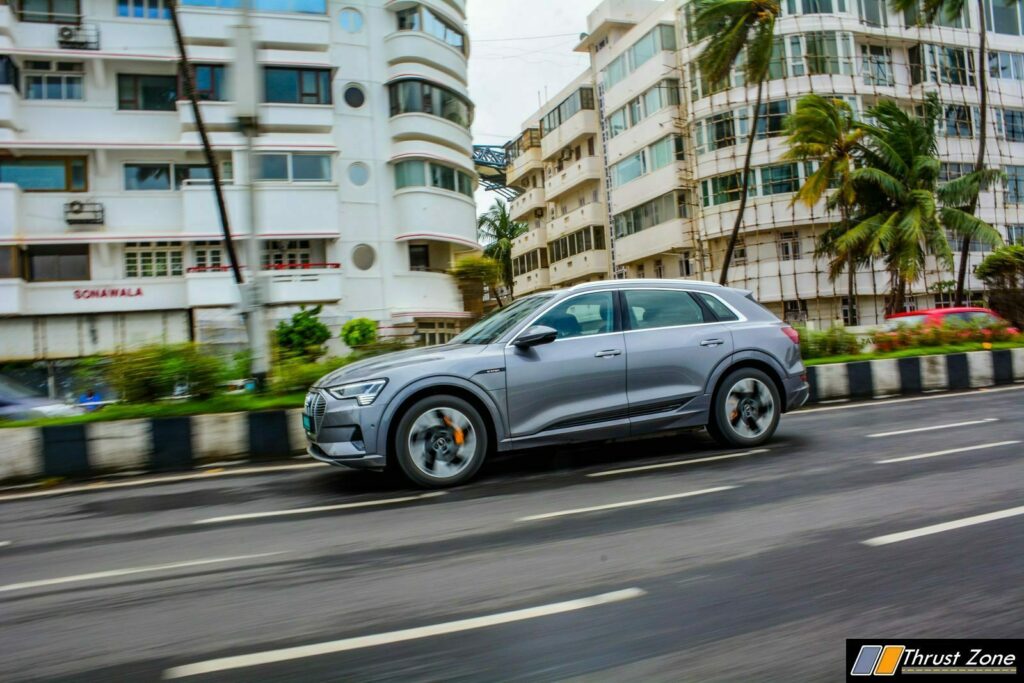 All of this makes it off-road friendly, unlike the Mercedes which does not get the adaptive suspension and also scrapes its belly everywhere, for now. Steering showed great responsiveness but still lacking feedback means it's easy to live with almost, not entirely, enthusiast-friendly at the same time. Brakes charge the battery and you can control coasting and recuperation with the paddles on the steering wheel.
2021 Audi E-Tron 55 Review, Verdict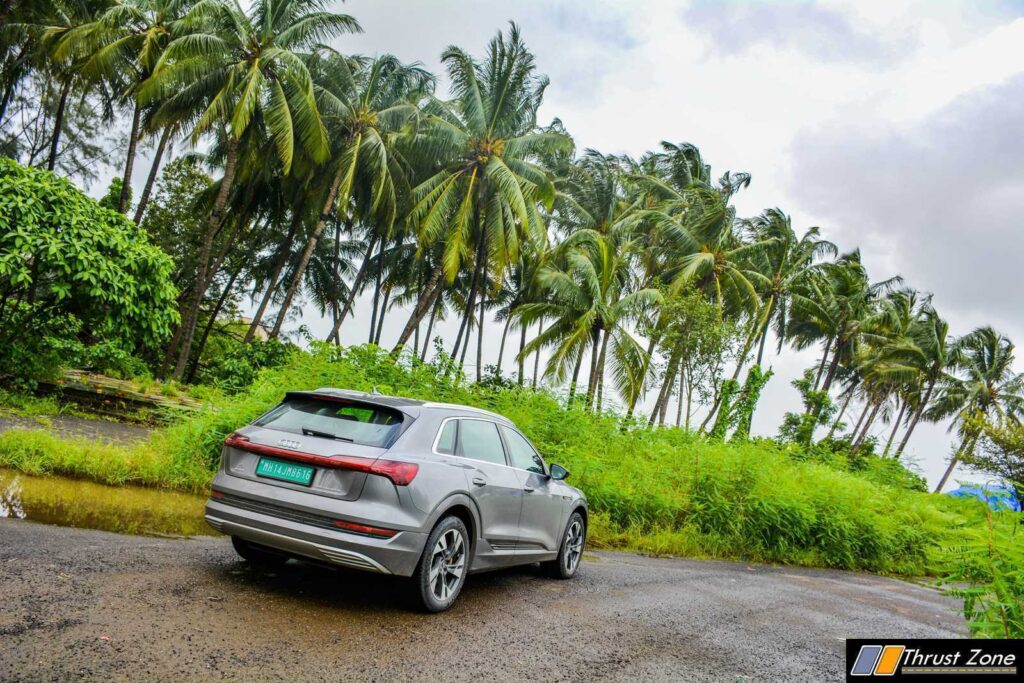 If i had to nitpick, i would say the E-Tron is something that could be better looking and could have had more presence. However, Audi has solved that already with a Sportback version on offer for you. Audi is this time offering a stellar package unlike ever before. All dealerships will have the fastest charging possible and you should be done within 4 hours max to charge yours at max. Home charging options are being provided with best in class 11 kwh pack instead of lower spec seen on rivals. 8 hours and you have a fully charged vehicle. Less, if you have some charger left.
You also get free Audi Connect, service plans ranging two to five years, buyback upto 3 years from the date of purchase, Extended Warranty, and complimentary 5 year Road Side Assistance. All of this makes buying an Audi almost 10 times easier and more stress-free than before. With a product as good as the E-Tron and these schemes, we say, close your eyes and cut that cheque.
|