The year 2021 has begun with the rather shocking news of Mahindra & Mahindra and Ford Motor Company calling off their joint venture. The companies in separate statements announced that the market conditions had dramatically changed in light of the COVID-19 pandemic, which has prompted the carmakers to reassess the joint venture and call it off. However, the brands are open to collaborating in the future and projects in the advanced stage will see fruition.
One of these will be the Ford EcoSport getting the 1.2-litre mStallion engine from Mahindra's stable. The new mStallion range debuted at the 2020 Auto Expo in the 1.2-litre, 1.5-litre and the 2.0-litre displacement options. The 2.0-litre motor, as you would know, has made its way on the new-generation Mahindra Thar, while the 1.2-litre turbo petrol engine in question will make it to the Mahindra XUV300 and the Ford EcoSport. Considering significant investment has been made in this regard, the companies will continue with the planned association with Mahindra supplying the engines to Ford.
The 1.2-litre Turbo GDI will be capable of 130PS and 230Nm of peak torque, while paired with a 6-speed manual transmission and possibly an automatic too. This also means that the Mahindra XUV300 Sportz with the same engine is nearing launch and is likely to debut before the Ford EcoSport gets the same mill under its bonnet. It needs to be seen how the after-sales and service of this engine will function in the long-term with the joint venture called off.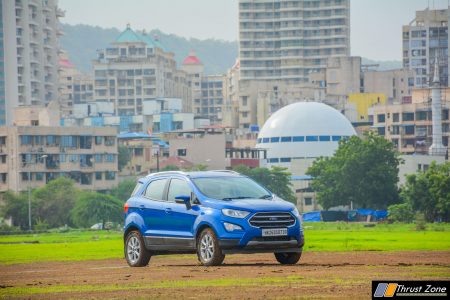 At present, the Ford EcoSport is powered by the 1.5-litre four-cylinder Ti-VCT petrol motor that develops 120PS and 150Nm of peak torque. The new engine could replace this engine and be attractively priced given this variant will now be able to achieve lower taxation meeting the sub 4-metre vehicle norms.
In addition to the Ford EcoSport getting a Mahindra powertrain, the announcement also confirms that the next-generation XUV500 (codenamed W601) based compact SUV will also happen going forward. The automakers have jointly worked on the C601 platform and this project too is in its advanced stages. So, the Ford compact SUV codenamed W605 is likely in the future and will also use the mStallion engines under the hood. Meanwhile, the Ford Aspire Electric project has been called that was turning out to be too expensive for the companies and did not align with Mahindra's future product plan to focus on SUVs.