Hyundai Motor India has launched the all-new Hyundai Tucson in India for Rs 27.7 lakhs and bookings are open for Rs 50k. With the introduction of the 4th generation all-new TUCSON in India, Hyundai will re-establish the benchmark for the premium High SUV segment and elevate lavish experiences for customers. The 2022 Hyundai Tucson will continue to lead HMIL's model range as the Flagship product offering. Customers can book the 2022 Tucson at Hyundai Signature outlets across India or through https://clicktobuy.hyundai.co.in/#/bookACar?modelCode=9M.
The 2022 Hyundai Tucson is defined by Muscular Crease Lines with the façade featuring an imposing and expansive hood that delivers an impactful road presence. The Dark Chrome Parametric Front Grille reinforces a sporty yet dynamic image, while the Front Skid Plate adds to the bold character of this SUV. The distinctive and imposing LED MFR Headlamps compliments the futuristic appeal of this SUV while seamlessly blending advanced technology with modern design. The all-new Hyundai TUCSON features a Dark Chrome Parametric Front Grille with Parametric Hidden LED DRLs & positioning Lamps that illuminate when activated, revealing the all-new Hyundai TUCSON's unique identity.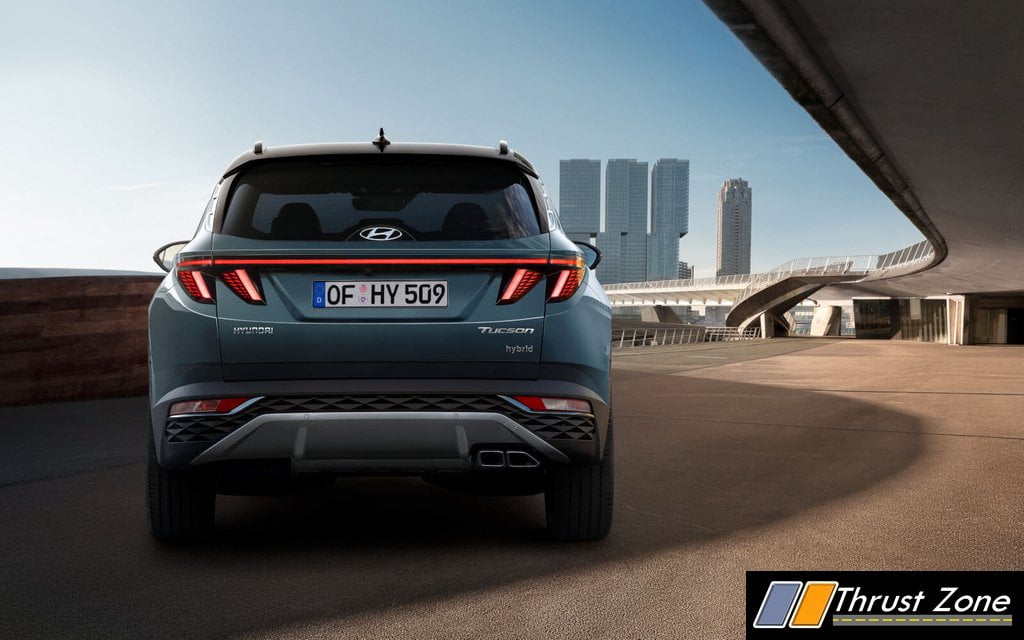 The 2022 Hyundai Tucson profile is defined by "Z" Shaped side character lines that exude a sporty appeal and lay emphasis on an aggressive look. With angular wheel arches, Broad side cladding and 235/60 R18 (D= 462 mm) Diamond Cut Alloy, the profile of the all-new Hyundai TUCSON seamlessly carries forth the SUV's sensuous and sporty appeal. The roof rails and eye-catching Satin chrome DLO moulding enhance the SUV appeal of the all-new Hyundai TUCSON.
Reaffirming this all-new TUCSON's hi-tech appeal the rear features wide proportions with a Connecting LED Tail Lamps. The SUVs luxurious and premium appeal is enhanced with a three-dimensional logo garnish that is applied below the rear glass. With precision detailing, the Parametric pattern bumper adopts a finely detailed pattern that exudes dynamism. Bolstering the unique appeal of the all-new Hyundai TUCSON, the SUV features Concealed Rear Wiper with Washer (1st in Segment). Complementing the SUV's sporty character, the all-new Hyundai TUCSON features a Rear Spoiler with LED High Mount Stop Lamp and Shark Fin Antenna.
The 2022 Hyundai Tucson features a significantly increased overall length and wheelbase, catering to an imposing and impressive road presence. With Best in Segment Length of 4 630 mm and Best in Segment Wheelbase of 2 755 mm the all-new Hyundai TUCSON delivers a spacious ride for new age premium customers in India. While the SUV features impressive overall dimensions, it has also been developed to offer adequate manoeuvrability with a low turning radius of 5.9 m.
Length X Width X Height: 4 630 mm X 1 865 mm X 1 665 mm
Wheelbase: 2755 mm
The interior design of the 2022 Hyundai Tucson features Premium Black and Light Grey Dual Tone Interiors. Seamlessly flowing Integrated Silver Accents on Crashpad & Doors set a distinct look on the cabin, while soft touch materials personifies the lavishness of this SUV's interiors.
The cabin features a luxurious steering wheel with a new 4-spoke design that exudes an opulent and rich impression. The steering wheel offers a better grip and has been ergonomically designed to facilitate superior drive convenience. With Soft Touch Door panels and leather* seats with Signature Metal inserts adds to the cabin's luxurious appeal. Accentuating a bespoke look, the all-new Hyundai TUCSON will offer customers the choice of 64 Color Ambient Lighting that can be adjusted by the user to suit their moods and occasions. The Piano Black Centre Fascia with a flowing design characteristic enriches the cabin and seamlessly blends into the SUV's premium design philosophy.
Featuring a 26.03 cm (10.25″) Floating type Digital Cluster builds on the SUV's advanced and modern design characteristics while amplifying a neat and minimalistic appeal, lending a hi-tech digital cockpit feel and displaying a wide range of information. The digital cluster displays – personalized themes, turn-by-turn navigation, front & rear parking sensor display, Drive Mode Select (Normal/ Eco/ Sport/ Smart) and Multi Terrain Modes (Snow/Mud/Sand).
With the 1st in Segment Multi Air Mode that draws inspiration from aircrafts, the technology activates gentle airflow from multiple vents thereby offering a superior level of comfort and control. The all-new 2022 Hyundai Tucson also offers Dual Zone FATC (Fully Automatic Temperature Control) with Auto Defogger that enhances comfort by setting dual temperature zones inside the cabin. The 2022 Hyundai Tucson also offers Front Ventilated & Heated Seats that ensure utmost comfort by maintaining optimum seat temperature while passengers are seated. The feature can also be controlled through voice commands.
The 2022 Hyundai Tucsonoffers Voice Enabled Smart Panoramic Sunroof, not only do customers get convenience of control but a superlative mobility experience. The all-new Hyundai TUCSON will be equipped with smart and premium features such as:
Bose Premium Sound 8 Speaker System
Hands Free Smart Power Tail Gate with Height Adjustment
Driver Power Seat Memory Function
Electric parking Brake
Wireless Phone Charger
Rain Sensing Wipers
Remote Engine Start with Smart Key
The all-new Hyundai TUCSON offers customers extravagant seating and versatile space through an ergonomically developed cabin layout that maximises interior space and comfort for cabin occupants. Offering Enhanced and Large Seating Space the expansive 2nd row legroom offers a lounge-like comfort with increased space owing the SUVs longer wheelbase. The all-new Hyundai TUCSON also features –
2nd Row Seat with Reclining Function
Large Boot Space
Passenger Seat Walk-in Device
2nd row seat folding – Boot Lever
60:40 Split Folding Rear Seat
With Hyundai Bluelink, the all-new Hyundai TUCSON offers enhanced Voice Recognition commands and over the Air Updates (System and Map), delivering a seamless 3rd space experience. The all-new Hyundai TUCSON will epitomize user experiences with a 26.03 cm (10.25″) HD Audio Video Navigation System that reinforces the SUV's hi-tech cabin experience while also enhancing convenience. The infotainment system offers:
High Definition Wide Screen
Split Screen display
Embedded Voice Commands
Smartphone Connectivity (Android Auto / Apple Car Play)
Full Touch centre fascia integrating infotainment and AC controls
Multi Language Support (10 Regional Languages and 2 Global Languages)
Home-to-Car (H2C) with Alexa and Google Voice Assistant in Hindi & English (1st in Segment)
Over-the-air updates (system and map)
Ambient Sounds of Nature
Valet Mode
User Profiles for Personalization
The 2022 Hyundai Tucson with Hyundai Bluelink offers customers over 60 connected car features building on a superlative connected car experience. The all-new Hyundai TUCSON will be offered with 3 years free Bluelink subscription and also boasts of smart watch connectivity for iOS, Android OS and Tizen.
The 2022 Hyundai Tucsonfeatures with Hyundai SmartSense (ADAS). The all-new Hyundai TUCSON has been developed on the 3rd Generation Compact (N3) platform that results in achieving best chassis strength and superior safety. The body structure has been strengthened with AHSS (Advanced High Strength Steel) & HSS (High Strength Steel) application and an extensive application of hot-stamping to assure of superior protection in the event of a collision.
Forming the pinnacle of technology in its segment, the all-new Hyundai TUCSON features Hyundai SmartSense with Level 2 ADAS capability. Using automated sensing technology with a camera and radar sensors, the all-new Hyundai TUCSON is able to detect a car, a pedestrian or a cyclist on the road, thereby offering a comprehensive protection. The all-new Hyundai TUCSON with smart and intuitive technology offers 19 Hyundai SmartSense (ADAS) features like: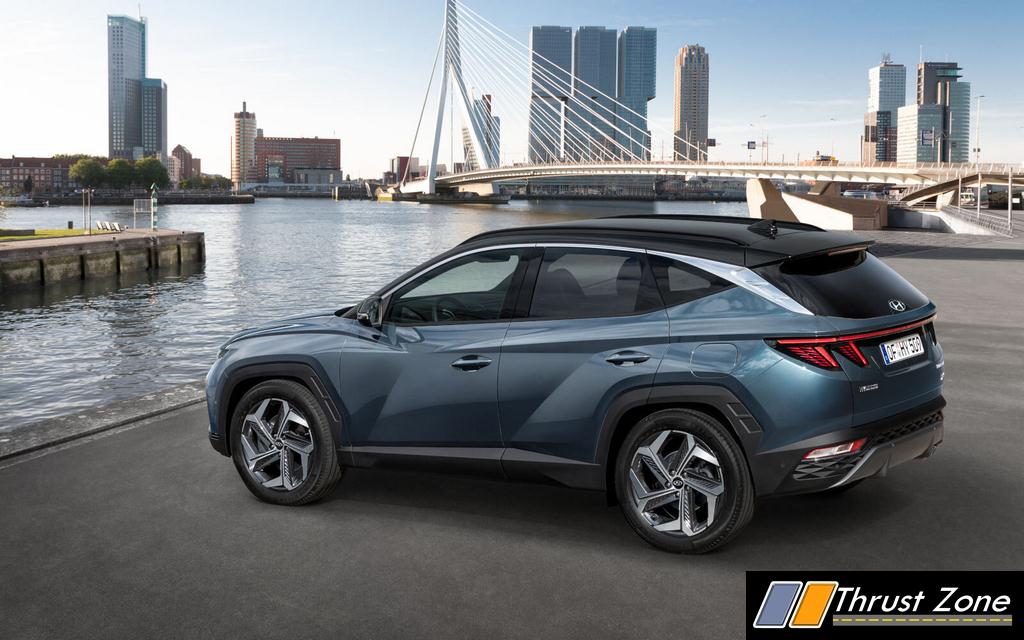 Driving Safety Functions:
Forward Collision Warning
Forward Collision-Avoidance Assist- Car
Forward Collision-Avoidance Assist- Pedestrian
Forward Collision-Avoidance Assist- Cycle
Forward Collision-Avoidance Assist- Junction Turning
Blind-Spot Collision Warning
Blind-Spot Collision- Avoidance Assist
Lane Keeping Assist
Lane Departure Warning
Driver Attention Warning
Blind-Spot View Monitor
Safe Exit Warning
Driving Convenience Functions:
Smart Cruise Control with Stop & Go
Lane Following Assist
High Beam Assist
Leading Vehicle Departure Alert
Parking Safety Functions:
Rear Cross-Traffic Collision Warning
Rear Cross-Traffic Collision-Avoidance Assist
Surround View Monitor
Further, the all-new Hyundai TUCSON also offers customers functions such as Surround View Monitor that increase the level of safety when parking or making manoeuvres by showing a 360˚view of the vehicle's surroundings. Additionally, the SUV also offers Blind View Monitor that is activated once the driver uses a turn indicator to shift lanes or make a turn. The all-new Hyundai TUCSON offers customer Level Next Safety with over 45 defensive safety layers in the form of advanced Active and Passive safety features as standard for complete protection. The Standard Advanced Safety features include:
6 Airbags (Front Dual, Side & Curtain Airbags)
Front & Rear Parking Sensors
Electronic Stability Control
Hill Descent Control
Hill Assist Control
All Disc Brakes
BVM / SVM
The 2022 Hyundai Tucson offers customers powerful and advanced powertrains that are both future ready and deliver an exhilarating driving experience. The advanced powertrains are future ready and achieve supreme performance in the segment while being exceptionally fuel efficient. The all-new Hyundai TUCSON is powered by new Nu 2.0 Petrol Engine with a 6-Speed automatic transmission and a new R 2.0 Diesel engine with an 8-Speed automatic transmission.
Nu 2.0 PETROL 1999cc: 114.7 kW (156 Ps) @ 6200 rpm, 192 Nm (19.58 kgm) @ 4500 rpm 6 Speed AT
New R 2.0 VGT DIESEL
1997cc 137 kW (186 Ps) @ 4000 rpm, 416 Nm (42.42 kgm) @ 2000~2750 rpm, 8-speed AT
The front suspension incorporates a McPherson Strut while the rear suspension employs a Multi-Link with Coil Spring. Incorporating improved suspension geometry with a front suspension that features higher roll centre for minimal body roll, increased knuckle arm length for N.V.H isolation on rough roll and new inclined strut bearing for smooth steering feel. The rear suspension factors in an optimized geometry characteristic by increasing bump/ roll steer, stiffened muffler hanger and optimized member mounts for better secondary vibration performance.
The 2022 Hyundai Tucson features HTRAC All-Wheel Drive (AWD) system along with Multi Terrain Modes (Snow/Mud/Sand) that enables safe driving on challenging terrains while making it an overall fun-to-drive experience. The AWD ECU identifies traction conditions and driving state to control torque delivery with precision to the AWD coupling clutch that further distributes drive power to the front and rear wheel as per requirements.
29 First and Best in Segment Features:
Home-to-Car (H2C) with Alexa and Google Voice Assistant in Hindi & English
Remote Engine Start with Smart key
Multi Air Mode
Bose Premium Sound 8 Speaker System
Door Pocket Lighting
Passenger Seat Walk-in Device
Hyundai Smartsense (16)
Forward Collision Warning (FCW)
Forward Collision-Avoidance Assist- Car
Forward Collision-Avoidance Assist- Pedestrian
Forward Collision-Avoidance Assist- Cycle
Forward Collision-Avoidance Assist- Junction Turning
Lane Keeping Assist (LKA)
Lane Departure Warning
Blind-Spot Collision- Avoidance Assist (BCA)
Safe Exit Warning (SEW)
Leading Vehicle Departure Alert (LVDA)
High Beam Assist(HBA)
Smart Cruise Control with Stop & Go
Lane Following Assist(LFA)
Rear Cross- Traffic Collision Warning (RCCW)
Rear Cross- Traffic Collision- Avoidance Assist (RCCA)
Blind-spot View Monitor (BVM)
03 cm (10.25″) HD Audio Video Navigation System
Longest in Segment
Longest Wheelbase
Highest Power in DSL Engine
Highest Torque in DSL Engine
64 Color Mood Lighting
Hyundai Blue link (60+ features)