2022 Lexus LX600 India launch is not far away anymore. The behemoth of an SUV which we drove in 2018 left an impression of serious luxury, comfort, and convenience on us when it comes to experiencing the very best. The last of the ladder on the frame SUV in this category goes against the likes of the Mercedes-Maybach GLS, BMW X7, Range Rover and Land Rover Defender. Pricing will be around Rs 3 crore mark.
As the second model of the next generation of Lexus following the NX, Lexus held the world premiere of the new LX today in the Kingdom of Saudi Arabia and the United Arab Emirates and the reveal video is available online. The new LX, which embodies the brand's commitment to meeting the diversifying needs and lifestyles of customers, is scheduled to go on sale in Japan in early 2022.
Since its establishment in 1989, Lexus has always been committed to the spirit of innovation and has continued to take up the challenge of providing new technologies and value to its customers. Since its launch in 1996, the LX has been well received as Lexus' flagship SUV due to its high-quality, ride comfort, and driving performance that can withstand all kinds of roads around the world. This has been achieved by refining the founding concepts of the LX: "reliability", "durability", and "rough-road driving performance". The LX has sold a cumulative total of approximately 500,000 units in more than 50 countries and regions as of the end of August 2021.
The new LX is designed to provide vehicle occupants with exceptional comfort and enrich their life experiences. While maintaining a traditional body-on-frame structure to ensure reliability, durability, and d driving performance, it renews its characteristics by adopting the new GA-F platform, realizing a weight reduction of approximately 200 kg, and achieving a digitally-developed high-rigidity body. The new LX will be available with either a high-output, high-torque 3.5-liter V6 twin-turbo gasoline engine. Electronically controlled brakes (ECB) and an electric power steering system (EPS) are also adopted to ensure customers will be able to enjoy Lexus-unique driving performance to the fullest, both on-road and off-road.
These innovations, plus the adoption of two new available powertrains, will also contribute to improved environmental performance, reducing annual CO2 emissions when the vehicle is in use by approximately 20 percent on a global cumulative basis compared to the previous model, thus contributing to the realization of a carbon-neutral society. In harsh off-road environments, to promote a safer and more comfortable driving experience, the instrument panel features Lexus' first dual display with a 12.3-inch upper screen and 7-inch lower screen, as well as Back Underfloor View, which displays the area beneath the rear part of the vehicle as a world first*.
The new LX is more personalized, with the newly added "EXECUTIVE" grade, which is specially designed with four independent seats for elegant and safe travel on all kinds of roads, and the "OFFROAD" grade which is dedicated to Japanese market. In terms of styling, while pursuing a design that contributes to athletic performance and function (a design perspective that began with the new NX), ideal proportions are expressed through a blending of sophistication, power, and presence befitting a flagship SUV. Among other featured technologies, Lexus' first fingerprint-authentication push-start switch contributes to reducing the risk of theft.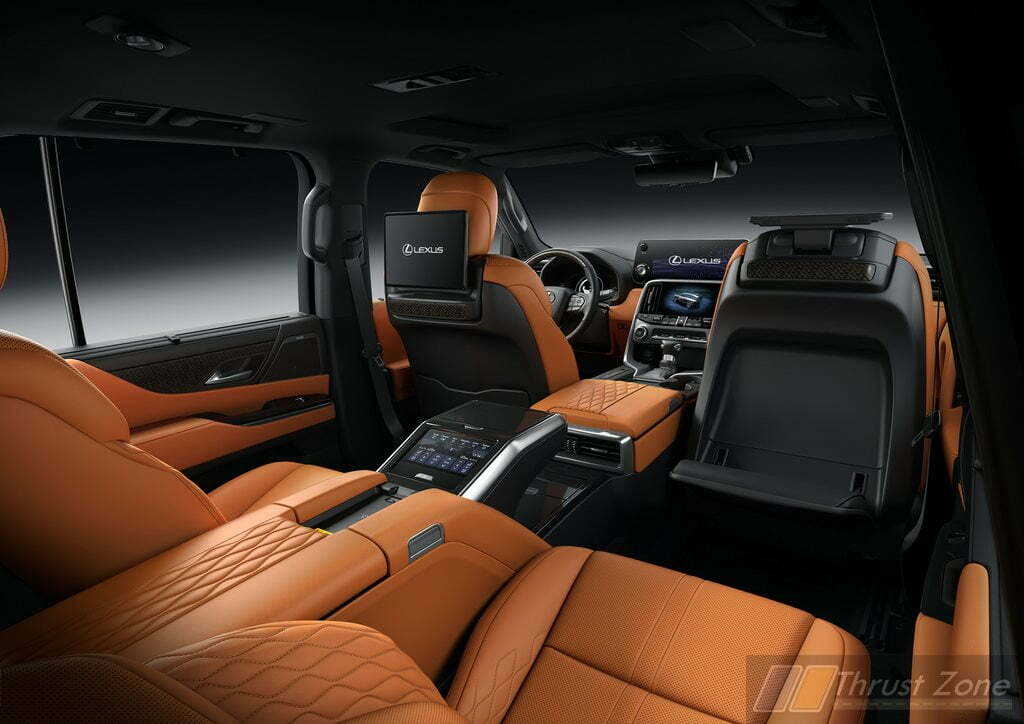 MAIN PRODUCT FEATURES OF THE ALL NEW LX
Achievement of high-quality driving through renewed vehicle fundamentals
The new GA-F platform has been adopted for the first time by Lexus in pursuit of an ideal inertia factor. The vehicle's front/rear center of gravity has been optimized by placing the engine further back.
In addition to downsizing from a larger displacement engine and employing a lighter new Active Height Control (AHC) suspension, the roof material, which is high above the vehicle's center of gravity, has been replaced with lightweight aluminum. This has resulted in a lowering of the center of gravity and a weight reduction of approximately 200 kg.
The power plant is a newly employed 3.5-liter V6 twin-turbo gasoline engine achieves high-quality driving performance.
On-road driving performance in pursuit of the Lexus Driving Signature
The newly developed high-output and high-torque twin-turbo engines generate seamless and linear acceleration.
The first-ever use of EPS and the application of structural adhesives in the body achieve a straightforward response for both steering and use of the accelerator pedal.
Refined off-road driving performance
The 2,850-mm wheelbase, which has been inherited since the first generation, and the ground clearance angles (approach angle, departure angle, and ramp break angle), which are equivalent to those of the previous model, provide both rough-road driving performance and outstanding interior space.
In addition to the evolution of Multi-Terrain Select and Crawl Control, various technologies have been introduced to support off-road driving, such as a Multi-Terrain Monitor function and a dual display.
New grade lineup for meeting the diversifying needs of customers
The EXECUTIVE grade, with four independent seats, is equipped with rear seats that can be reclined up to 48 degrees and have a dedicated rear-seat console, providing the highest level of comfort on all road surfaces.
With a design that evokes powerful driving performance and front and rear differential locks, the "OFFROAD" proposes a new off-road image for LEXUS.
Proportions in line with Lexus' next-generation design language, which harmonizes functionality and elegance
The "unchanging golden ratio" creates an appearance that combines sophistication with a powerful and overwhelming presence befitting a flagship.
The new spindle grille, which pursues the new, function-rooted design language of the next generation of Lexus, is three-dimensional and chrome-frame-free, accentuating its sense of unity with the body and expressing a sense of mass while fulfilling functions such as cooling and rectification efficiency.
Based on the Tazuna Concept, which generates dialogue between driver and vehicle, display and other switches are arranged to create a cockpit space that allows the driver to control the vehicle at will with minimal posture change, even on rough roads.
Advanced safety technologies and enhanced convenience based on a human-centered approach
Lexus' first fingerprint-authentication push-start switch reduces the risk of theft.
Adoption of the latest in multimedia systems provides even greater convenience.
The functions of the Lexus Safety System +, which contributes to safe and secure driving, have been expanded.