The MPV that has probably ferried you 5 times in your lifetime, to date, needs no introduction. It leaves such as impression this is the only fleet market car you consider for yourself personally too as the top-end version looks premium enough on the inside and outside once you check it out digitally or physically in a Toyota showroom. The Toyota Innova is many things to many people. Expensive to some, bargain to others. Premium to some, not enough value to others. The list goes on. Despite that, it is a favorite in the Indian market. Why are we driving it then? To get an idea of the new MPV that has been updated inside-out and most importantly it comes with a revised BS6 engine. Toyota claims many changes and what are they? We find out!
On the outside, the tail lamps are not refreshed and are the same as before. They look very JDM in their shape. The simple, large and bold grille makes the car look like one of the best Innova iterations to date. The imposing stance thanks to a large wheelbase, segment-best height and width makes sure that it delivers what the customer truly looks for. The same wheels and similar design over the last few years make the Innova recognizable and a tab bit boring.
On the inside, the build and quality are good and so is the expansive feature list on offer. The feature list lacks wireless charging, a sunroof, ventilated seat, front parking sensors, soft-touch materials, and a 360-degree camera to name a few at this price point. The interior looks dated, especially the upper half of the dashboard resonates with the outgoing design. The steering wheel looks good but has come of age.
You get features such as automatic lights and wipers, reversing camera which could have better resolution, rear parking sensors, cruise control, keyless entry, a start-stop button, ambient lighting, and ventilated seats. The MPV continues to be void of Wireless Apple Car Play and Android Auto but has a wired one. Storage spaces include large door pads, and cup holders on either side of the A/C vents of the front row along with a lot of space below the center console and two glove boxes on the front passenger side.
The old-school screen which is downright simple and easy to use makes things easier for its target audience but is not modern enough. The sound system is good enough for an MPV of this price but could have been better. Electric and leather-equipped seats with adjustable seat belts are on offer. Leather quality also could have been better at this price point. Connected Car Technology (Geo-Fencing, Realtime Vehicle tracking, Walk to car & many more) are here along with Apple Car play and Android Auto, which are wired and not wireless yet.
Space is generous with enough shoulder and knee room you expect, is here. Leg and headroom continue to be in ample supply and it can seat three at the back in relative comfort if you choose the bench instead of the caption seats that our test car had. A one-touch tumble seat does feel like a luxurious feature in today's age. The third row continues to be comfortable for all types of human beings but it is best for children for longer trips and adults can adjust max for more than 6-8 hours. Every row has its dedicated A/C control. The boot space is good enough at 300 liters with all seats up. Road and wind noise inside the cabin is good, not great. The safety kit continues to be high with electronic stability control and seven airbags, Hill Hold Assist, vehicle stability control along with ABS and EBD.
Toyota engines are smooth, free-revving, and slightly high on NVH and the one on the Innova is the same. BS6 Toyota engines have seen a reduction by almost 50% in their decibel levels inside the cabin and Innova has that. There are drive modes on offer. Eco-mode feels sluggish once you rev it up above 2500 RPM and the normal and sport mode makes it much easier to live with. The 2.4l motor has 150 PS and 360 Nm of torque. The manual gearbox has a torque of 343 Nm. Low and mid-range are good on the motor and are almost instantaneous. Top-end is not as great as always. Despite that, the engine can cruise at legal speeds easily. Higher than 130 km/hr it is stressed because of the 5-speed manual gearbox and lack of top-end power. Automatic does feel better at cruising. This makes it good enough for city and highway duties and makes driving comfortable within its limits.
Power is going through an almost quick-shifting, smooth, and seamless 6-speed automatic. We saw 9 km/l in the city and 13 km/l on the highway. The tank range is quite low with just 450 km in a 55 -liter tank. That is only possible if you keep the right foot in check and use the ECO mode. It can deplete quite fast if you gun it on the highway.
The ride quality is quite stiff for our roads. This is clearly the best setup to keep body roll well in check. The Innova clearly has a lesser body roll than the Fortuner we have seen it time and again and it continues with the update 5 years later as well. The ride isn't outright bone-jarring. There is a hint of compliance which makes it bearable. The ground clearance is not a problem with six people on board and is a reason why this MPV is so popular. The steering feedback is good enough and it can feel heavy at times but light enough for city duties.
The Innova has a rear-wheel drive which makes life easier and helps you push harder but it is best to stay within the limit because the MPV has small wheels and just above average braking. High-speed stability is spot on thanks to the ideal balance of underlying stiffness and that tiny bit of compliance. Overall, an MPV requires a bit of effort to drive but you can get used to it pretty easily and then enjoy the robust build and consistent ride quality over all types of roads.
2022 Toyota Innova Review, Verdict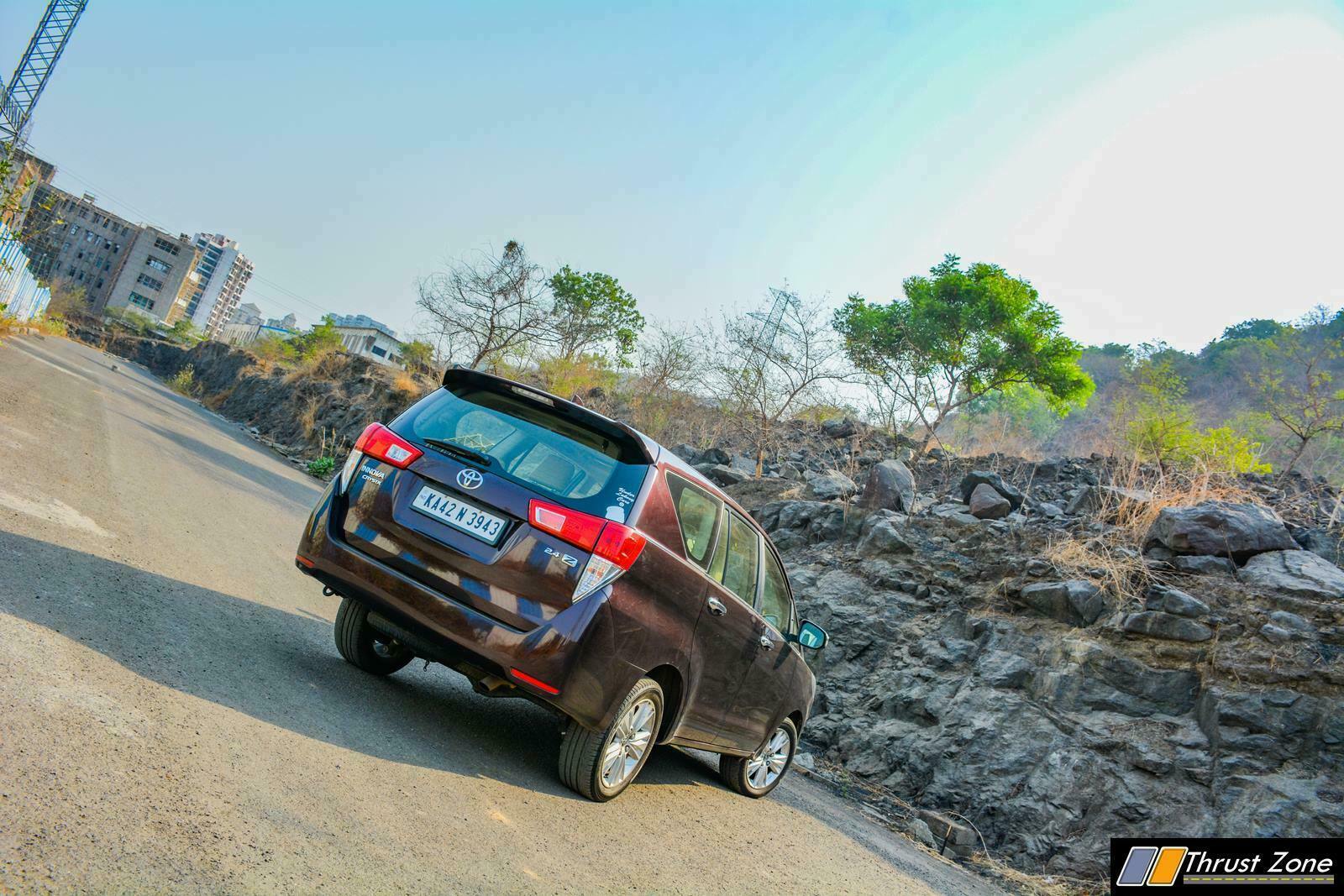 To sum up, the Toyota Innova is a default 7-seater for many in the market right now despite capable options. Nobody has been as big as the Innova in dimensions or engine size to take on it. The Innova has its fair share of issues such as a high price tag that keeps on increasing throughout the variant lineup. However, it is not as big as the Fortuner. Sure, you get your money back when you are done with it as resale is higher, but blocking a large capital is not ever a 7-seater aspirers dream either. People do settle for less. If only, Toyota could get something similar at 25-30% less price, it would work wonders for them too, after all, Toyota is finally in the volumes game. It is time to reconsider the Innova and Fortuner strategy. Something that is on the charts for Toyota, but right now, there is no denying that India's favorite MPV in the Rs. 22-33 lakh segment is the Innova.
2022 Toyota Innova Crysta BS6 Review, First Drive
Design

Interior

Space

Features

Value

Quality

Practicality

Safety

Realibility

Performance

Dynamics