Isuzu Motors India has updated its entire range of pick-up vehicles and SUVs, to conform to the new BS-VI Phase II emission norms. It has refreshed its product portfolio by adding new features on select models, to deliver enhanced styling, safety, comfort, efficiency and emission control. The ISUZU D-MAX V- Cross Z 4×2 AT variant now ups its style quotient. A vibrant new colour 'Valencia Orange' has been added to the personal vehicle range's colour palette.
ISUZU D-MAX Regular Cab and S-CAB models are equipped with A-SCR (Active Selective Catalyst Reduction) added to the set of After Treatment Devices including LNT (Lean NOx Trap), DPD (Diesel Particulate Diffuser) to effectively manage the treatment of the exhaust gases and particulate matter. The Isuzu D-MAX Regular Cab and S-CAB are the only vehicles in the segment with an electronically controlled Hot & Cold EGR (Exhaust Gas Recirculation) for optimal treatment management.
~New Features in CV range~
A-SCR (Active Selective Catalyst Reduction)
Carlike Advanced (MID) Multi-Information Display with Silver inserts
Variable Intermittent Speed Windshield Wiper system
The models and their variants now come with Advanced MID (Multi-Information Display) cluster with Silver Inserts that display DPD (Diesel Particulate Diffuser) indicator and sub-menu to indicate 'Level', Automatic Regeneration, or alert the driver for manual 'Regeneration' operation. A new sub-menu shows the range level indication for the DEF (Diesel Exhaust Fluid), fuel range to empty and instant/average mileage. It also has a GSI (Gear Shift Indicator) that enables the driver to use the ideal gear in any driving condition ensuring the best of the vehicle in terms of torque, fuel management and drivetrain durability.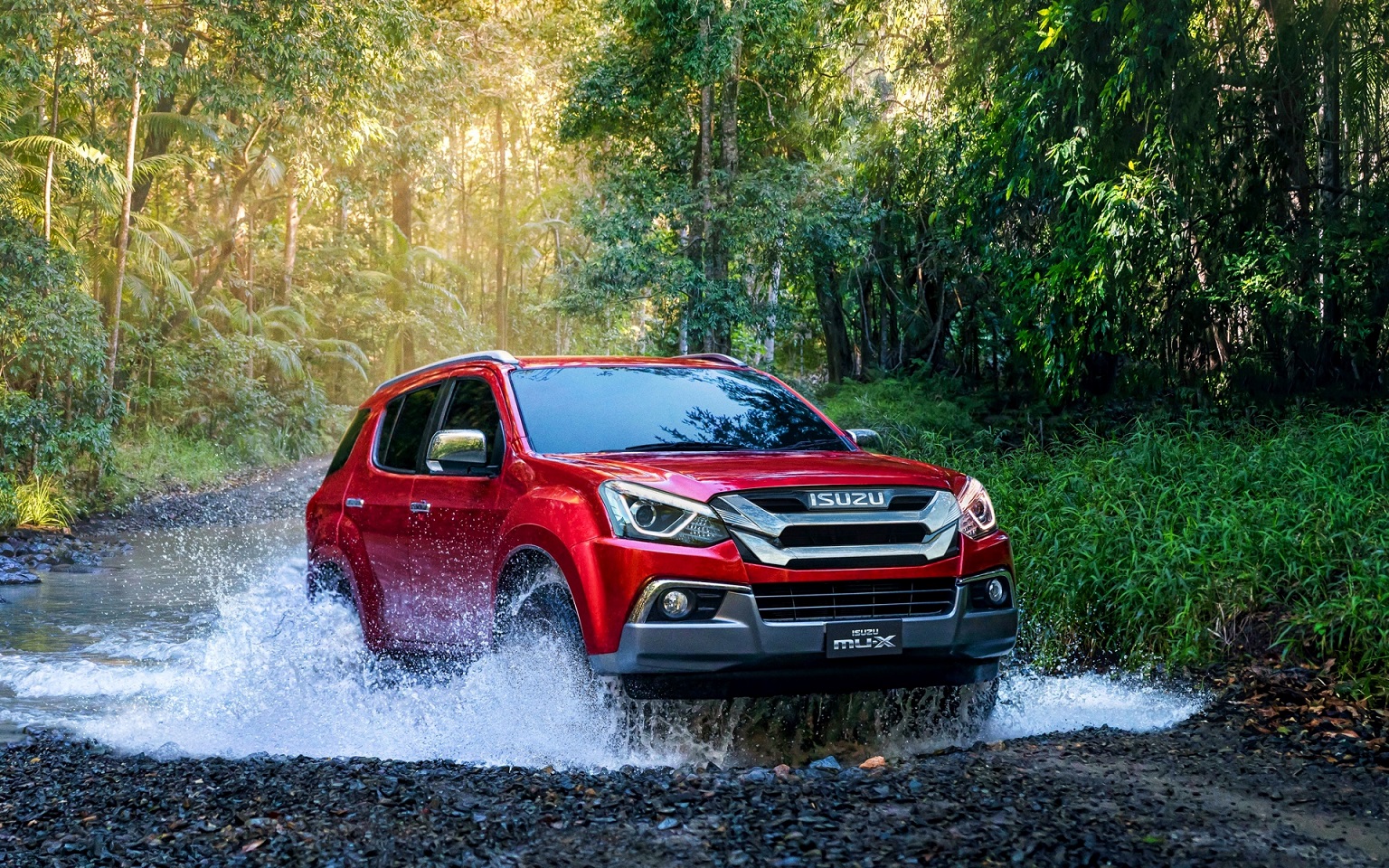 For enhancing safety, the ISUZU D-MAX and S-CAB models come with a 'Variable Speed Intermittent Windshield Wiper' system for better visibility during rainy conditions. The commercial vehicle line-up becomes more comprehensive with the introduction of AC variants of the ISUZU D-MAX Super Strong Single Cab Flat Deck and Cab-Chassis models.
~New Features in PV range~
Idle Stop System (ISS)
Low Friction Tyres
Auto Transmission Fluid warmer
New colour 'Valencia Orange' for the passenger vehicle range
New Sporty Aggressive grill on the mu-X models
The refreshed passenger Pickup and SUV models now come with (ISS) Idle Stop System, Low friction tyres and the Auto transmission fluid warmer (AT Fluid) in automatic variants, for improved fuel efficiency and reduced emission levels.
ISUZU mu-X models will now come with a newly designed sporty grill, adding dynamism to its road presence even when still.
In the ISUZU Hi-Lander model, 'Climate Control Auto AC unit with integrated controls' and 'Rear defogger' which feature on the ISUZU D-MAX V-Cross have been added for additional comfort and convenience. It is soon becoming the 'Pick-up of choice' for the aspiring urban customer looking at entering the personal Pick-up category.
~Enhanced Styling elements on V- Cross Z (4×2 AT)~
New Design Black Alloy wheels
Dark Gray ORVMs
Front Fog Lamp Garnish
Premium Brown Dual Tone Seat Upholstery
Café Brown inserts on Dual-Tone dashboard and door panels
Café Brown highlights on Gear Selector lever
The ISUZU D-MAX V-Cross Z (4×2 AT)
variant ups its style quotient with a host of features that adds to its distinct identity. It now comes with New Design of Black Alloy wheels, Dark Gray ORVMs, and Front Fog lamp garnish giving it a classy and elegant look. The ergonomically designed seats now come with Premium Brown Dual tone seat upholstery with Café Brown inserts on its Dual tone dashboard and door panels and Gear Selector lever.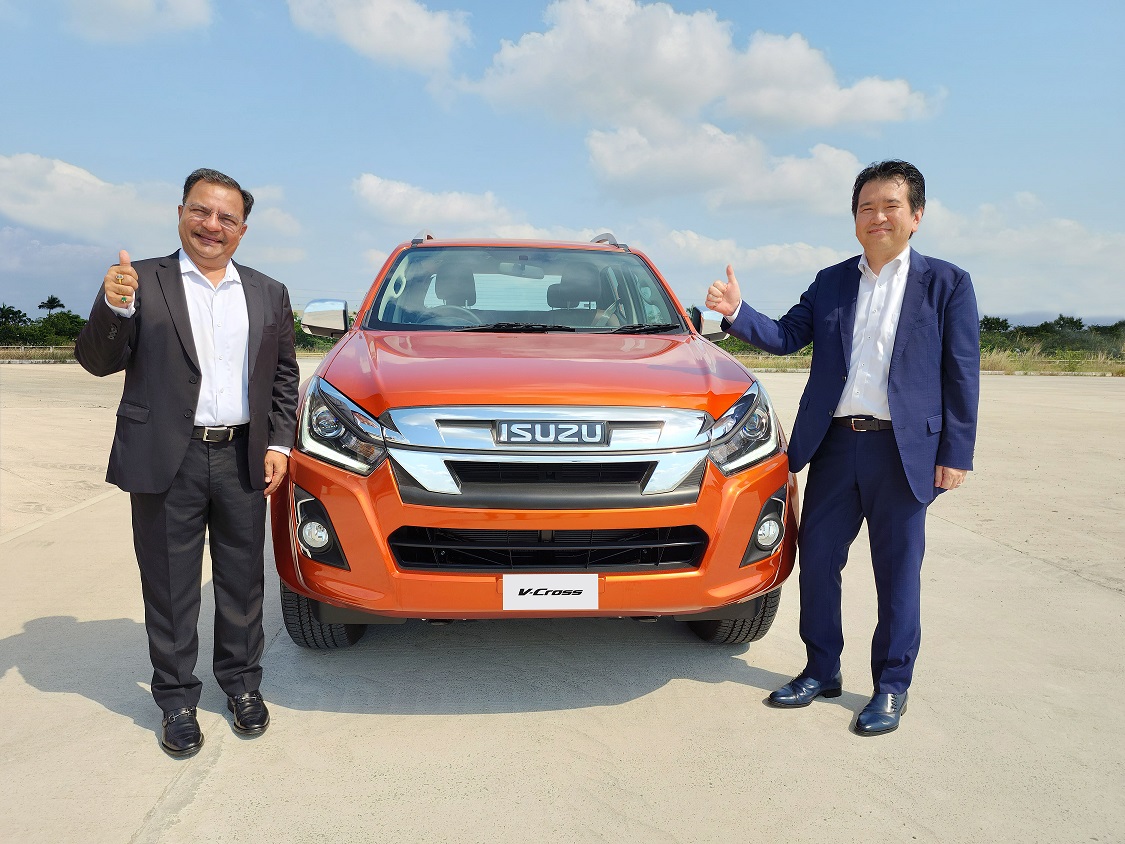 For comfort and convenience, it now has Cruise Control System with Easy select controls on the steering wheel, making driving more pleasurable.
~New Safety features on V-Cross Z (4×2 AT) model~
Traction Control System (TCS
Electronic Stability Control (ESC)
Hill Descent Control (HDC)
Hill Start Assist (HSA)
Taking Safety and Security aspect to the next level, the V-Cross Z (4X2 AT) model is now equipped Traction Control Systems (TCS) that automatically apply brakes upon identifying the wheel losing grip on the road, Electronic Stability Control (ESC) which helps prevent the vehicle from spinning out due to the loss of road traction, Hill Descent Control that maintains the vehicle range of 4 to 30 km/h to avoid over-speeding while driving downhill and Hill Start Assist which reduces chances of the rear collision on slopes.
A new colour 'Valencia Orange' will add more vibrancy to the aggressive design language of the personal vehicle range. Now there will be a palette of 8 colours, for aspiring customers to choose from.
Mr. Toru Kishimoto, Deputy Managing Director, Isuzu Motors India, added, "We are excited to introduce our refreshed range of exciting products which are all set to address the needs of the evolving businesses, emerging urban consumers and motoring enthusiasts. We are proud to have set the benchmark in presenting India with its first ever Lifestyle Utility Vehicle, the ISUZU D-MAX V-Cross and sure that the updated range will carry the success story forward. With the wide range of competent and versatile products, we are sure that there is an ISUZU for everyone".