Lexus has taken a steadier route in the Indian market. Lexus created a large portfolio slowly and steadily and is now readying the big updates once a while that the brand is known for globally. One of them is the NX 350h! The SUV is supposed to be the Mini RX that is set to bring in more customers to the showroom. The SUV driven market from 10 lakhs to 100 lakhs, is booming is what we can see easily out there. We thought the Lexus ES could be the bread and butter model, but this is the bread, while the ES continues to be butter. If both go well, Lexus can enjoy their breakfast every day in India. Have they worked hard enough for it? India counterpart seems to be getting most things right. However, it is the product that comes from the headquarter that is also in sync with requirements worldwide. We spend a week with it to tell you what are the improvements over the previous, which had used impressed in most ways. How exactly? Let's find out!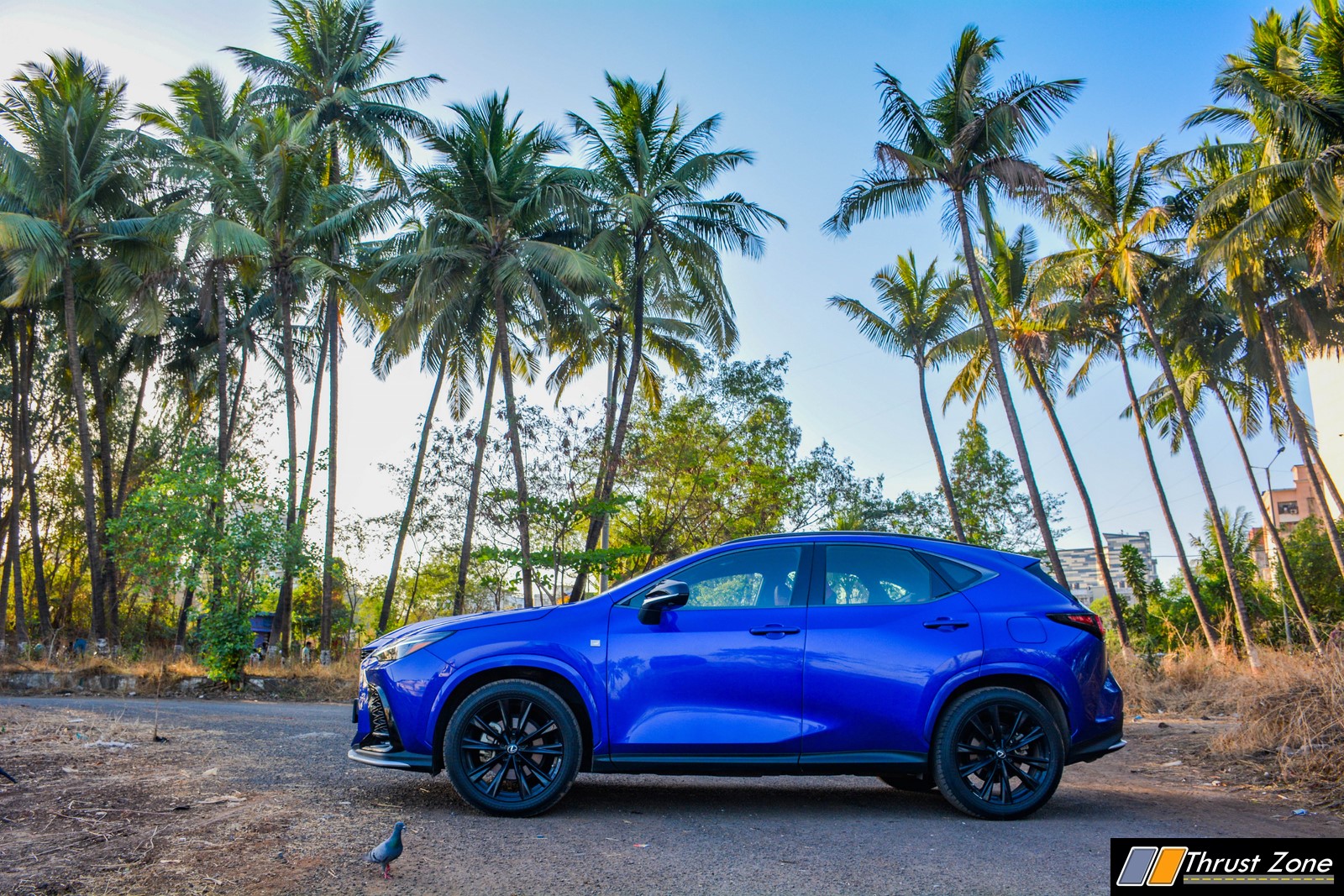 On the outside, the large spindle grille grabs attention with the iconic old-school logo and the bumper size makes it look subtle. At the front and at the rear, very sharp looking LED lamps make it look futuristic along with the LED stop lamp bar at the back. This makes the car typical futuristic Lexus. The side profile is of a proper Japanese design language that has evolved well over the decades as it looks clean, stylish, and sharp at the same time.
A very strong resemblance to the old NX in certain ways makes it an instant hit the average rich joe can enjoy the classic and sharp design. The build quality on the outside seems and sounds great and it scores high on the crash test as well. The elements on the car, such as the front end, LED lights, a short wheelbase, and multi-spoke wheels help it stand out against all its rivals, regardless any color you choose.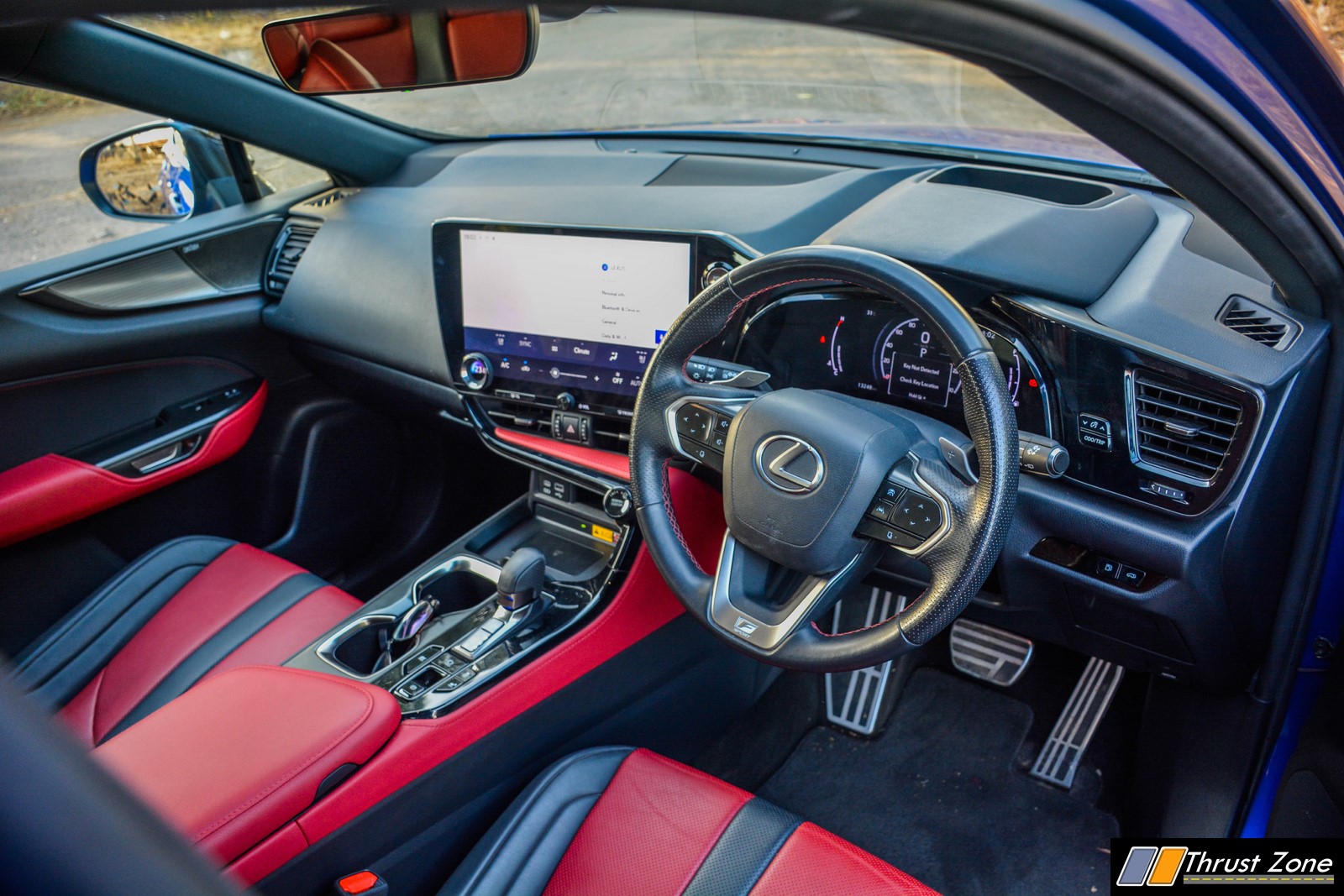 On the inside, a refreshing new change to the interior is highly welcome. the build and quality are good and so is the expansive feature list we saw at launch. You get automatic lights and wipers to reversing cameras, parking sensors all around. A brand new infotainment system which makes us clearly forget the old one which was screen far away and controlled by a laptop inspired touch pad. The new huge 14-inch main screen is slick, quick and works quite well. The touch, response, colors, fonts, layout, all are brilliant. The screen get hot in summers and it is also a finger print magnet to a certain extent, not large alike some rivals. The car gets a large panoramic sunroof, power seats and a new LFA inspired digital speedometer. It can be controlled via touch pads on the steering wheel which are more like miniature version of the touch pad seen earlier on the instrument cluster.
The Lexus gets Wireless Apple Car Play and Android Auto, a fantastic sound system by Mark and Levinson is on offer making the experience top-class. The red and black interior on our test car was well done so it should look great with any color you choose. Soft touch materials everywhere, a button system to lock and unlock doors makes it seamless on the outside and inside. The way the haptics are tuned, this makes it effortless and seamless, invoking a very luxurious feel the moment you touch the door handle outside or inside.
Space is more than most of its rivals with adequate shoulder room, but the knee room you expect is here by a good margin, if not great. Leg and headroom continue to be in good supply but as always it is more of a four-seater than a five-seater. The boot space is good enough at 500 litres and so is the overall practicality of the interior. Road and wind noise inside the cabin is also well-controlled thanks to good insulation all around.
Like any other Lexus, it is still a pleasant and calm place to be. Safety kit continues to be high with the inclusion of active safety features such as electronic stability control and eight airbags on all variants. ESC, traction control, Hill Hold Assist, ABS and EBD, and more are on offer. The passive safety feature list is big and you also get ADAS features such as lane keep assist and blind spot monitoring which work quite well in multiple roads that we tried it on.
Lexus engines are smooth, free-revving, and low on NVH and the one on the NX350h is no different. Be it in any part of the rev range. Low and mid-range are good on the 2.0 strong hybrid aka self charging petrol motor that makes 239 PS and 240 Nm of torque going through the fantastic, smooth and seamless CVT automatic. The engine is linear flexible and powerful at the same time. The engine delivers spectacular fuel economy of 17-18 km/l in the highway run. Dealing with traffic in cities and a slightly spirited highway run, it can still deliver 12 km/l. All this while doing 0-100 km/hr in 7 seconds. The performance fuel economy numbers are up by 25% then the last time we tested the NX.
The ride quality is more reassuring at all speeds. Stiff at slow speeds and slightly soft at higher speeds. Regardless of that, it is nimble and downright easy to drive. The steering gives good feedback and is very precise at all speeds. It weighs up well on the highway too. High-speed stability is spot on too. The brakes were good too with great pedal bite and a lot of performance on offer. Body roll exists while changing lanes at high speeds and taking corners much fast but it is still a very confidence-inspiring car to drive at any given speed. Overall, a very easy-to-drive SUV that is efficient despite it has AWD, linear, no sudden jumps in powertrain and yet high on performance.
2023 Lexus NX350h India Review, Verdict
2023 Lexus NX350h does feel special now. Despite it is modern, it maintains it legacy as well. The 2023 Lexus NX350h is surprisingly good to drive and has all the traits of a Lexus. Looks sharp and subtle. The upgrade in all key areas of infotainment, powertrain and other aspects make it a proper luxury SUV to be considered in this class. We think this is the only petrol SUV in this category that you should put your money on. It does everything a luxury car does and does it in style while providing quality and reliability that some rivals cannot reach even today. The 2023 Lexus NX350h clears makes way to win our heart and our top choice in this category by a long shot.
Exquisite- Rs. 64,90,000/-
NX 350h Luxury- Rs. 69,50,000/-
NX 350h F-Sport- Rs. 71,60,000/-
2023 Lexus NX350h India Review
Desgin

Interior

Features

Space

Quality

Performance

Dynamics

Comfort

Safety

Value

Practicality