2023 Mercedes E53 AMG Cabriolet was a surprise launch earlier this year. It took its sweet time coming to us for test, but it is here anyway. The wait was longer because we waited endlessly to get our hands on the Mercedes cabriolet since a very long time. As you can see in the photos and the review below, the cabriolet E-Class also holds a special place in India. The iconic Bollywood connection of the past to this. An AMG with 4Matic and four seats is a recipe for absolute and sheer fun. Despite the showers during our test, we managed to enjoy a good amount of time with the roof down? How was the whole experience. Let's find out!
On the outside, the flush and wrap around tail lamps are a great addition to the E-Class. Given the fact they have dynamic stop lights and turn indicators, it makes it even cooler to look at once lit. The new angular LED DRL at the front with two additional DRL gives this new generation E-Class its own distinctive look. The simple, dark, large and bold grille makes the car look one of the best saloons to come out of the Mercedes design as it is an ideal look between old school and modern elements on it. The short wheelbase E-Class profile makes it sporty to look at and instantly recognizable as the AMG version is on the prowl!
A fairly stubby and short bumper on both ends makes the E-Class look like a proper sleeper. The side profile with the roof down specially looks extremely timeless! The black alloy wheels with pin stripes just add color to the entire car and its surroundings.
The build quality on the outside seems and sounds great, and it scores high on crash tests like any other Mercedes. The elements on the car, such as a unique set of alloy wheels, quad exhaust and clean and very tastefully done design make the E-Class stand out in every colour, even in this pearl white scheme!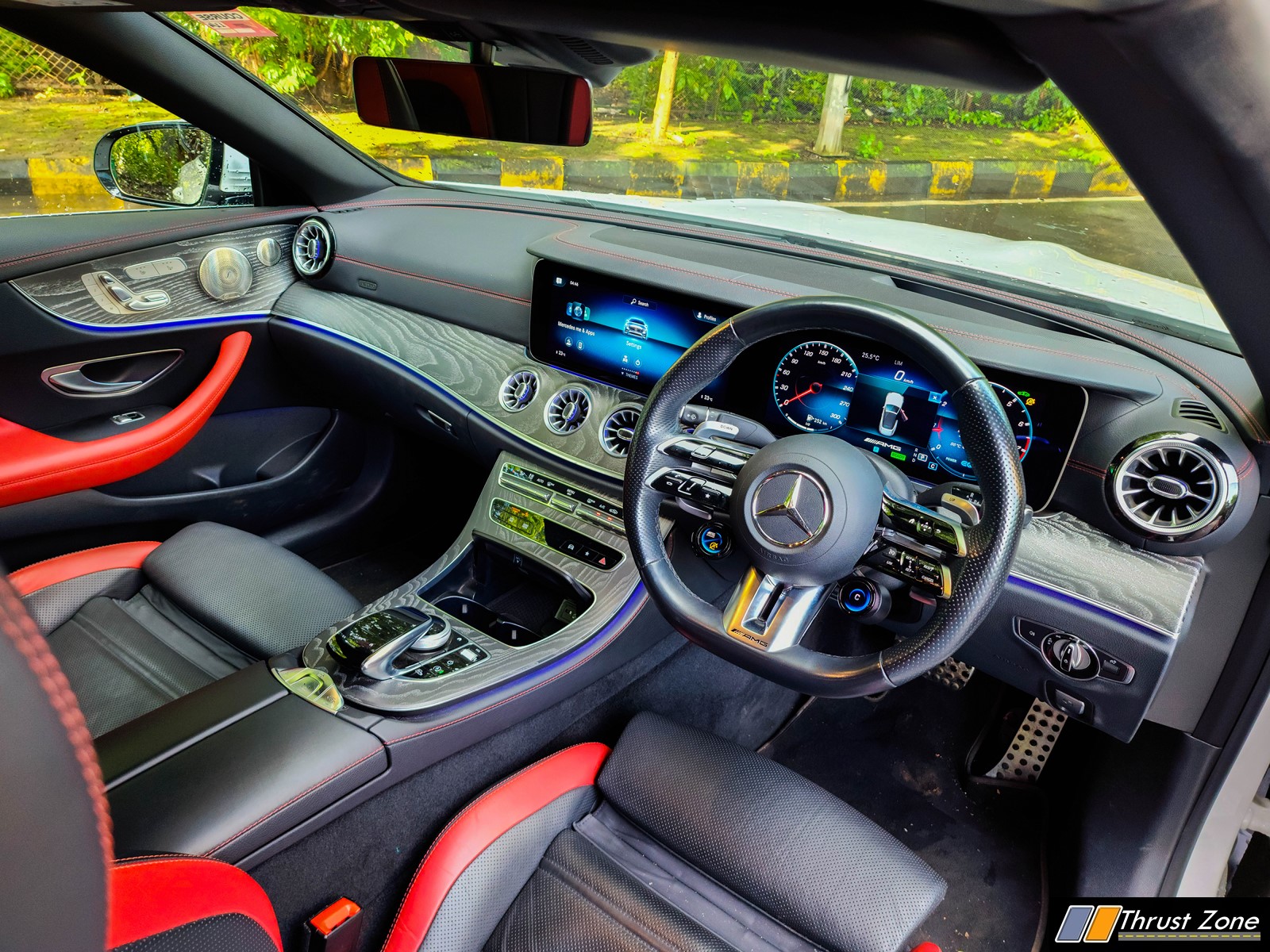 On the inside, the build and quality are good, and so is the expansive feature list. Mercedes' cars continue to be void of Wireless Apple Car play and Android Auto and sod does this. MBUX does make up for the technology part, but not the personalization that people look forward to now. The interior looks dated, especially the lower half of the dashboard resonates with the outgoing E-Class design.
The AMG steering wheel looks great and fresh. The slab-inspired screen on the dashboard looks very futuristic with contrast stitching. You get features such as automatic lights and wipers to reversing cameras, front and rear parking sensors, wireless charger, ambient lighting, and powerful LED lamps with high beam assist along with great spread and illumination.
The car has electric and leather-equipped seats with red seat belts on offer. There are a good amount of buttons on offer, unlike the new generation Mercedes which has only 10 buttons to operate. The instrument cluster has three screens to choose from, and they look great and are very sci-fi too! The screen also shows all service-related parameters. MBUX system has been updated and works quite well and the connected system is good too when you have cell coverage. Mercedes offers Mercedes ME, concierge service, and all other connected features to make the E53 AMG a completely connected car. Voice recognition is on offer and our everyday commands were easily understood.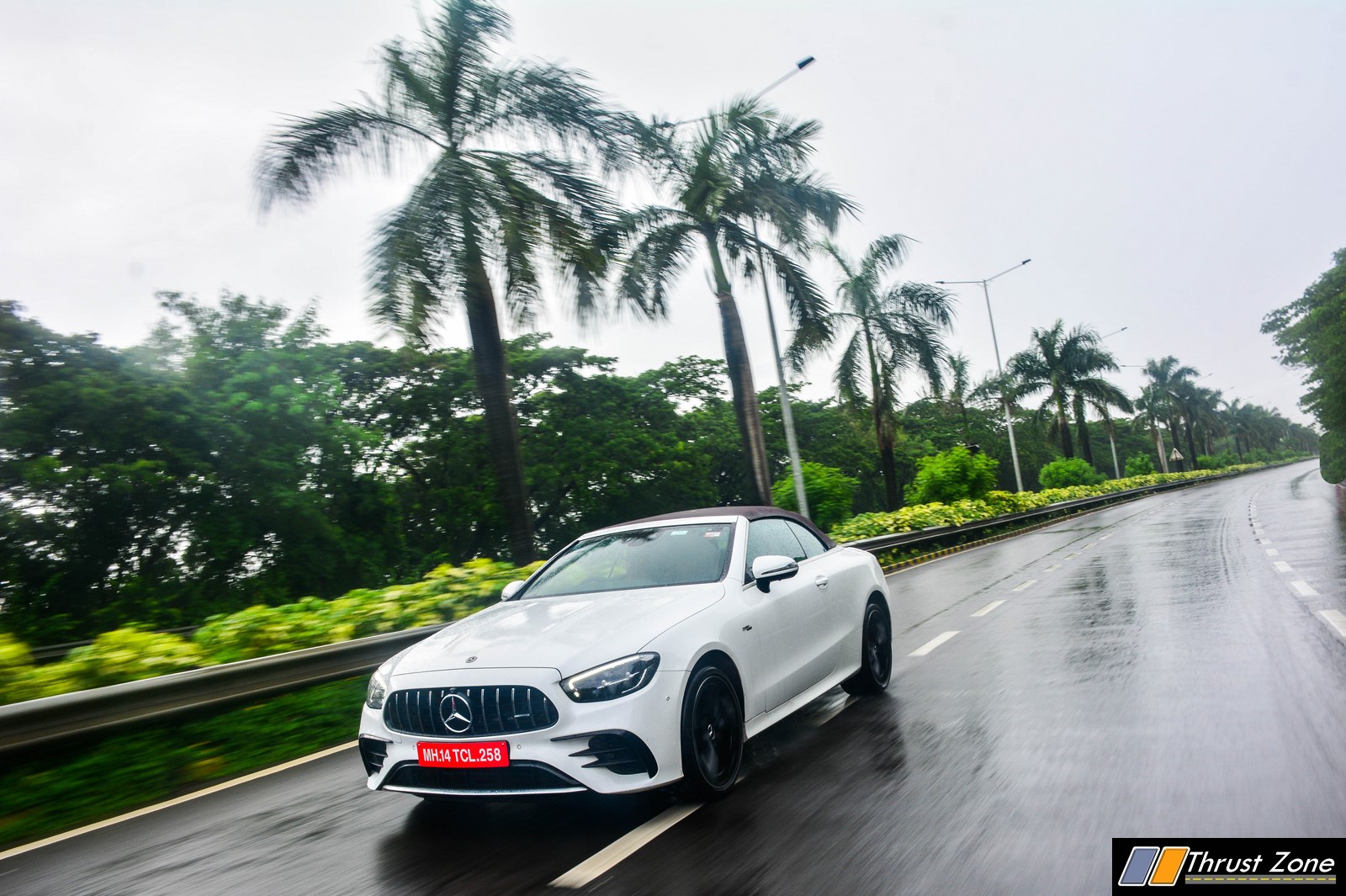 Space is adequate, with enough shoulder and knee room you expect, is here. Leg and headroom continue to be in good supply but as always it is a strict four-seater. A car that can seat your family in comfort with this performance is already sounding like a bargain! Then there is the convertible roof which can be folded under 15 seconds while moving under 60 km/hr! The boot space is hence compromised entirely, and also has a space saver. Road and wind noise inside the cabin is slightly higher due to lack of a roof insulation all around. However, like any other Mercedes, it is still a pleasant place to be thanks to multi-level air filtration. The safety kit continues to be high with electronic stability control and six airbags, Hill Hold Assist, ABS and EBD, Active Brake Assist, and more.
Mercedes-AMG engines are smooth, free-revving, and low on NVH and the one on the E53 AMG is the same. It is cool and calm when you want it to be and hot and happening when you ask it to be. All this is possible because of the drive modes on offer. The 3.0l motor with a mild hybrid system (EQ boost offers 20 BHP and 250 NM of the line) offers neck-snapping off-the-line acceleration.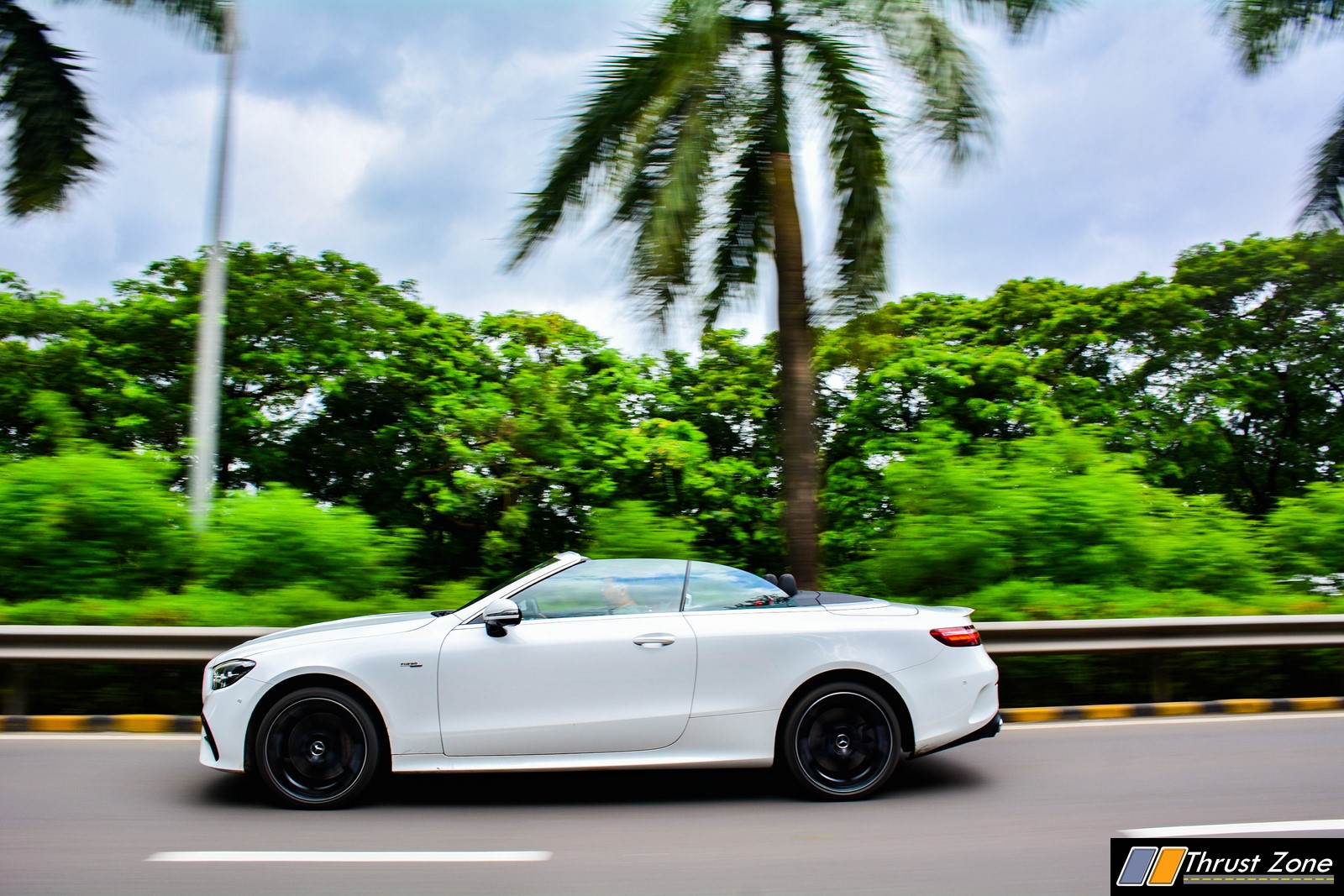 It reaches the double ton under 15 seconds. The front lifts on hard acceleration despite 4WD on offer. Low and mid-range are good on the motor and are instantaneous. The engine makes a 400 PS and 520 Nm (770 on boost) of torque going through a very quick-shifting, smooth, and seamless 9-speed automatic. With four-wheel drive and EQ boost, the powertrain behaves it just shoots the car into the horizon and this time, with the wind in your hair feel is very strong!
The engine rumble and shove you get while accelerating is truly special. 0-100 km/hr in 5.5 seconds is quick, and it has an electronically limited top speed of 250 km/hr is on offer. Top-end is great as always, the engine can cruise at legal speeds and higher than that, quite easily. This makes it good enough for city and highway duties and makes driving comfortable. We saw 7 km/l in the city and 10 km/l on the highway. The tank range is quite high too, delivering almost 500 km in one tank if you keep the right foot in check.
The ride quality is quite compliant enough. This is a car seems to be entire time, suddenly is good enough for our roads too. This is clearly the best setup for our roads to date we have seen in a Mercedes cabriolet, which has extra strengthening with the lack of roof.
Even the ground clearance is not a problem with three people on board, which is an exceptionally good trait that is on offer too. The steering feedback is in abundance, the E53 AMG offers some serious fun to drive as you can push it harder without losing confidence thanks to a lot of traction on offer despite our test car tyres were left with half life.
High-speed stability is spot on thanks to the ideal balance of underlying stiffness and compliance. The brakes were good too, with great pedal bite and a lot of performance on offer. Body roll barely makes its presence felt while changing lanes at any speeds. Overall, a very easy-to-drive car despite maniac performance hides away in plain sight.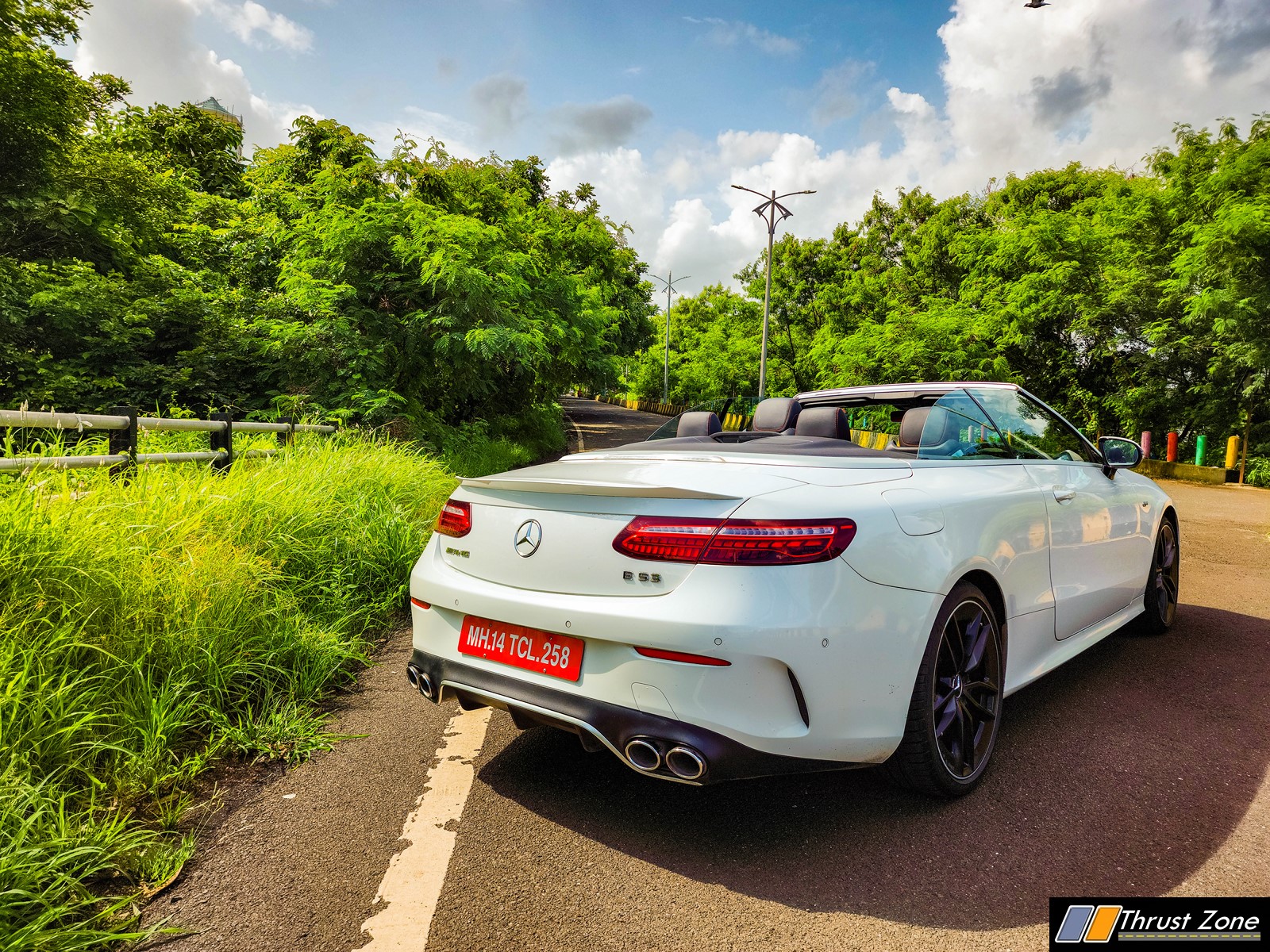 2023 Mercedes-AMG E53 Cabriolet Review, Verdict
Cabriolet are always special and combined that with an AMG, 4WD and spectacular performance all the time makes it extraordinary. The E-Class has four seats too, this makes it quite practical too. If you are not using them, you can use that as a boot because that is something that this car lacks. Apart from that, the price seems to be justified too given what you are getting here is, clearly, an experience of a lifetime!
2023 Mercedes E53 AMG Cabriolet Review
Design

Interior

Features

Space

Practicality

Performance

Dynamics

Value

Safety