Audi is finally getting aggressive when it comes to world markets and that seems to be trickling down to India as well. There have been a lot of decisions at Audi HQ which seem to be taking shape really well. For starters, let's discuss what we have with us today. The 2023 Q8 Audi E-Tron. The E-tron converted into Q8 because all odd number cars will be ICE and even number cars will be EV. In the SUV world there are Sportback version being readied for all existing and new incoming SUV's.
The Q4, Q3 and Q6 Sportback are already here. We expect more to come. Audi is going to go full electric as well. Meanwhile, it is going to discontinue ICE cars in a very slow and steady manner unlike its rival, specifically Volvo in India, who just hate ICE so much they are ready to get it off emerging markets as well. Audi meanwhile is gaining advantage in this area and their sales in India are doing well too. We spent time with the revised nameplate which is so much more than that on paper! Let's find out more as we spent driving it for 250 kms.
On the outside, the SUV is not so high on length and width. The design elements of the car make it stand out. The large grille with the new 2D Logo looks surreal to me! The futuristic LED DRL pattern looks great and the way it illuminates when you start the car is amazing. The silhouette of the car from some angles can look crossover more and SUV less. However, this will this age well over time, we as it is already doing since its launch of almost four years ago. The E-Tron continues with two side charger ports which open and close with an automated flap which operates in a very sci-fi manner.
The good looking 20-inch wheels at the side and the unique tail lamps with LED DRL and LED Bar at the rear make it look premium and futuristic. The digital matrix headlights were tested entirely by us for the first time and we have come back beyond impressed with its illumination, spread and throw! The build quality on the outside seems and sounds excellent and as we know, most Audi cars score the highest marks in crash tests.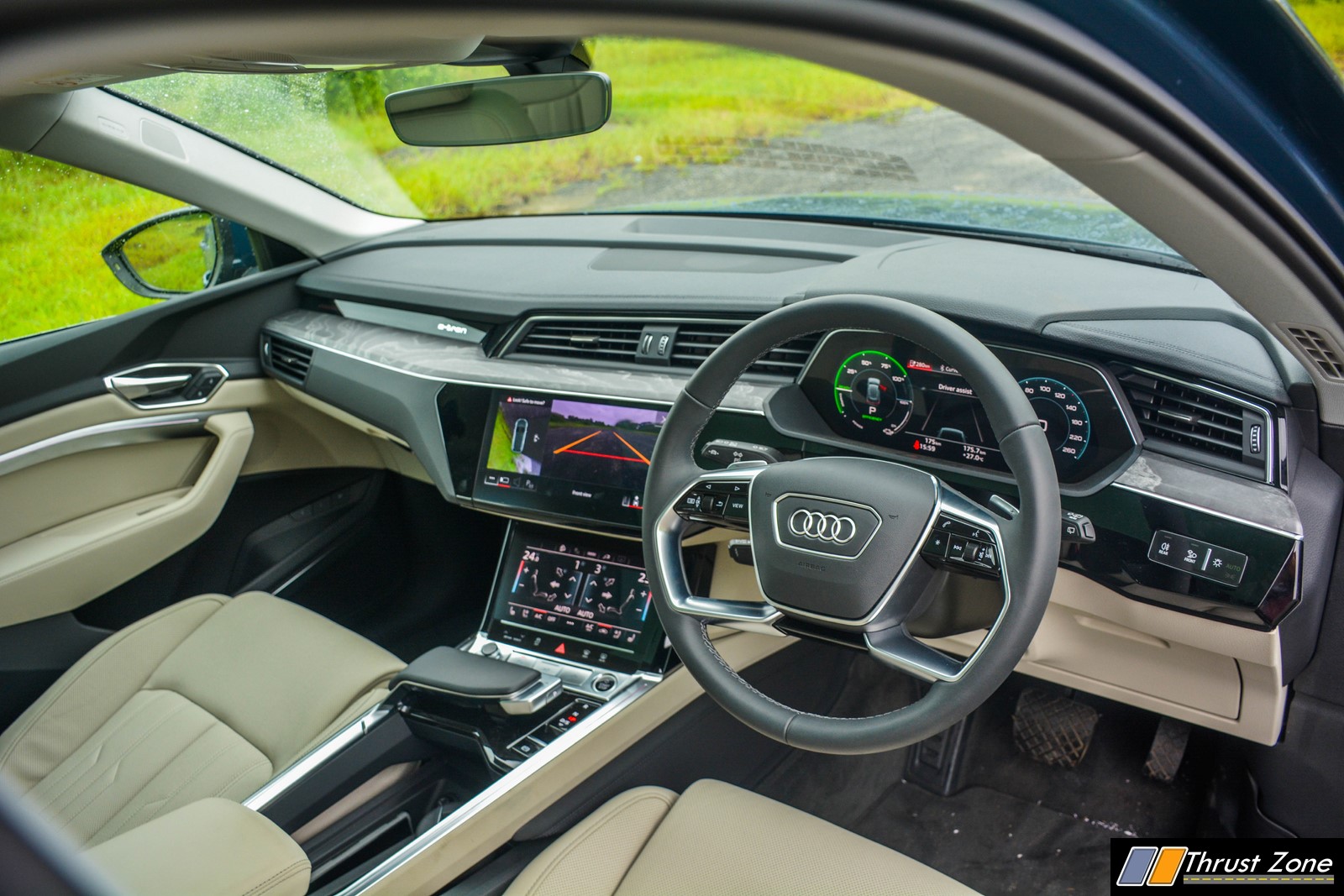 On the inside, the build and quality are excellent, and so is the expansive feature list. With an electric parking brake, cruise control, a large panoramic sunroof, 3D surround-view cameras, Park Assit PLus, Air Ionizer and much more is on offer. Wireless Apple Car Play and Android Auto continue to be a miss. The interior layout remains the same with new materials being used to bring a dash of freshness in the cabin. Ventilated and massage seats are now on offer as well as optional extras!
The MMi touch screen works great with proper haptic feedback on the screen with re-assuring click noise and feel makes it really good only when you get used to it. An ideal culmination of button press feel on a touch screen is what the MMI is all about! The ADAS features also worked well and easier to on and off given our tough situation of traffic in India. Space is good with excellent Leg and headroom along with shoulder and knee room.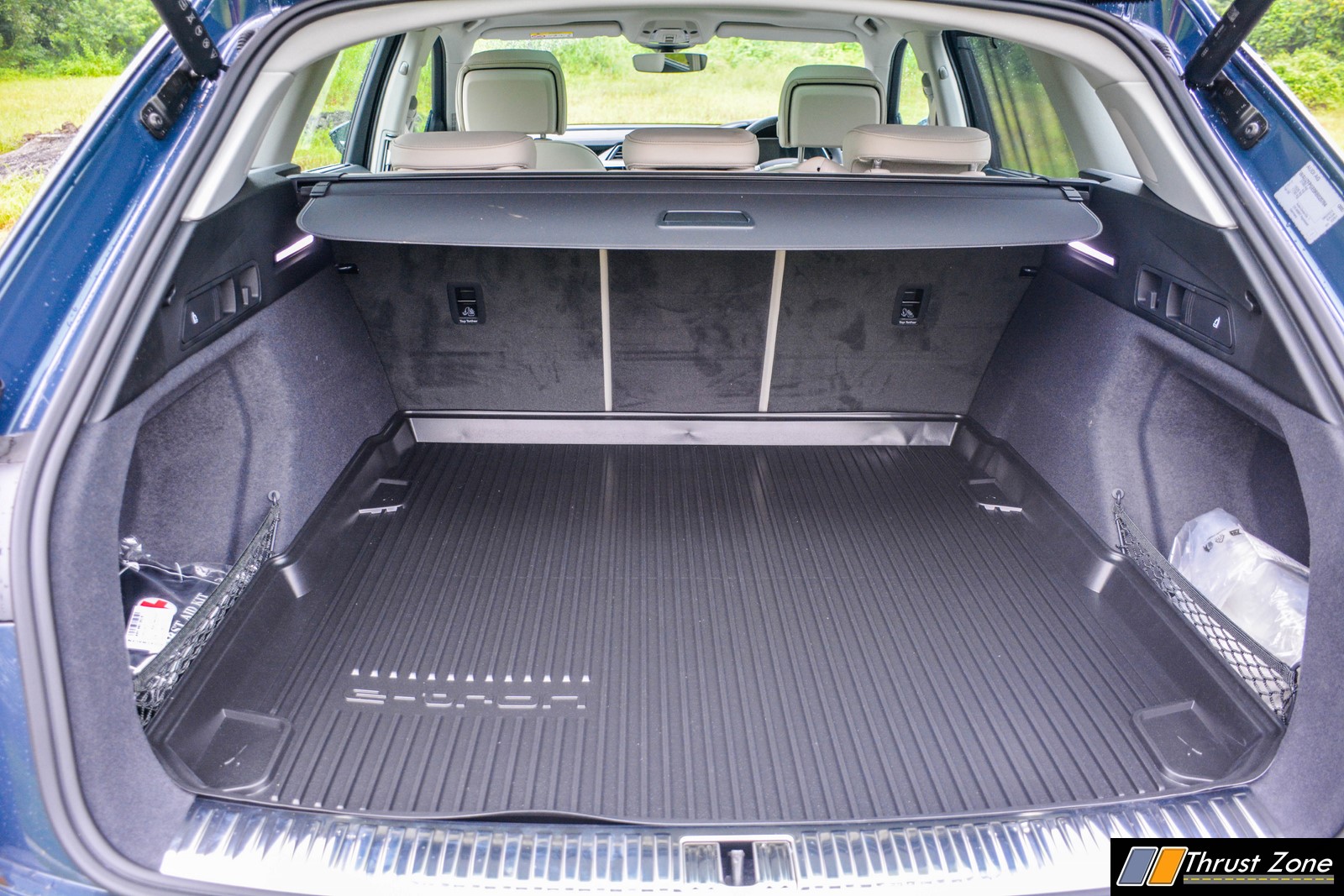 The boot space continues to be good by segment standards. Road and wind noise inside the cabin is also well-controlled and it is a pleasant place to be. The safety kit continues to be high with electronic stability control and Hill Hold Assist is on offer. ABS and EBD with eight airbags come as standard. Traction control and electronic stability work very hard to keep things in check.
The battery-powered E-Tron is low on NVH as expected and may be a little too much. Good thing you have an outright brilliant sound system from Bang and Olufsen system always makes us really appreciate the quality and it also helps keep things loud in the cabin helping you from falling asleep.
Low and mid-range are good and top-end is brilliant too on the E-Tron. It keeps pushing all the way from 0 to 160 km/hr like how powerful EV should and a bit more. The 114 Kw battery helps it do top spee is no time too. The colossal power and torque which stand 407 PS and 666 Nm makes it super quick and fast too! It can cruise easily at legal speeds. This makes the E-Tron good enough for long highway duties as well! Mumbai to Goa seems possible with just one charge on the way! E-tron is easy to drive in the city thanks to light steering, low turning radius despite big dimensions.
All driving modes work according to their names. Eco mode feels quite tamed, the sport mode can drive you wild as it is very addictive. More so than ICE cars and instant power needs more attention! In our drive, we could do 240 km max before we had to give it back. Sadly, we couldn't charge the car and do a full road test! We will try and do that with Sportback version.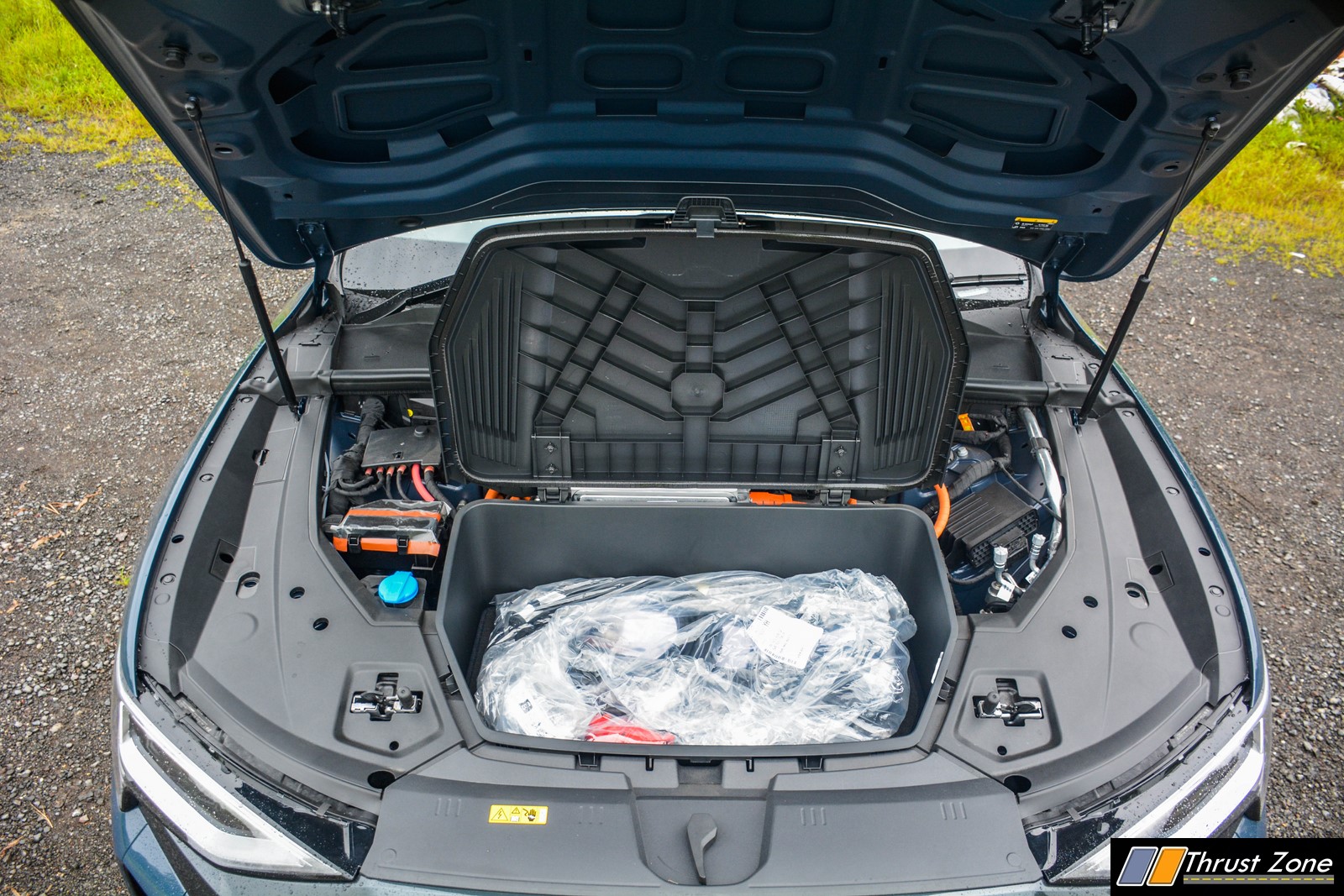 The low to medium ride quality is stiff, but the high-speed ride is brilliant as it stays solid and is pliant enough to deal with anything at those speeds. As the suspension has been tuned the same way The body roll increases as speeds get higher while taking a corner or changing lanes at high speeds. Steering is precise and has good feedback on offer which makes the car fun and confident but not at outright sportier because you do feel the weight of the battery pack if you start pushing it harder.
The battery pack is lower hence the center of gravity is low and great, the suspension behaves very differently and does not bob around at the limit of a pot hole or a corner. The weight is well managed, suspension behaves well and hence inspiring confidence at all times, even more than ICE cars at most speeds, if not all. The brakes have a good pedal bite and enough power to stop at high speeds, even with regen on offer. The one pedal drive mode is missing and regen has to be adjusted every single time you set out for drive via paddles on the steering. Something that should have been simplified by Audi.
Overall, a fun to drive by far SUV by Audi thanks to adjustable air suspension which offers off-road and all-road modes which dramatically raise the suspension for tackling the very worst as well if the roads go beyond the usual worst too!
2023 Q8 Audi E-Tron Facelift Review, Verdict
Audi has finally taken their after sales game to new heights. The company offers complimentary 10-year Road Side Assistance (best-in-industry), High Voltage Battery warranty of 8 years or 160,000 KM whichever occurs first, complimentary 2+3 years of warranty for a limited period; extendable up to 7 years, periodic maintenance / comprehensive maintenance packages available up to 7 years, 8 high voltage battery repair centres. First-in-the-industry that reduces turn around time on battery repair if anything goes wrong. Along with that the Audi Q8 55 e-tron costing INR 1,26,10,000 that we tested here is a small price increase for a big change that seen under the skin. The E-Tron has already been our favourite in this segment, and it will take a lot from other manufacturers to defeat this time. Audi holds the throne and cements itself for a very long time in this category.
2023 Q8 Audi E-Tron Facelift Review
Design

Interior

Features

Quality

Safety

Space

Practicality

Performance

Dynamics

Value