Volvo has taken a faster route in the Indian market. Volvo created a large portfolio slowly and steadily and updated it regularly as well. One of them is the XC40!. The XC40! is supposed to be the Mini XC90 that is set to bring in more customers to the showroom. The SUV driven market from 10 lakhs to 100 lakhs, the segment is booming, hard! Volvo has always been confident about the XC 40 and Volvo's portfolio are concentrating on EV's now, the car continues to get a 2.0 motor that is characterful! How exactly? We find out!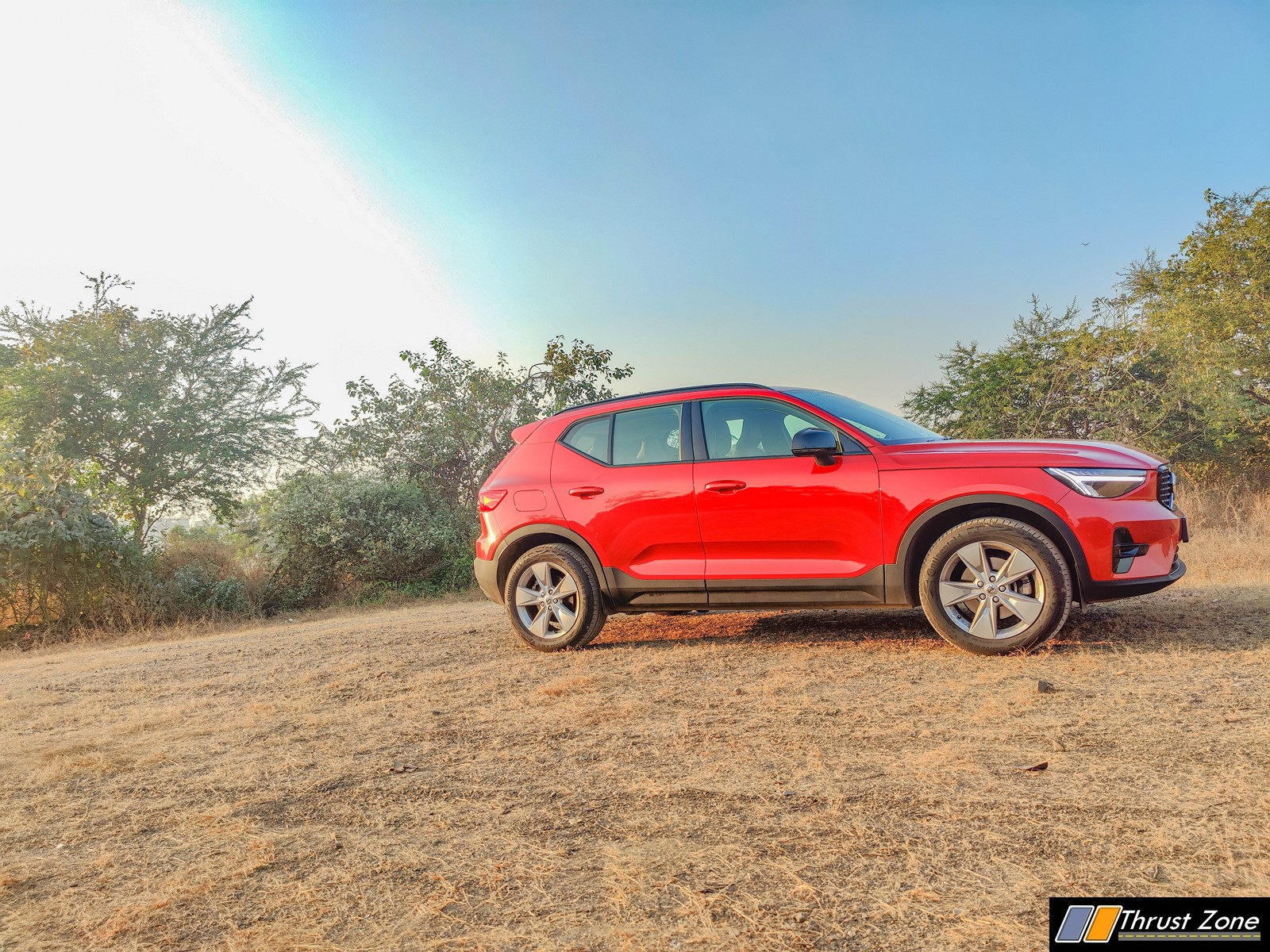 On the outside, the large chrome grille grabs attention with the iconic old-school logo and the bumper size makes it look subtle. Volvo gets three elements just right. The LED DRL, the big Volvo logo and the grille all come together really well. At the front and at the rear, very fancy-looking LED lamps make it look futuristic. This makes the car look like a typical Volvo saloon. The side profile is of a proper European design language that has evolved well over the decades as it looks clean, stylish, and subtle at the same time. A very strong resemblance to the old Volvo in certain ways makes it an instant hit in the enthusiast community and the average rich joe can enjoy the subtly. The build quality on the outside seems and sounds great and it scores high on the crash test as well.
On the inside, the build and quality are good and so is the expansive feature list we have explained time and again in our reports. You get automatic lights and wipers to reversing cameras, parking sensors all around, Google-based infotainment system which makes us clearly miss the old Volvo home-made infotainment system which was much better in terms of features. The car gets a large panoramic sunroof, power seats and a digital speedometer. The Volvo gets Wireless Apple Car Play and Android Auto, a fantastic sound system by Harman Kardon sound system is on offer making the experience top-class. The main screen is slick, quick and works quite well.
Road and wind noise inside the cabin is also well-controlled thanks to good insulation all around. Like any other Volvo, it is still a pleasant place to be. Safety kit continues to be high with the inclusion of active safety features such as electronic stability control and six airbags on all variants such as Hill Hold Assist, ABS and EBD, and more come as standard. The passive safety feature list is big and you also get ADAs features such as lane keep assist and blind spot monitoring which work quite well in multiple roads that we tried it on.
Space is more than most of its rivals with adequate shoulder room, but the knee room you expect is here by a good margin, if not great. Leg and headroom continue to be in good supply but as always it is more of a four-seater than a five-seater. The boot space is good enough at 500 litres and it has many ways you can calibrate the boot with moveable floor and using the nets and hooks well.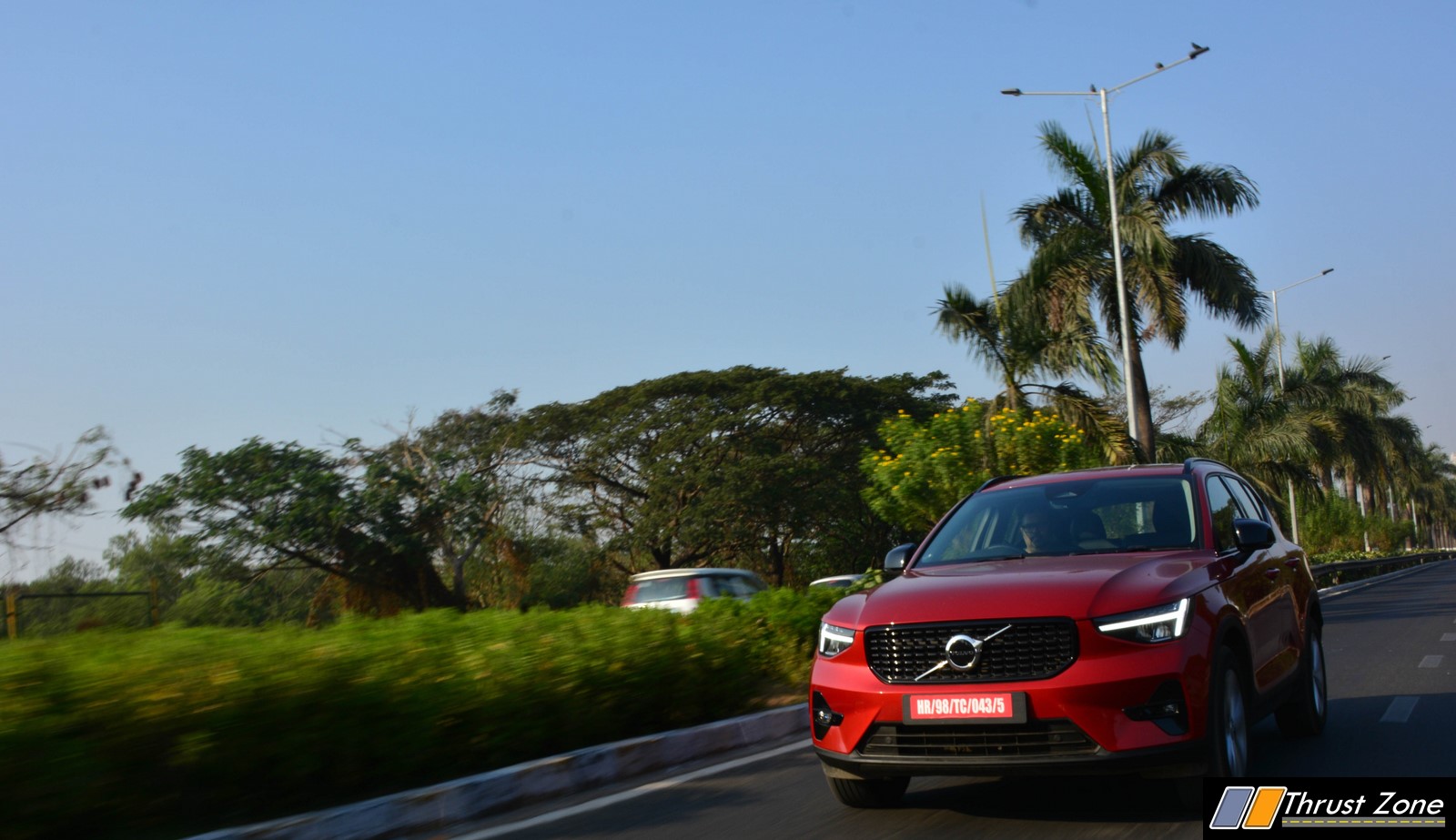 Volvo engines are smooth, free-revving, and low on NVH and the one on the Volvo XC40 is no different. Be it in any part of the rev range. Low and mid-range are good on the 2.0 turbocharged petrol motor that makes 190 PS and 350 Nm of torque going through the fantastic, smooth, seamless, and almost quick-shifting 8-speed torque converter automatic. The engine is linear flexible and powerful at the same time. The engine delivers spectacular fuel economy of 13-15 km/l in the highway run.
Dealing with traffic in cities and a slightly spirited highway run, it can still deliver 8 km/l. All this while doing 0-100 km/hr in 8 seconds. The engine feels precise and still has the machine gun soundtrack as you rev to the redline and feels like a muted naturally aspirated motor. A strong is reminiscent of the 5-cylinder in a smaller dose. It can feel raw and unrefined at the very limit but most of the time it is a spectacular all-rounder. It can be the car that can do highway runs to other cities with four people sitting comfortably.
The ride quality is more reassuring at all speeds just like any other Volvo. The XC40 does not feel that agile and nimble but it is still easy to drive. The steering gives little feedback and is very precise at all speeds. It weighs up well on the highway too. High-speed stability is too good to be true and segment best thanks to the ideal balance of underlying stiffness and compliance. The brakes were good too with great pedal bite and a lot of performance on offer. Body roll exists while changing lanes at high speeds and taking corners much fast but it is still a very confidence-inspiring car to drive at any given speed. Overall, a very easy-to-drive SUV but the most thrilling like the Audi which goes against not the other European car makers which are far sportier to drive.
2023 Volvo XC40 India Review, Verdict
The Volvo XC40 SUV did feel special, is surprisingly good to drive and has all the traits of a Volvo. Looks subtle, is safe and the interior is good but did start to age dramatically, against all its rivals. Of course, it isn't on sale any more and that makes us sad. It was in a segment where it was supreme once. Volvo's sudden and lack of love for fuel cars which they made since a century just seems over done to us. The Volvo XC40 was once best in the segment with its performance and price. However, higher margin in EV with the higher price tag along with the love for HQ's carbon neutral dreams to met quickly will rob them of attention in emerging markets like ours. There is very little that can be done about it except that feeling of something missing will continue for the next decade.
2023 Volvo XC40 Review
Design

Interior

Features

Space

Quality

Safety

Performance

Dynamics

Value