For 24YM Honda's naked four-cylinder jewel evolves its Neo Sports Café style with a sharp styling update from nose to tail. A brand-new 5-inch TFT screen offers Honda RoadSync connectivity, operated by simplified new 4-way toggle switch. Engine performance is unchanged at 70kW power and 63Nm torque, with an A2 option. The CB650R and the CBR650R super sports bike – will be the first Honda to be offered with the option of Honda E-Clutch technology, which gives the rider choice of automatic clutch operation by simply using the shift pedal. Chassis specification includes Showa SFF-BP USD forks, dual four-piston radial mount front calipers and 120/70-ZR17 and 180/55-ZR17 tyre combination. Two brand-new paint options and two new colour combinations strike a contemporary chord.
Honda E-Clutch
World-first technology allows the rider to start, stop and change gear without using the clutch lever – just the shift pedal
Available as an option from new; system adds 2kg to kerb weight
Honda E-Clutch also allows normal operation of the clutch lever
Brings more enjoyment and flexibility across a wide range of scenarios, for a 'next level' riding experience
Honda E-Clutch takes elements of the technology and performance of quickshifters, manually-operated clutches and Honda's Dual Clutch Transmission technology. This is to create a unique blend of these well-proven approaches, opening up a whole new aspect of the motorcycling experience for riders of every type and experience level. The clutch and transmission hardware themselves are no different from a conventional motorcycle, with the ultra-compact system weighing only 2 kilograms.
In operation, Honda E-clutch is simplicity itself, taking away the need to use the clutch lever to make a shift either up or down the gearbox. The rider simply has to operate the shift pedal for ultra-fast, consistent gear changes, bringing extra enjoyment to sporty riding. The clutch lever is also not needed when pulling away or coming to a stop. Becoming active as soon as the engine is switched on, the system manages both scenarios smoothly. This is, while taking away the possibility of the engine stalling when in operation, providing extra convenience and peace of mind to town riding involving frequent starts and stops.
In addition to enjoyment and convenience, Honda E-Clutch brings ultimate flexibility. Should the rider wish, they are able to operate the clutch lever as normal at any time. When the clutch lever is used, the Honda E-clutch system will re-activate after less than a second above a certain engine rpm; after 5 seconds at lower engine speeds. Should the rider wish to turn off the system for a particular ride, this is also possible via the switchgear on the left handlebar. The change to manual operation is indicated by a letter 'M' on the instrument panel.
The Honda E-Clutch also allows the rider to select an 'operation feel' to set the strength of the force required on the shift pedal to make a gear change. Three settings are available: HARD, MEDIUM, and SOFT, each of which can be chosen independently for upshifting and downshifting. The technology will also advise the rider to shift down – via a symbol on the instrument panel – if it detects the motorcycle is in a high gear at a certain speed.
The Honda E-Clutch manages clutch engagement and disengagement based on its reading of parameters including vehicle speed, throttle opening angle, engine rpm, pressure on the shift pedal, clutch motor reduction gear angle, engine countershaft speed and gear position. The clutch is operated through an actuator unit with two motors situated inside the right hand engine cover. As the clutch is engaged or disengaged, the engine's ignition timing and fuel injection are also controlled, resulting in smooth, shock-free shifting in any situation.
When it comes to the engine, the Direct cam actuation makes for a compact cylinder head; bore and stroke is set at 67mm x 46mm with compression ratio raised of 11.6:1. Iridium spark plugs are employed and twin air ducts – either side of the fuel tank – feed the airbox and produce a throaty intake roar. Asymmetric piston skirts minimise bore contact and reduce friction. Ferrous spines on the outer surface of the cylinder sleeves reduce oil consumption (and friction) with improved heat transfer and a silent SV cam chain reduces frictional losses by using a Vanadium coating on its pins. Internal water channelling from cylinder head to cylinders does away with most of the exterior hoses.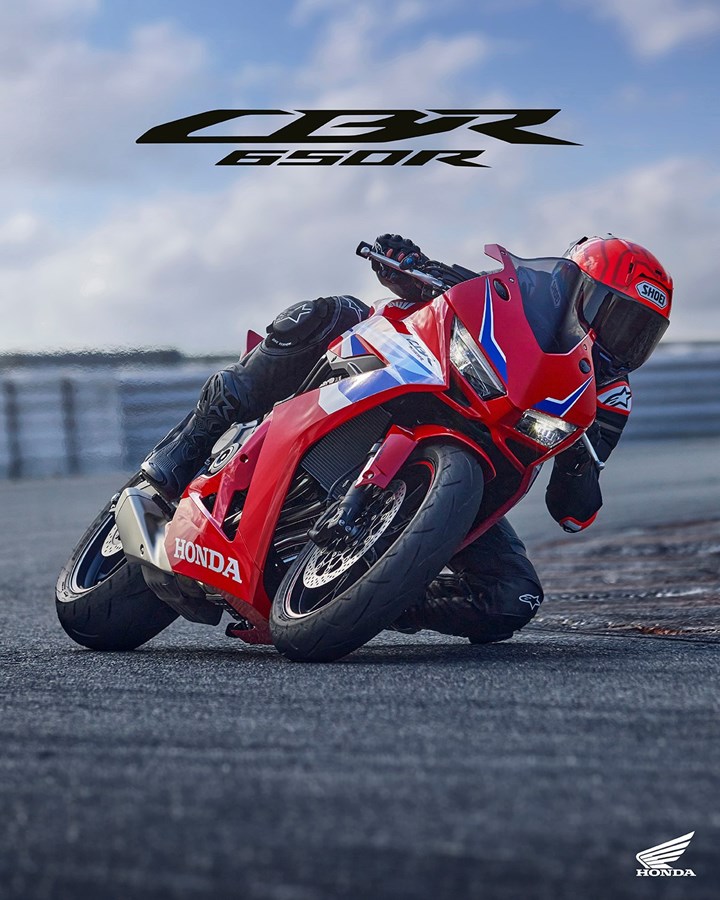 The engine uses a compact internal architecture, stacked six-speed gearbox and starter layout with the cylinders canted forward 30°. An assist/slipper clutch eases upshifts while managing rear-wheel lock up under hard braking and rapid downshifts. Honda Selectable Torque Control (HSTC) manages rear wheel traction; it can be turned off should the rider choose. Fuel consumption of 20.4km/l (WMTC mode) gives a range of over 300km from the 15.4L fuel tank. EURO5 compliant, environmental efficiency has been updated with revisions to the ECU and catalyser, as well as the addition of an OBD2-2 sensor.