5 Years Of Triumph Motorcycles India has seen the introduction of affordable and fun motorcycles while enhancing the superbike culture in the Indian market
Triumph Motorcycles completes Triumphant 5 years today in India. As the original British motorcycle company, Triumph's legend has been built with over 115 years of race wins, world speed records and of course Iconic motorcycles. With fans across the world, it was on this day in 2013 the brand made its inroads in India for the thousands of Indian riders to discover these motorcycles with the perfect balance of power, handling and style. No Doubt the brand has received an overwhelming response.
Triumph has initiated several activities in these five-years to match the evolving aspirations of the new-age rider. With category-winning models across riding categories, Triumph has continuously refreshed and upgraded the range with latest world-class technology and setting new benchmarks for the competition.
The brand is well represented across the country today with 16 world class Triumph Experience Centres across the country with state-of-the-art service facilities. It is overwhelming that through this network Triumph has customers today spreading across 400 towns in the country.
Speaking on the five-year anniversary, Mr. Shoeb Farooq, General Manager, Triumph Motorcycles India Pvt. Ltd., said, "We are thankful to our partners, customers, enthusiasts and fans for all our accomplishments in these 5 years. For Triumph, the growth has been phenomenal in the last five years. Our aim is to further grow 10-12% each year going forward. We are entering our 6th year in India with a very positive outlook and before June 2019, we plan to launch six new products. It would be a mix of new and facelifts of the current models. We intend to further expand the sales network from the current 16 dealerships to 25 over the next 3-4 years. The spread and contribution from smaller towns is increasing and we expect the tier II towns to propel the next leg of growth in the industry. India continues to be an important market for Triumph globally".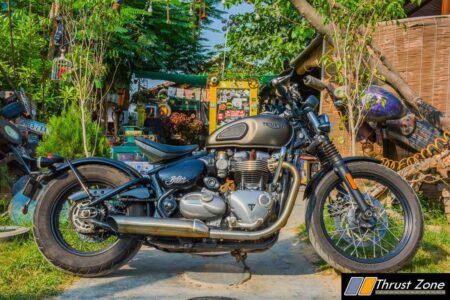 The company has curated major initiatives to allow customers a chance to learn and explore the best of motorcycling experience with training sessions at Triumph Tiger Training Academy and California Superbike School. Further to make it easier for thousands of aspiring young Indians to own the Triumph motorcycle of their choice, the company has collaborated with HDFC Bank for convenient EMI options for customers and tailor-made solutions which are also industry firsts. It is not all business though – Triumph supports special causes like prostate cancer and men's mental health through the Distinguished Gentlemen's Ride & the cause of girl child education.
India continues to be strategically important for Triumph globally, with one of the 4 global manufacturing/assembly bases located in India at Manesar. The CKD facility at Manesar is central to the strategy of Triumph in India with current CKD contribution to business above 90% . 5 years, 5000+ customers, 58 awards, 16 Triumph World Experience Centres – Triumph has one foot planted in its rich history and the other firmly in the best that technology has to offer – fabulous ingredients for its 'Smashing Sixth'.