Enchanting –
High quality, muscular, edgy and attractive design
Superlative chassis, brakes, engine
Fuel efficient, comfortable and feature loaded
Easy to ride in any situation and by anyone
Unsatisfying –
Priced a lot higher
Misses Hazard light button, LED turn indicators, USD forks & adjustable levers
Needs beautiful looking grab rails
Could be more pillion friendly
Honestly, the moment i saw the first pictures of the Ninja 400 being shot for a commercial in the streets of Milwaukee, the hometown of Harley-Davidson i decided some things. Capacity war is on within the Japanese rivals and secondly, i am buying this motorcycle. I have a 2014 KTM Duke 390 and I need something i can use to do my daily chores while accomplishing my touring fantasies.
The taste that the Ninja 300 gave me in the past, i was sure, this thing is going to be my next motorcycle. I continue to do the aforementioned items on my Duke 390 even in 2018. Why? Because the Ninja 400 is priced at Rs 5.80 lakhs on-road Mumbai. Usually, we mention the price in the last, but had to do it first. Why? Because everything else has been taken care so beautifully that we cannot wait to explain you in detail.
Styling
In terms of design, it continues with typical Ninja design. Chiselled front mudguard, a very substantial looking front headlight cowl and has the right amount of edgy-ness. The large protruding fairing with vents on it makes it grab a lot of attention. The KRT livery makes it look the perfect futuristic Kawasaki Ninja Supersport as always. The tail section is quite muscular and unlike any other Kawasaki.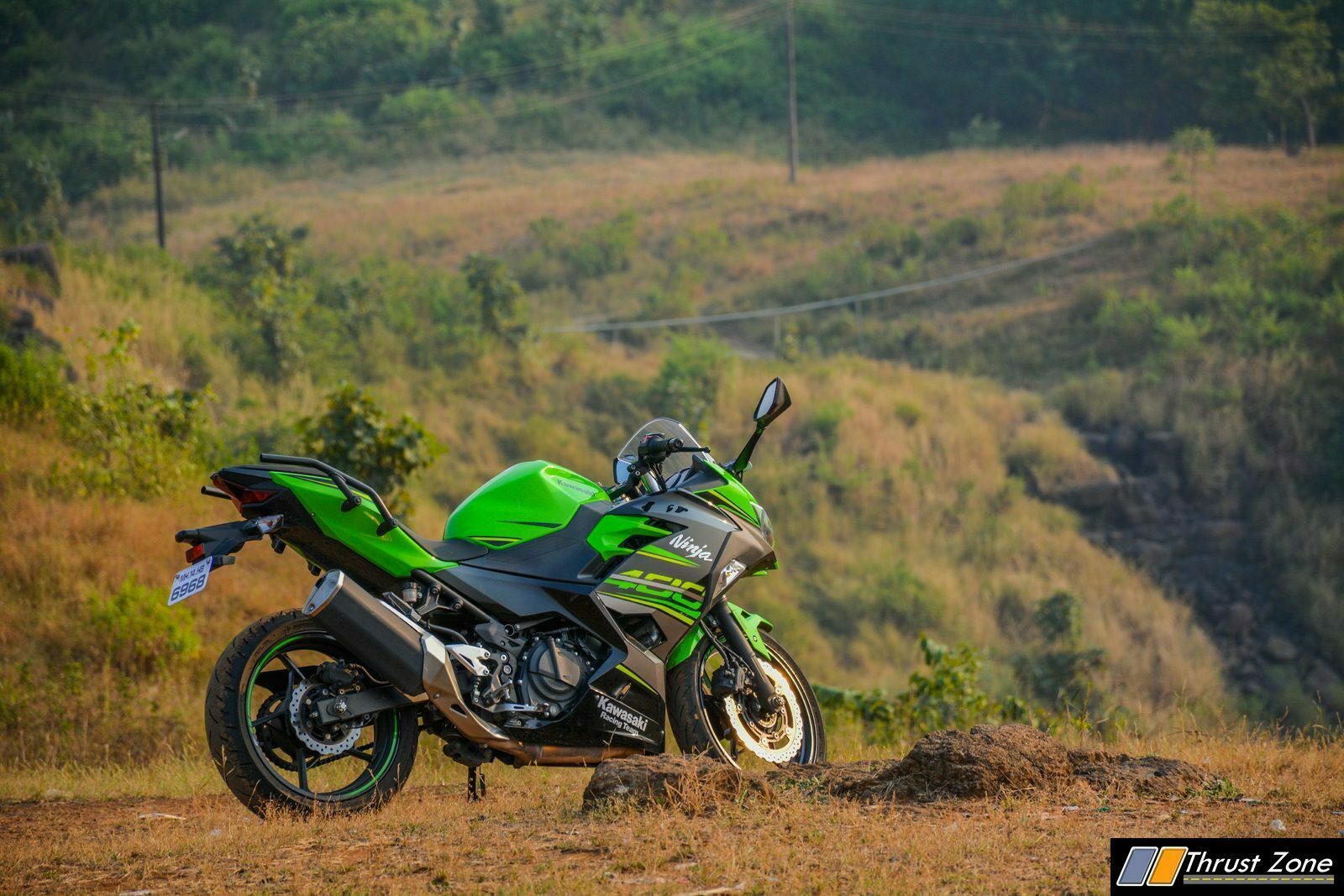 The cowl is wide, the tail-lamp is massive with LED lamps in it. The really large elements include the fuel tank and exhaust which make this bike stand out and grab attention even more. Clearly, Kawasaki had room to play with the design this time and they have done a great job.
Equipment, Speedo and Switches
The cluster is now very informative and there is perfection here as well. An analogue tachometer is always welcome for that traditional feel and it gets a digital speedometer too. Fuel efficiency parameters are on offer.
Trip, odometer, clock and tell-tale lights are seen on the right and left side of the cluster respectively. The hazard light button would have been welcome which is missing. Rest of the buttons, switches and function in terms of quality and feel are really good. You get LED lights in the front which are good enough when it comes to spread and illumination.
Ergonomics
The seat height is a very low 795mm which means anybody as low as 5'5 can pilot the bike at ease. With me being 6'0 (rider in the picture) both legs reach down thanks to a very well calibrated inseam too. The mirrors are mounted well to show you what is behind.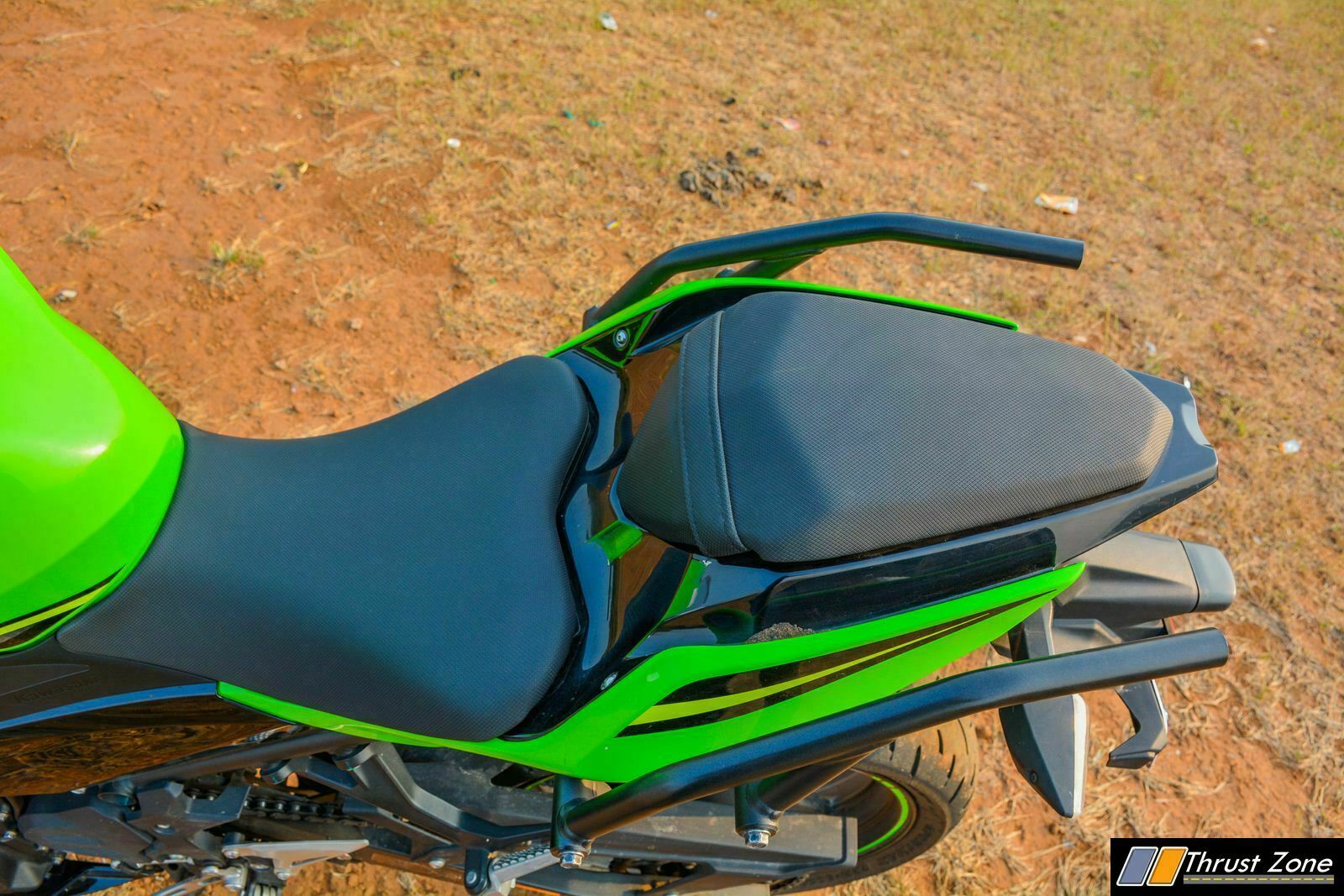 The handlebar is pushed ahead and the seat height is low which means you get a sporty riding position without the stress on your back and wrist much. The seats are quite hard for rider and pillion and small at the same time for larger riders, but not uncomfortable. For normal riders, this should be the perfect setup for short and long distance.
Engine
One thing that is always stellar with Kawasaki engines is the refinement and soundtrack on offer. NVH levels are low at any given point be it in the stressful environment of the city or heavy traffic. The jet engine-inspired soundtrack in the mid and high-end rev range makes it sound great. In terms of power, we are here to report that finally, Kawasaki has given up on the top-end focused power which it was loved by some and hated by some. Low-end torque is ample and mid-range is now even stronger.
All of this compared to the Ninja 300. Top-end power is good enough and there is enough power till 10,000 RPM to keep you happy. Revving it till 12500 RPM makes little sense as power tapers of after 10,500 RPM. It does 100 km/hr in 5.3 seconds and it returns 26 km/l in overall highway and city riding.
The gearing is tall, the power band is wide enough, the clutch is light and gearbox is smooth precise and crisp shifts. Overall, riding experience continues to be of a motorcycle that likes to be revved to attain performance as the quintessential parallel-twin engine character isn't going anywhere unlike the KTM singles where torque dominates everything.
This has the pull but in a creamy smooth way and this time (Over the Ninja 300) the power to weight ratio with its best in class numbers of 49 PS and 38 Nm of torque truly makes this a proper Ninja where there is performance, reliability promise, spectacular NVH levels, great fuel economy and all of this makes it a complete all arounder.
Ride and Handling
Again, Ninja has been boring to ride, this where KTM has an excellent lively engine and chassis setup which the Ninja always lacked. However, this time its different. What has taken us by surprise is the stellar ride and handling package. The rear suspension is mounted directly to the chassis, unlike swingarm mounting which is a cheaper way to do the suspension.
Ride quality is stiff and it can be harsh as the preload goes up, which it has to be because the ground clearance is low on the bike at 140 mm. However, the stock suspension setting is very good and the motorcycle's handling is spot on, it becomes more agile to turn. Couple this with an aggressive rake of 24 degrees at the front, the turn-in is telepathic and you can turn-in far earlier than you can think of.
Lower centre of gravity makes things stable at any given point of time and the feedback is great. Wish the front suspension was also feedback rich which it isn't because of the telescopic forks being used instead of USD. Indians can complain this time because the pricing is too high to not get USD's. We encountered panic braking at very high speed and the motorcycle stopped in its line and very quickly as well.
Lever feel is good and progression post initial bite is spot on as well. Tyres also are very good over the past IRC and Bridgestones with the new Dunlop Sportmax tyres. However, we can imagine this bike being off the charts with premium Italian rubber. A chassis which respond very well, is agile, confidence inspiring at the same time and a relatively short wheelbase which provides stability at high speed is a great balance we are happy to see on a Ninja.
2018 Kawasaki Ninja 400 India Review, Verdict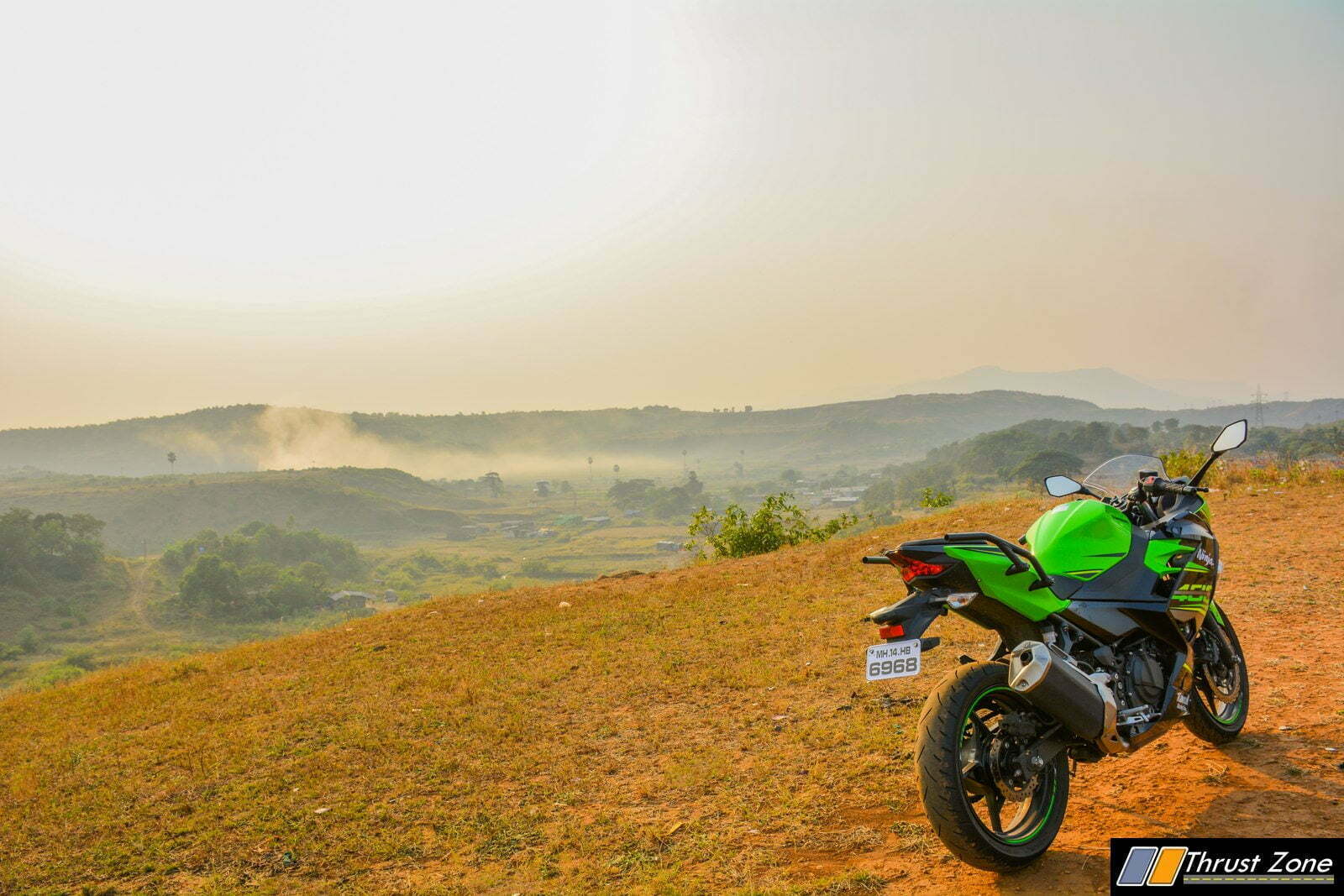 Clearly, Kawasaki has taken the benchmark of the segment seriously and given us everything possible. Feature loaded motorcycle which is high on quality, refinement, reliability which is genuinely fast, fun and not boring to ride. It looks good, gets essentials and safety equipment and has the genuine touring ability too despite the tank is now 14 litres instead of 17 litres.
Nevertheless, it is still higher than the KTM's. However, it still lacks the aforementioned things which have to be noticed despite a great package because the Indian spec pricing is extremely high. The only downer in the package. You are not far away from the fantastic and reliable 650cc motorcycles that the same brand sells. However, if you do want less power and become the king in the 400cc performance segment, can spend money and don't want to buy anything for the next 7 years, this motorcycle is the ideal choice for you.
Ninja 400 India Review
Design

Features

Safety

Comfort

Practicality

Performance

Dynamics

Value