A prototype of the Ducati Hypermotard was snapped and what immediately caught the attention was the new, single-cylinder engine on the test bike. Given the competition of Ducati against the likes of KTM and Husqvarna, we expect this engine to displace 659 cc with an estimated output of at least 75hp or above.
Single-cylinder engines are not a new thing for Ducati. In fact, they became the mainstay of their product lines starting from the early 1950s. However, with the passage of time, their use saw a steady decline fuelled by the evolution of modern, more powerful engine technology. The last time Ducati used a single-cylinder engine in its bike was in 1993 although now, we are all set to witness the return of these machines with Hypermotard. Just so you know, the homologation of the single-cylinder engine with a 659-cc capacity was already done by Ducati in 2022 for its use in the US market.
The new 659 cc engine on Hypermotard uses a trellis frame construction and thanks to the clever engineering such as an engine-mounted swing arm, Ducati might be able to restrict the weight of the bike and even undercut the 162 kg of KTM 690 SMC. This, in turn, will boost the performance of the bike while helping it to deliver superior efficiency to riders.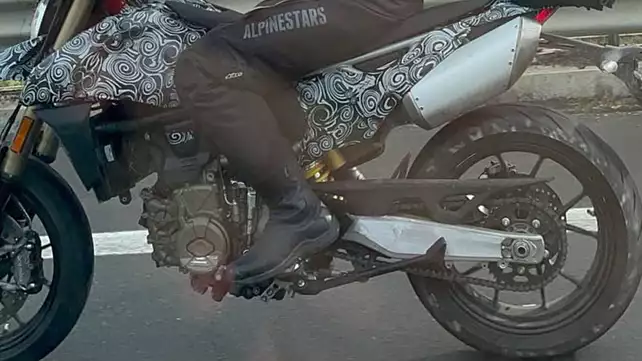 In terms of the suspension system, the test bike was spotted with a USD front fork while the choice for 17-inch tyres (as seen on the prototype) is likely to be the Pirelli. The name of the series is yet to be announced by the Ducati and the bikemaker has a couple of good options to name its upcoming bike. The official announcement on this front is likely to be made on November 7, 2023, when Ducati will showcase all its products to the world and reveal the name of the upcoming series which will come equipped with a 659-cc single-cylinder engine.