European Helmets Banned in India to promote only ISI approved products. The government expects manufacturers to set up shop in two months to start for homologation
Lack of common sense yet again prevails on the Indian roads, parliament as a bunch of lobbyists want to make the roads unsafe. Sure, it is a great move to make sure genuinely fake helmets are dismissed. But this is also all in the interest of boosting 'punishment fees' collection to rise for the traffic police.
For half a century it has been proven by European/American/Asian manufacturer that they make some safest helmets in the world, are now being banned in India. A Rs. 30,000 helmet proven to be wrong over a helmet which is locally made at Rs 3,000 can be that big much of a match? Sure it is safe enough, but in most cases, as the helmets get bigger and better it should be BANNED in the country?. Please read the statement below from a national helmet maker on behalf of the bureaucracy.
As per the recent notification issued by the Road Transport and Highway Ministry, manufacture, storage and sale of non-Indian standard (NON-ISI) Helmets for two-wheelers will lead to arrest without warrant. While for a first offence the penalty would amount to two years jail or fine of at least Rs 2 lakh, subsequent offences would attract a higher fine. This will be applicable from next 60 days.
This decision by the policymakers has a larger and deeper implication. Even the leading international brands who were exporting helmets to India as per European and US standard will now have to adhere to ISI standards. They will not be able to sell otherwise.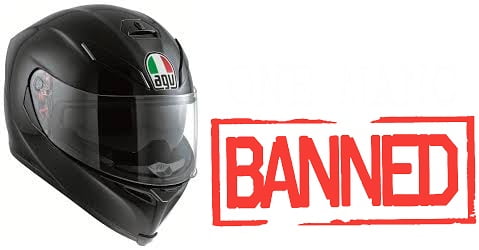 Also, this notification will be applicable from 60 days from now which means all manufacturers not adhering to ISI standard should stop manufacturing at once. And the dealers should quickly liquidate their stocks.
Furthermore, as there will be no sale and manufacture of NON-ISI helmets no one will have access to substandard products. Hence injuries due to road accidents will decrease. This will also save a lot of money for the government as they were spending a lot on the police, medical expenditures, hospitals, Insurance etc.