Lexus India today commenced the bookings for its flagship MPV, the all-new Lexus LM; a unique Luxury Mover. Bookings for the all-new Lexus LM can now be made across all authorized Lexus Guest Experience Centers as well as Lexus Merakis in India.
Lexus has treasured a spirit of innovation since the marque's establishment in 1989, seeking to provide new value propositions through progressive design and technology. With the desire to enrich the lifestyles of all its guests, the brand offers a wide variety of products to meet the needs of patrons around the world.
The first-generation Lexus LM was launched in 2020 to meet mobility demands of super rich customers, for a chauffeur-driven MPV in Asian markets. Offering both 4-seat and 7-seat configurations in the ultra-luxury segment, the Lexus LM was very well received across markets. In the intervening years, the needs and desires of the global luxury market have further intensified and diversified. In response, the new LM has been completely redesigned, reevaluating its value and raison d'être as a "Luxury Mover," from where the model's name is derived.
The core objective of the engineering and design team was to create a vehicle that provided an interior space and dynamic experience where all passengers could naturally feel at ease. This begins with core ride comfort and functionality. Belying the vehicle's stately proportions, the driver enjoys effortless engagement through direct and precise maneuverability. This dynamic refinement is conveyed to rear-seat passengers, who will appreciate not only the resultant ride comfort but the absence of unwanted noise and vibrations, allowing them to feel productive and refreshed.
The exterior design projects an elegant presence and aerodynamic form in line with the Lexus design language, the vehicle's lines reflecting functionality and dynamic performance. In the interior, the front cabin design combines practicality with refinement to allow drivers to focus, while the spacious rear suite offers meticulously crafted seats and trim alongside a variety of features and technology to make the most of customers' precious travel time.
WORLD FIRST FEATURES:
48-inch ultrawide display:
Next generation interior space comes with a 48-inch ultrawide (32:9) display. Offers single screen and dual screen viewing options for business or pleasure. Operated by removable Rear multi-operation panel
Rear Targeted A/C Adjustment Function:
A warmth-sensing IR (Infrared Rays) matrix sensor for rear seat occupants is provided in the top center of the partition
Integrated control of air conditioners and heaters targeted at face, chest, upper leg, and lower leg areas
3 preset modes: Focus, Relax and Energize modes for personalized comfort
Power long slide rail
System has slide range of over 480mm with power slide and manual slide settings
Speed of power slide operation varies according to whether the seat is occupied
Provides excellent operability according to guest's preferences of speed
Multi-position tip-up seat
The rear seat can be folded to neutral for luggage space, even when 2nd row is reclined
Allows for more space and flexibility for our guests
Frequency-sensitive piston valve (inside shock absorbers)
Controls the damping force to mitigate road surface inputs & Provides enhanced ride comfort and steering feel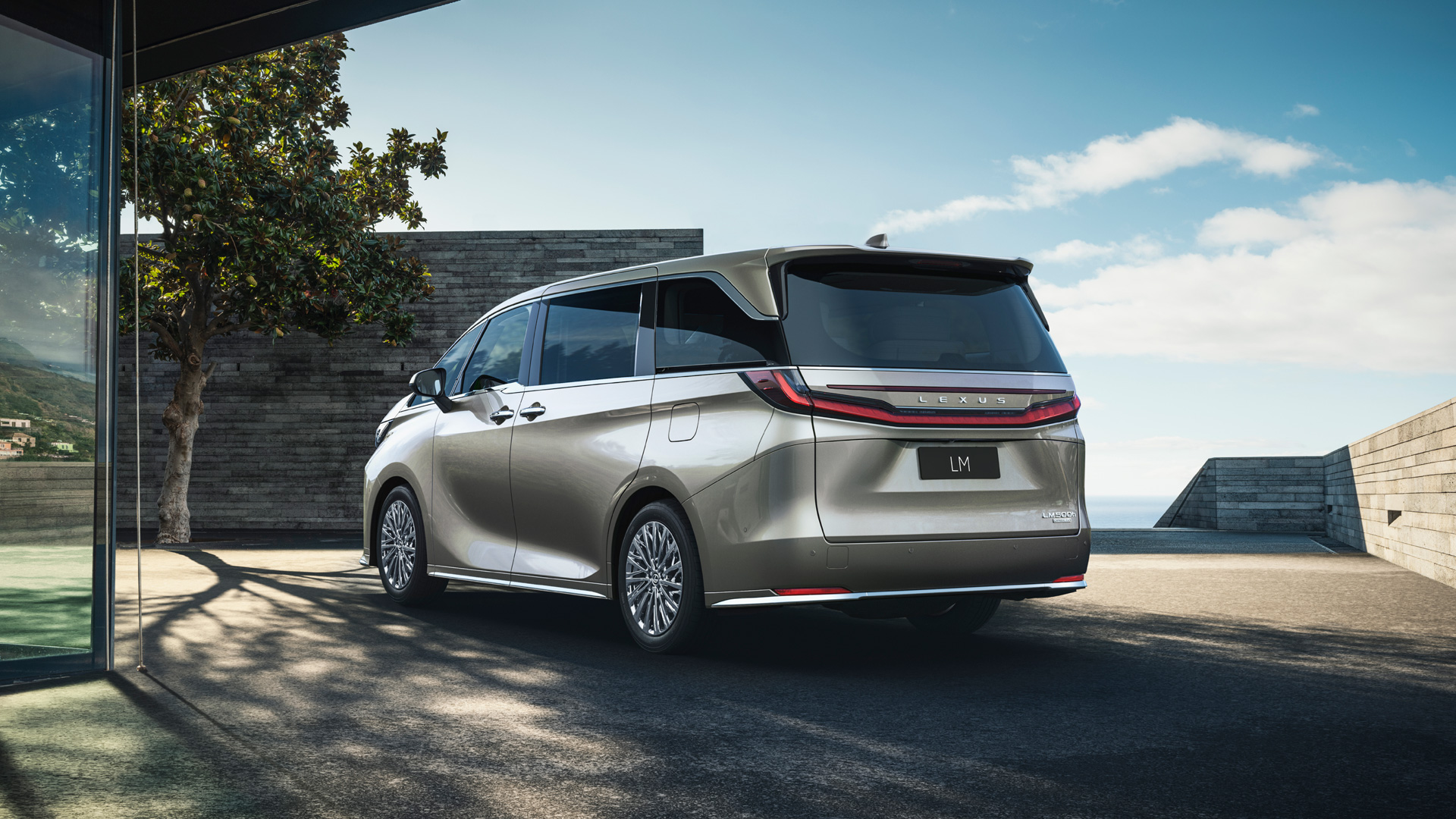 LEXUS FIRST FEATURES:
Satin-effect hot stamping grille
Satin-effect hot stamping has been applied to the main part of the black (material color) grille,
And body-color paint has also been applied to the molding
Creates a luxurious impression while also embodying a seamlessly integrated design
Separate front/rear audio output system
A 3-way (front seat speakers / rear seat speakers / rear seat headphones) independent audio output system has been adopted, enabling occupants to each listen to separate audio sources. Separate front/rear speaker output system is a Lexus-first
Armrest & ottoman heaters
The seat heater also covers the armrest and ottoman, providing a high level of comfort
Maintains seating comfort even on cold days and on long drives
Rear Climate Concierge
Provides integrated control of the comfort equipment, allowing the user to create a sophisticated private space with smart operation
A sophisticated private space that turns traveling time into high-value time
Provides smart operation without the need for individual control on multiple equipment.
Hollow Clamshell – Front Suspension Lower Arm
A hollow clamshell structure using ultra high tensile strength steel (980 MPa) has been adopted for the front suspension lower arm,
reducing the unsprung weight. Realizes high quality ride comfort

Door easy closer (e-Latch Closer)
Combination of the e-Latch system and door easy closer is a Lexus-first.
An easy closer has been adopted to enable quiet and smooth door closing operability in addition to smooth unlatching with the e-Latch system Enables elegant movement worthy of a Lexus during ingress/egress
See-saw handle switch Power sliding door switch
On the rear door outside handles, see-saw type switches provide an intuitive operation to activate the power sliding doors
Removable rear multi-operation panel
A rear multi-operation panel featuring removable controllers is provided in front of the rear console armrest (4- seater model) /
second-row seat armrest (7-seater model), enabling operation of rear seat area functions at hand
Provides an 'Omotenashi' cabin where occupants can do the things, they want to do regardless of their posture
Vehicle braking posture control (Roll Control)
Utilizes braking system to suppress unsteadiness during cornering
Contributes to ease of driving and stabilized vehicle posture