Liked The Triumph Speed 400's Price? Now Check Out The Accessories Available
Triumph Motorcycles India pulled quite the surprise with a stellar price tag on the Speed 400. The motorcycle is the most affordable in the world from Triumph and challenges Royal Enfield offerings as well as newer launches like the Harley-Davidson X440. Initial impressions have been positive with good fit and finish on the Speed 400, while the delectable price of ₹2.23 lakh (introductory, ex-showroom Delhi) is quite tempting as well. But that's not all, Triumph has also announced over 25 accessories on the Speed 400 and the upcoming Scrambler 400 X that will be available at the dealerships. Here's a look at what you can get.
Triumph says the 25+ genuine accessories for the Speed and Scrambler 400 X have been developed alongside the motorcycles to ensure the right fit and finish. The accessories also come with a two-year unlimited kilometre warranty as standard, same as the bikes. Triumph has accessories for style, comfort, protection and luggage. Let's take a look at each of these.
Triumph Speed 400 accessories – Style
Adding some more flair to the Speed 400 are the styling accessories from Triumph. This includes the retro round LED bullet indicators that come with machined aluminium bezels and satin black finish. It replaces the sharp-looking LED indicators that appear more Bajaj-like. You also get a twin silencer on the Speed 400 for a sportier look and it also gets a replacement heat shield.
Triumph Speed 400 Accessories – Protection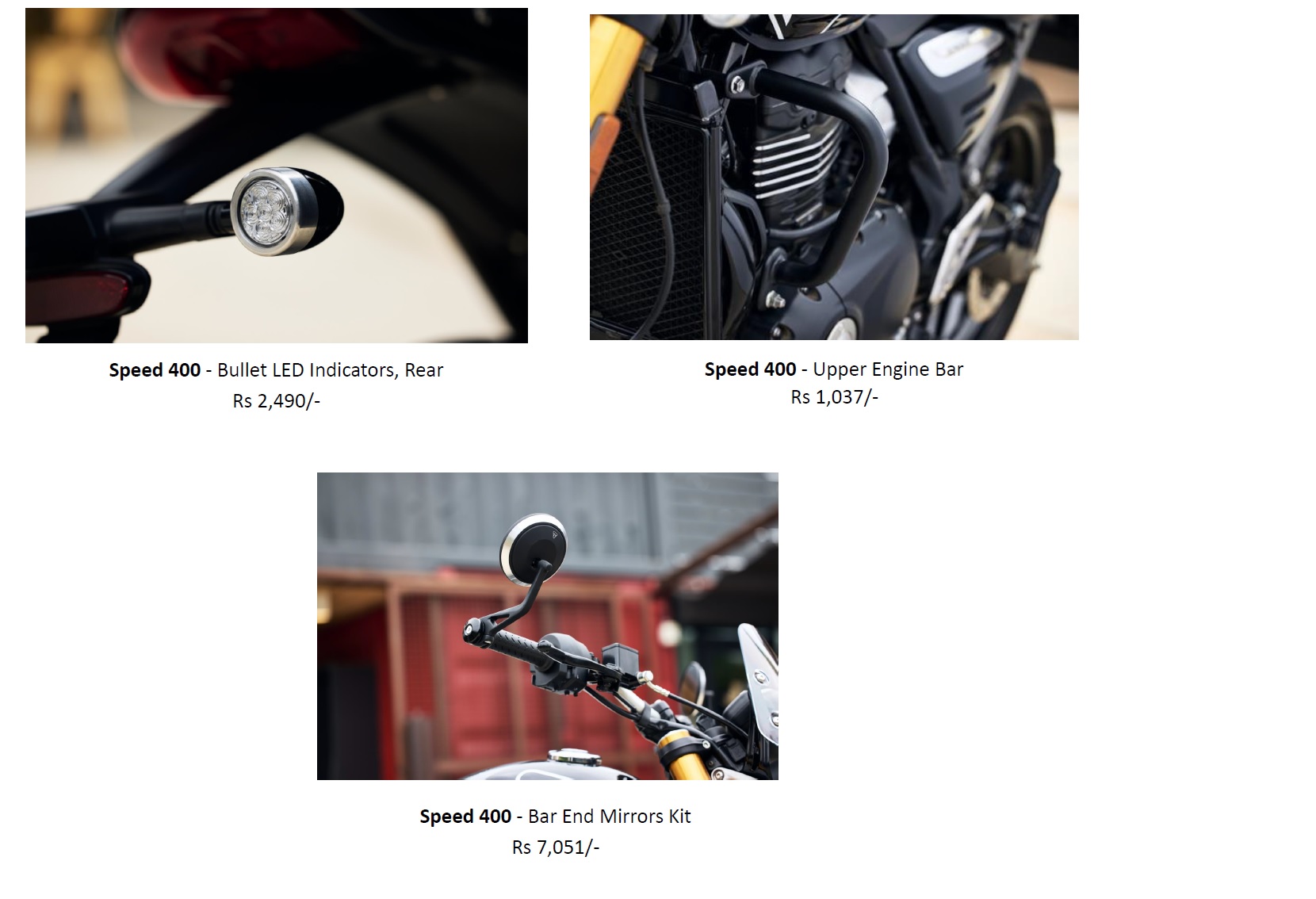 On the protection front, customers can opt for a fly screen, steel mesh radiator guard, a headlamp grille and bezel, an aluminium sump guard and more. The motorcycle also comes with tank pads, a GPS tracker kit, and upper and lower protection bars.
Triumph Roadster 250 & Scrambler 250 In The Works? Names Leaked On UK Website
Triumph Speed 400 Accessories – Luggage
There are several luggage accessories to make touring easier. This includes the single-side pannier mount with a 20-litre capacity. There's also a semi-rigid top box with a 30-litre capacity and 5 kg payload. It can take up to a full-face helmet and can be expanded to take up to 35 kg. The unit also comes with a quick-release mounting mechanism.
Other options include a waterproof nylon roll bag with a 30-litre capacity and a payload of 3 kg. The tank bag has a capacity of 8.5 litres and gets magnets to connect to the fuel tank without damaging the paint.
Other accessories include a fly screen, steel mesh radiator guard, headlight grille, GPS tracker kit, upper and lower engine protection bars, tank pads, and an aluminium sump guard. The hand guards from the Scrambler 400 X can also be retrofitted on to the Speed 400.