Suzuki's premium retail network, NEXA celebrates eight glorious years of delivering global automotive experiences to customers. Conceptualized and designed with the philosophy of 'Create. Inspire', NEXA offers unparalleled car ownership experiences while offering products that match evolving customer lifestyles. In a short span of eight years, NEXA has delighted over 2 million customers with over 460 state-of-the-art showrooms covering more than 280+ cities across the country.
NEXA's product range harmoniously blends contemporary design with revolutionary technology and premium features to deliver an experience par excellence for every customer. With 8 models in its portfolio, NEXA in its 8th year of operations has a product for every type of customer with a premium hatchback (Baleno), a mid-size sedan (Ciaz), four SUVs (Grand Vitara, Jimny, Fronx and Ignis), an MPV (XL6) and its flagship model the Invicto – a premium UV. With its extensive model line-up, NEXA is leading the charge for Maruti Suzuki SUVs with new-age Hybrid technology and AllGrip off-road SUVs.
India's most loved car, the Maruti Suzuki Alto celebrates another historic milestone in the automobile industry by becoming India's highest selling car* driven by 45 Lakh+ Proud Owners. The Alto is an iconic brand which has consistently reinvented itself to adapt to the needs of the ever-evolving Indian consumer, ensuring it continues to set new benchmarks and spread the 'Joy of Mobility' over two decades of market dominance. It has truly democratized the entry hatchback segment with features such as electronic power steering, front power windows, Auto Gear Shift (AGS) option, Dual Airbags, Anti-lock Braking System (ABS), availability of factory fitted CNG system, and more.
Empowering customers with convenient car financing solutions, Maruti Suzuki Smart Finance (MSSF) online platform achieves a landmark milestone of facilitating one million car loans through its 23 finance partners, within a short span of three years. Since its inception in 2020, collaborating with its finance partners, MSSF has enabled hassle-free loans worth over INR 64,000 crores to customers across NEXA and Arena channels. MSSF is a cutting-edge AI-driven, end-to-end digitised platform that facilitates and enables customers to avail car finance in a convenient and transparent way.
With MSSF, Maruti Suzuki has simplified the car financing journey, making it more transparent by enabling customers to design their own customised loan plans and selecting the best suited finance partner from a range of financing options. The platform offers a line-up of industry-first features like On-Road Price Configuration, Credit Score-Based Interest Rates, Pre-approved, Customised Loan offers for Salaried and Self-employed where the customers can compare and choose from multiple financiers, Digital Document Update, Digital Sanction Letter and Real-Time Loan Status Tracking. MSSF is also the only one-stop platform offering customers the choice of availing loans from any of the 23 financiers.
Maruti Suzuki True Value, achieves a landmark milestone of selling 50 lakh pre-owned cars. Introduced in 2001, it has been a one-stop destination to buy and sell quality pre-owned cars. The hassle-free purchase and sale experience for customers along with cars that are safe and reliable have continuously ensured the success of True Value.
Maruti Suzuki India Limited had launched India's first online end-to-end car financing platform – Maruti Suzuki Smart Finance in 2020 with integrated finance offering in the sales journey, aimed at providing an easy and convenient car financing solution to the prospective car buyers. The platform empowers customers by letting them check and compare offers from multiple finance partners, customize and choose best offers with transparency and apply loan digitally from anywhere, thus enhancing customer experience.
Maruti Suzuki now brings an instant loan feature – HDFC Bank 'Xpress Car Loans' on Maruti Suzuki Smart Finance platform to meet the evolving need of digital savvy customers. Further facilitating seamless car financing solutions, the introduction of the HDFC Bank 'Xpress Car Loans' feature will make the car buying experience even more convenient for prospective Maruti Suzuki customers.
Fortifying their partnership, the introduction of this exciting feature will enable loan disbursal to eligible customers from their choice of available financiers within 30 minutes, allowing them to get their new Maruti Suzuki car financed from the comfort of their homes, without any hassle. This end-to-end digital car financing journey is completely paperless, with all the verifications required for the loan (E-KYC, Video KYC and Address Verification) carried out digitally on a real-time basis.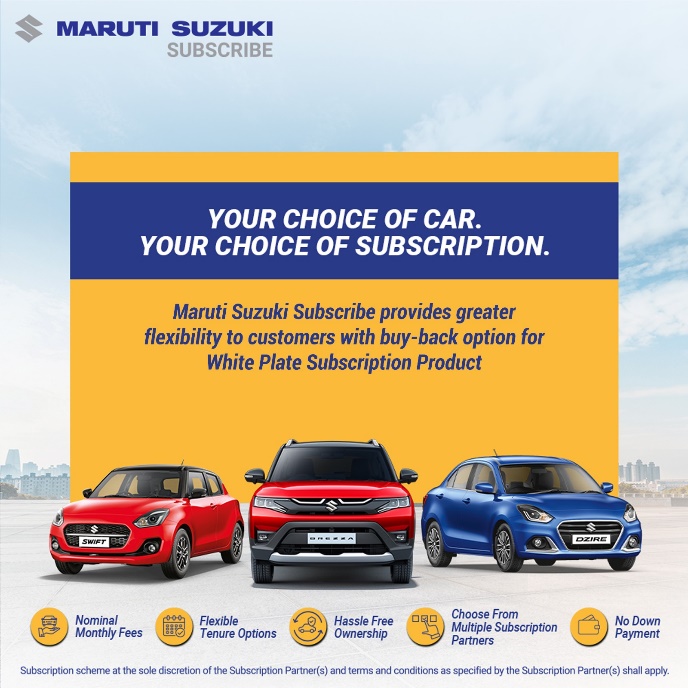 Maruti Suzuki Subscribe introduces a new pre-fixed buy-back price option for its White Plate Subscription Product (vehicle registered in name of customers). The new vehicle subscription option allows customers the choice of availing a pre-determined vehicle buy-back price for their Maruti Suzuki at the end of the subscription tenure. Customers are provided with the pre-fixed vehicle buy-back price along with subscription rentals under this new function. This would provide greater flexibility for customers to plan and make a more informed decision of retaining the car at the end of its subscription tenure.
The new White Plate Subscription with buy-back product will be an addition to the current flagship subscription plan that includes the tenure end options of returning the car to the subscription partner or retaining the car at the market decided price. The White Plate Subscription with buy-back option would be available in select cities based on the presence of subscription partners.
Maruti Suzuki Subscribe has witnessed a strong customer acceptance with over 292% growth in volumes in the FY 22-23. The program provides unparalleled convenience and flexibility for the complete car ownership experience. Customers can drive their dream car without having to make a down payment upfront, and can choose from multiple tenure options at an all-inclusive fixed monthly rental. Maruti Suzuki Subscribe also offers customers the option of foreclosing the subscription plan at any point in time.