Bajaj Pulsar 135 LS Prices Slashed, the dark horse from the Bajaj stable continues to stay alive in domestic market and strong in exports
Bajaj has created many motorcycles over the past which it has made and discontinued despite being a great performers. Everyone, clearly thought the same with the Pulsar 135 LS. The case did not turn out to be the same, even after six years,the Pulsar 135 LS despite criticms for only the displacement part continues. The Pulsar 135 LS was the very first four-valve engine that was a long stroke motor which made 13.5 BHP and 11.4 Nm of torque. The power it made was in the higher power band and had a true top speed of 120 km/hr and 0-60 km/hr in under 6 seconds. These numbers were the same seen on higher capacity motorcycles and some 150cc motorcycles from the past still can't match these numbers.
To keep things alive, Bajaj hasn't done much except silent refinement and quality materials being used all around. What it has done after almost six years, this is the second color scheme that has been offered. After the dual scheme, Bajaj has introduced a cocktail wine color and surprisingly dropped the prices by Rs. 4500 when looking at the on-road price. Price in Maharashtra starts at Rs. 57,600, before it did start around the Rs. 61,000 mark.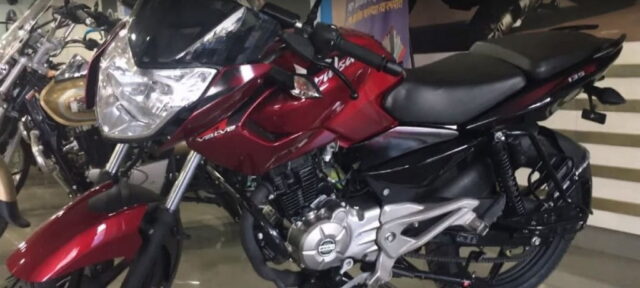 The Motorcycle continues to be the same with the same 135cc engine that has 4-valves. It continues to be the first motorcycle from the brand to use a single downtube diamond frame with a box section swingarm. All in all, the prices are now more near to the 125cc motorcycles and which makes it exciting deal you can miss if you are looking in this category. Reason? it is the most fun to ride, small displacement Pulsar and is dynamically rich. Plus, it has everything what practical big Pulsar also offers.