BMW All-Electric Scooter Concept Link Looks Just Right and Is Future of Performance Scooters
BMW All-Electric Scooter Concept Link is said to be the ideal balance of design, performance and emission for the market in the near future
BMW Motorrad, which is the motorcycle division of BMW, has finally made its way to India, thus reducing the prices of all the bikes available now. The brand is famous for its bikes such as the S1000RR, R 1200 GSA and much more.
The company has unveiled a new electric scooter concept dubbed as the BMW Motorrad Concept Link, which will be displayed at this weekend's Concorso d'Eleganza Villa d'Este at northern Italy's Lake Como. BMW says that the Concept Link stands for a new understanding of urban mobility which links the digital and analogue world and places the focus on rider and his mobility needs.
BMW All-Electric Scooter Concept Link is shown in the "Liquid Metal Titanium" grey colour which is Mostly BMW, and is contrasted by a semi-matt black paint that runs the length of the scooter. The lights under the black front face are light emitting ceramic metal halide.
The scooter has a low, stretch profile that gives it a much different look from the present C Evolution scooters. The shape is further emphasised by the long seat that is adjustable lengthwise. A panel on the right side under the seat is slid open to reveal the storage compartment.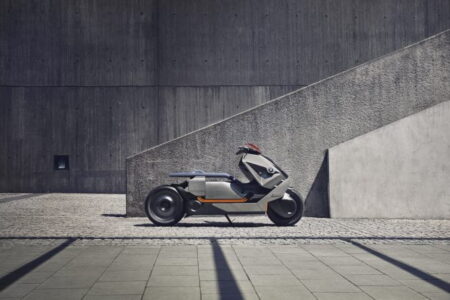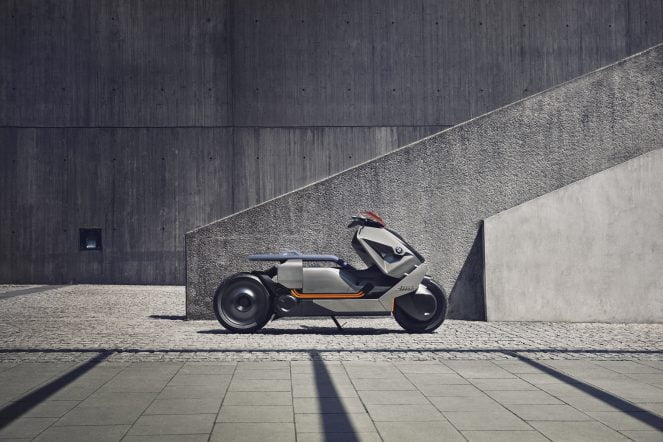 BMW All-Electric Scooter Concept Link has a few revealed details about the drivetrain. The motor is powered by a flat battery pack that is running along the bottom of the scooter. The exposed orange cables show how the power is carried to the motor.
BMW All-Electric Scooter Concept Link is also rumoured to have a reverse drive to help with manoeuvring in tight spaces. The instrument cluster shown in the pictures is touch sensitive and is actually a secondary infotainment display screen for navigation input and playing music.
The primary displays such as the speed, navigation and battery is projected onto the windshield, for which the controls are on the handle bars, which is touch sensitive. The bike looks fantastic and we are anticipating for the launch.