Within a couple of weeks after acquiring Alpina Brand, BMW officially unveiled Alpina B4. The new luxury sedan is based on the platform of 4 Series Gran Coupe and fills the gap between the BMW M4 Competition and BMW 4 Series. In fact, it is for the very first time that B4 has got the rear doors for added comfort of rear occupants.
Under the hood, the second-generation B4 comes powered by an S58 3.0-litre twin-turbocharged straight-six petrol engine which is capable of putting out 495 bhp and 730Nm of max power and max torque respectively. In comparison to the M4 competition, B4 displaces slightly less power (M4's output is 510 bhp) although it has torque advantage of 80Nm. All this power is transferred to the axle through an 8-speed automatic transmission and surprisingly, B4 is quicker in its 0-100 kmph sprint to M4 competition despite having more curb weight. The top speed of the Alpina B4 is rated at 300kmph.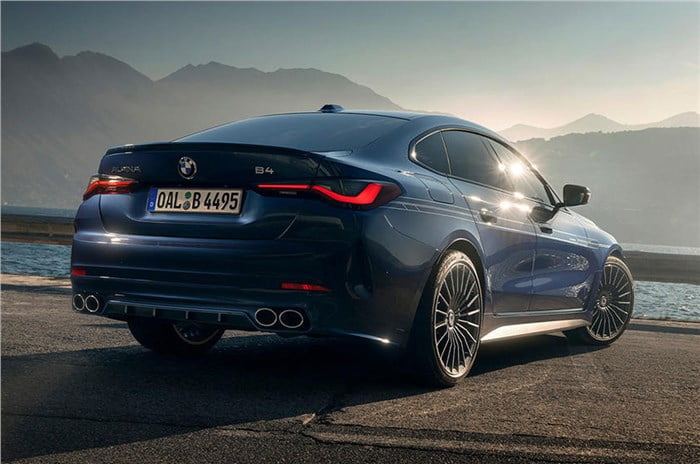 The engine modifications to the car include a larger intercooler arrangement, upsized air filter, optimized cooling process, and bespoke turbine housing. Changes have also been made to the transmission system of the sedan as it has been reinforced to transfer the higher amount of torque to the rear wheels of the car.
In terms of styling difference, Alpina B4 features unique bumpers, side skirts, spoilers, and 20-spoke alloy wheels wrapped in P-Zero tires specifically designed by Pirelli for the Alpina. Alpina B4 has got its share of chassis enhancements too to further improve the overall comfort for occupants. The luxury sedan has now got stiffer mounts, anti-roll bars, spring-damper configuration, variable dampers, and 3-configuration for steering response. Braking is via 395mm discs up front while at the back, 345mm discs have been employed to provide the stopping power.