The Honda Activa is a name synonym with all the families in the country. With sales ranging from 1 to 2 lakh units every month, it doesn't need an introduction as the perfect family scooter. The 110cc, criticized for its suspension component at the front apart, the Activa is flawless in terms of durability, reliability and ease of use and most important a true-blue unisex scooter for the Indian family.
The 125cc though, was never criticized for anything much. The value was higher so was the engine, suspension and premium quotient. The 125cc has been upgraded to BS6 with the help of Fuel-Injection which is called as Fi. A term which is going to be used a lot for the next couple of years in the two-wheeler industry, watch out for that! Also, now, allow us to show you what the BS6 Honda Activa 125 Fi is all about in this review.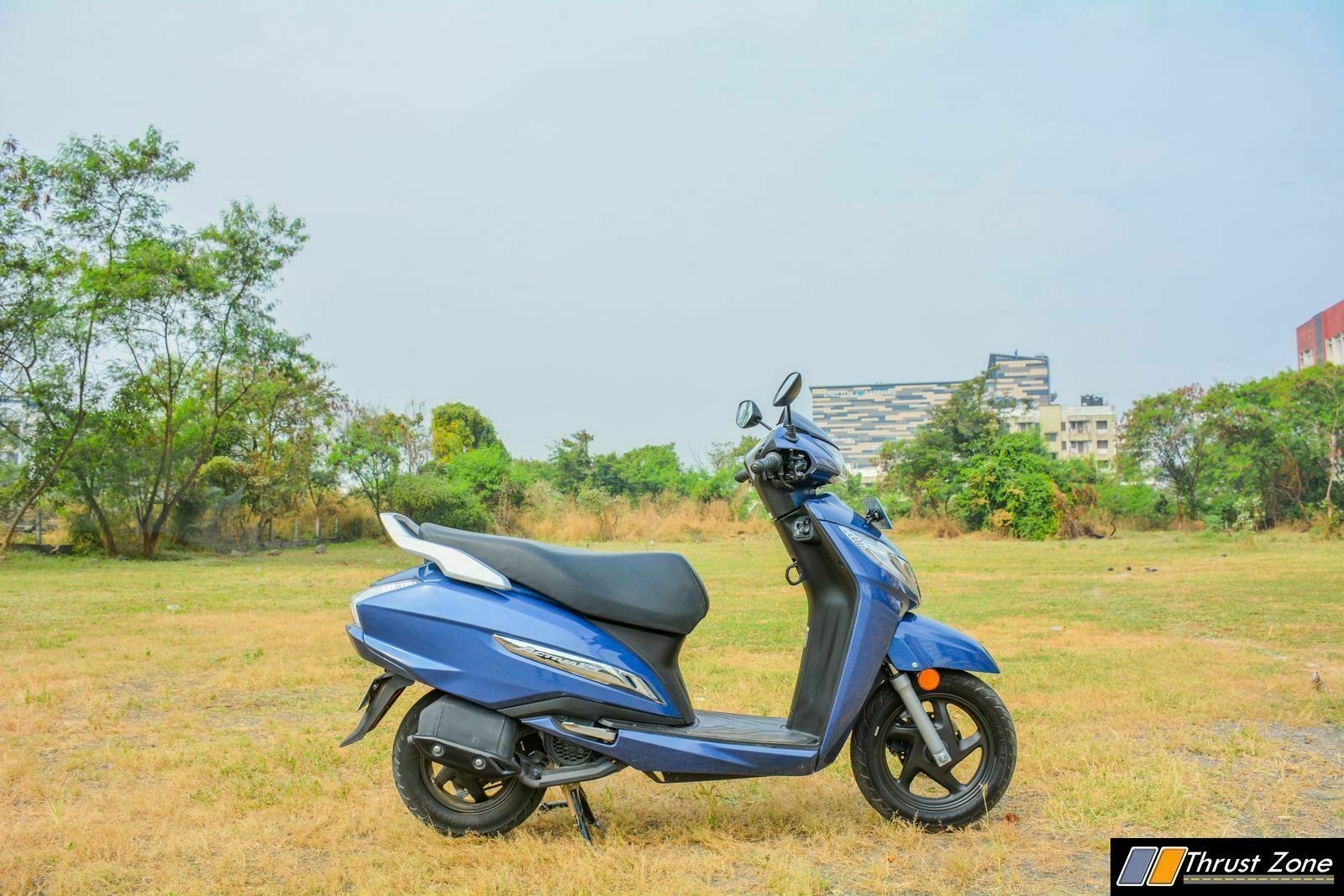 The styling of the scooter remains more or less the same as the BS4 version. Both the side panels and front apron have large chrome apliques to make it a premium scooter. The headlight design is slim and is multi colored as the upper half is plastic which looks piano black. 12-inch wheels give it a good stance at the front. The humongous tail-lamp at the rear gives it a distinct look. The exhaust remains to look like a women's clutch neatly tucked into the scooter for ease of maneuverability. Overall, size of the scooter is substantial enough to pass off as a 125cc scooter with substance.
The meter is a digital unit still devoid of a tachometer but it has everything else. Trip meter, clock, fuel economy parameter, distance to empty, fuel gauge and a slightly revised digital speedometer. Switches include a passlight button integrated into the high beam button. The other side has the auto start-stop button which can be activated or deactivated. Rest of the buttons are the indicators, horn and starter button.
Honda has included side-stand cut off switch as which will shut of the engine if deployed while moving or won't start the engine until unless it is in its resting position. External fuel filler cap with a lid is impressive addition and so are switches that control it with the lock button area. There is also a glove compartment to keep your mobile phone. All though it doesn't get a USB charger.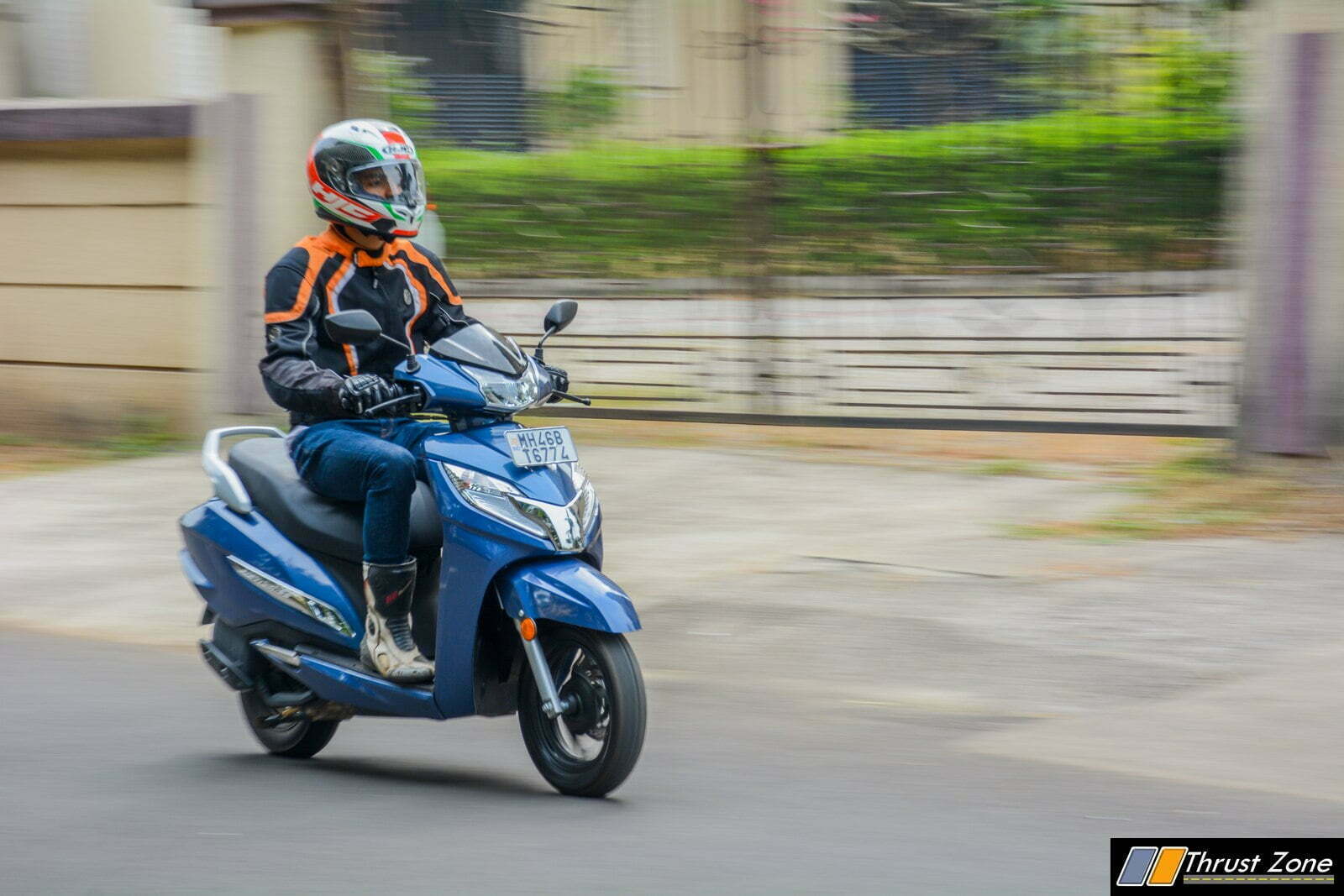 Thumb starting the ignition button and the engine comes to life without the usual slight rock that shakes the engine. The start is now 10 times more smoother, rocking motion free and silent as well. The silent revolution Honda is talking about works really well in adding to the comfort quotient. Also, this engine has start-stop system which works flawlessly as well with the first ride within 60 kms of it, we were perfectly comfortable with it and saving a lot of fuel in stop and go traffic.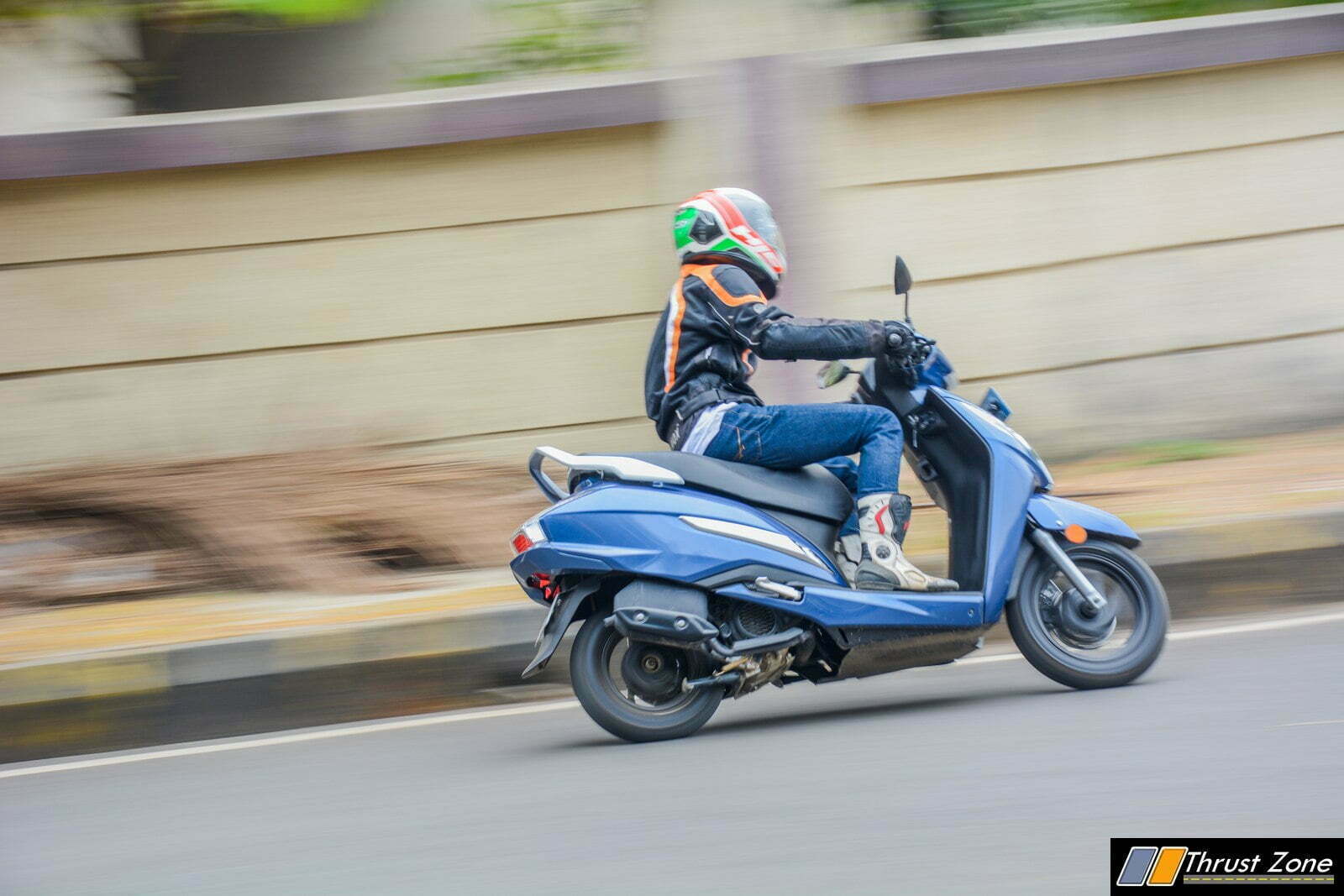 All of this is the highlight along with the bigger highlight is that this engine, a 125cc motor churning out 8.5 PS and 10.3 Nm of torque from a 2-valve fuel-injected motor is now BS6 compliant. Surprisingly, it still comes with a kick-starter despite fuel-injection, which usually eliminates it. Good help when your battery runs out suddenly.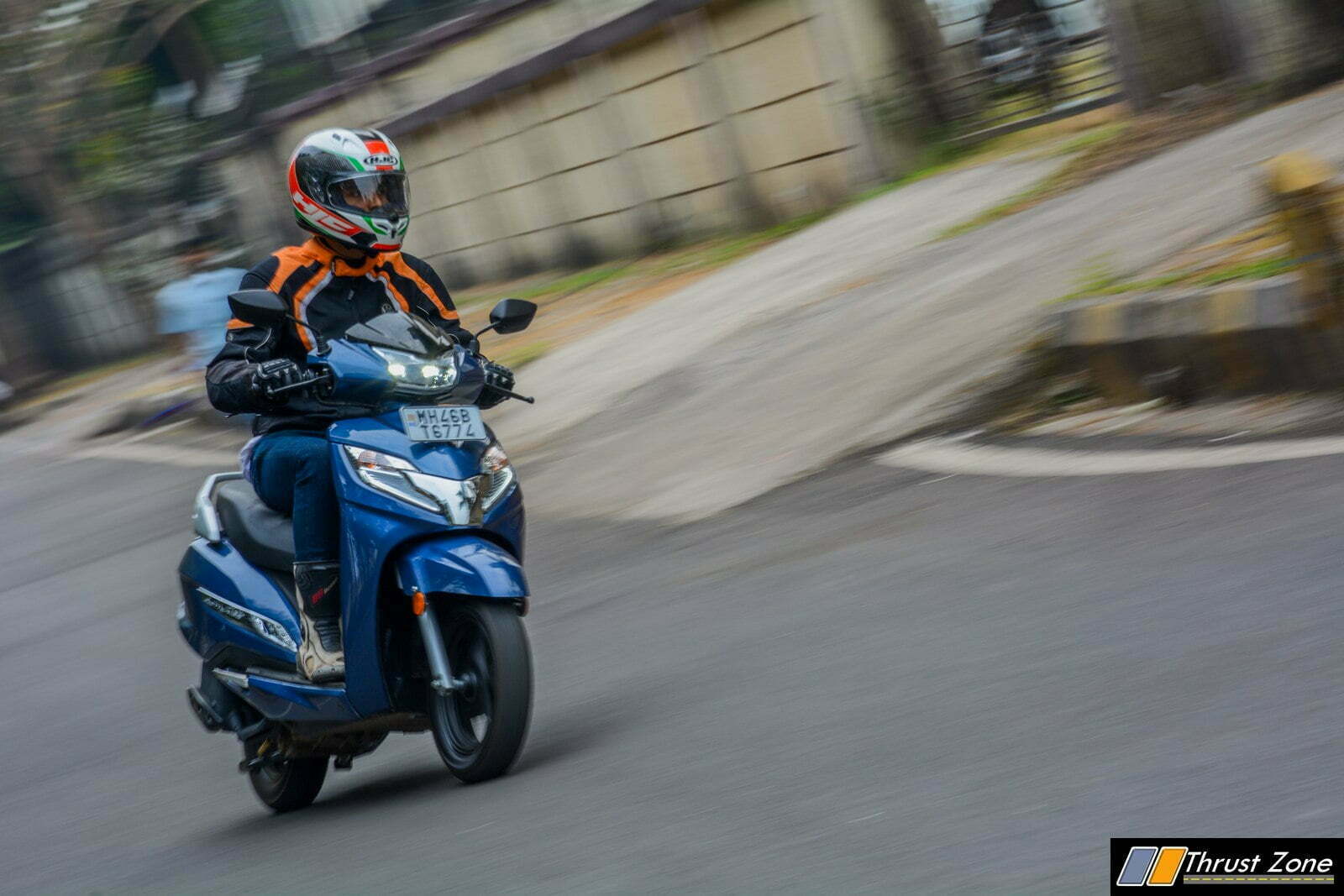 The motor is now very refined and smoothness and linearness of the power delivery has been taken to the next level. The throttle response is sharper and more responsive and makes available power and torque in a creamy way allowing to filter through traffic, achieving higher speeds with no drama whatsoever. The BS4 engine had a bit of lumpy-ness in the motor, that is now one flat line, atleast that is how it feels like here. Honda claims all this will delivers 13% more fuel economy. We got 48 km/l in our testing which was impressive.
With a comfortable riding position, including a well cushioned seat, well placed mirrors, riding the scooter is a comfortable affair. What also makes thing easier is that scooter feels light, agile and nimble on its feet. The telescopic forks are well damped and provide stability and mature ride quality.
The 3-step adjustable rear suspension is new to this segment from Honda and can be adjusted to suit various needs. Overall ride quality and stability too is excellent and it stays planted in the corners as well including at top speed of 95 km/hr. Tyres grip in all conditions including some wet patches we came across despite December. Brakes provided good confidence and adequate performance and power with the disc and drum setup.
BS6 Honda Activa 125 Fi Review, Verdict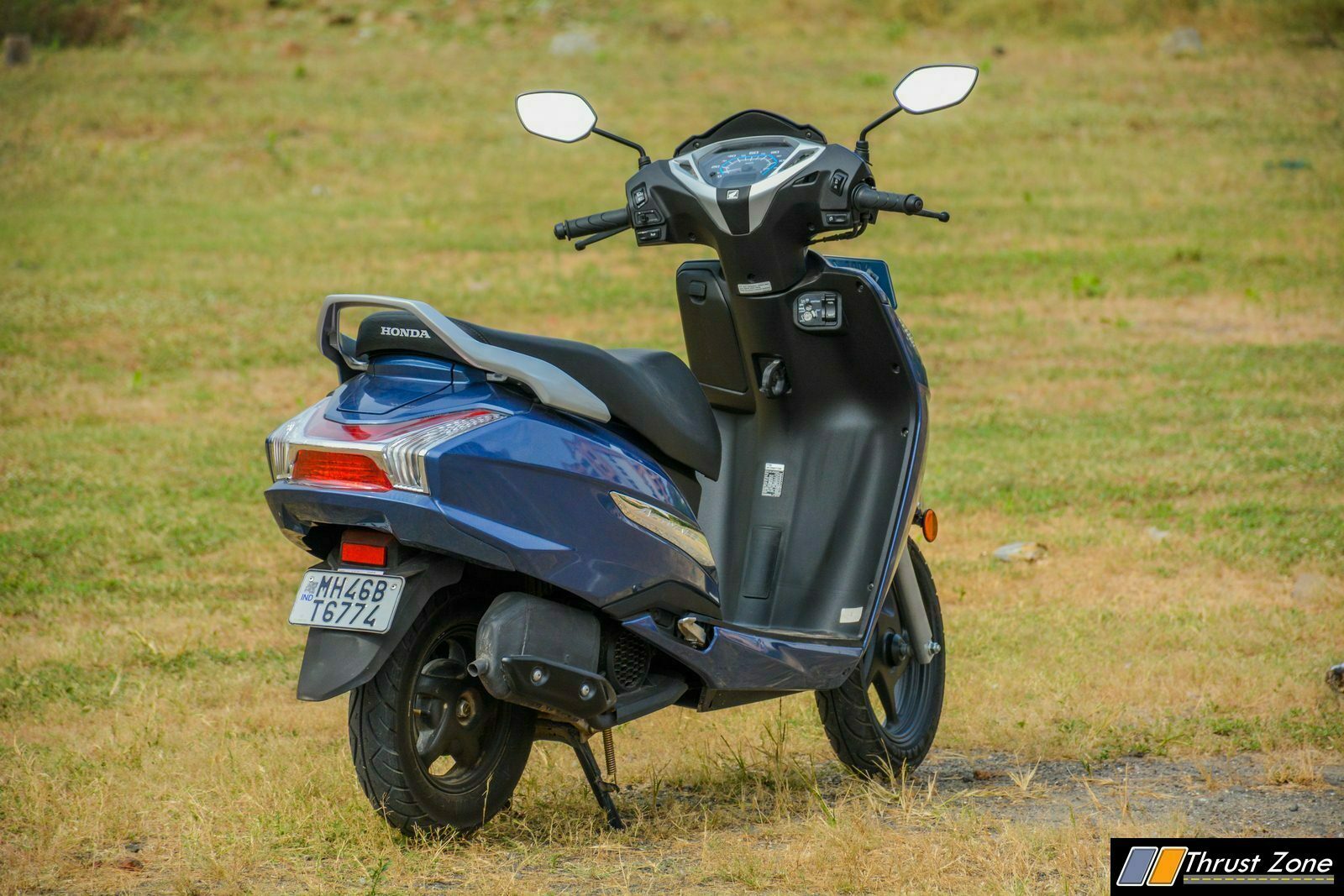 Overall, the 2020 BS6 Honda Activa 125 Fi is here with almost everything you could ask for. Thanks to government regulations, you even get fuel injection in a scooter. So there is quite literally nothing to left to ask for. This time Honda has given it all the technology, features, essentials (despite some are optional) the scooter now makes for a more value for money package even at top-end variant asking Rs 77k ex-showroom. On-road, the scooter stands at Rs 91k, which includes five year insurance still doesn't sound bad. With consistent fuel economy now on offer, the BS6 Activa 125 ticks all the boxes including the most obvious one, reliability, that comes with every Honda.
ACTIVA 125 DRUM (BSVI) Rs.69,923
ACTIVA 125 DRUM ALLOY (BSVI) Rs.73,523
ACTIVA 125 DISC (BSVI) Rs.76,973