Lot of questions popping in your head after the headline? Surprisingly, its the same in our head. As we are journalists, we decided to pen it down. Also, we wanted to let you know that both these cars have been our long term cars so its was necessary to tell you a bit more because spending quality time with cars is we what strive for. We analyzed with the help of many colleagues in and out of our own publication to find out these cars have a lot in common, surprisingly.
The Ecosport and Ciaz are both petrol cars in our garage and the moment the Ciaz stepped in and joined the Ecosport, we realized both cars have 1.5 petrol motors which are brand new. The 3-cylinder in the Ford and Maruti's four-cylinder motor when we drove first were impressive but both are not identical in nature. Not just because the cylinders difference but both have different characteristics built in their nature. Manufacturer have their own of peeling out performance and economy along with driveability.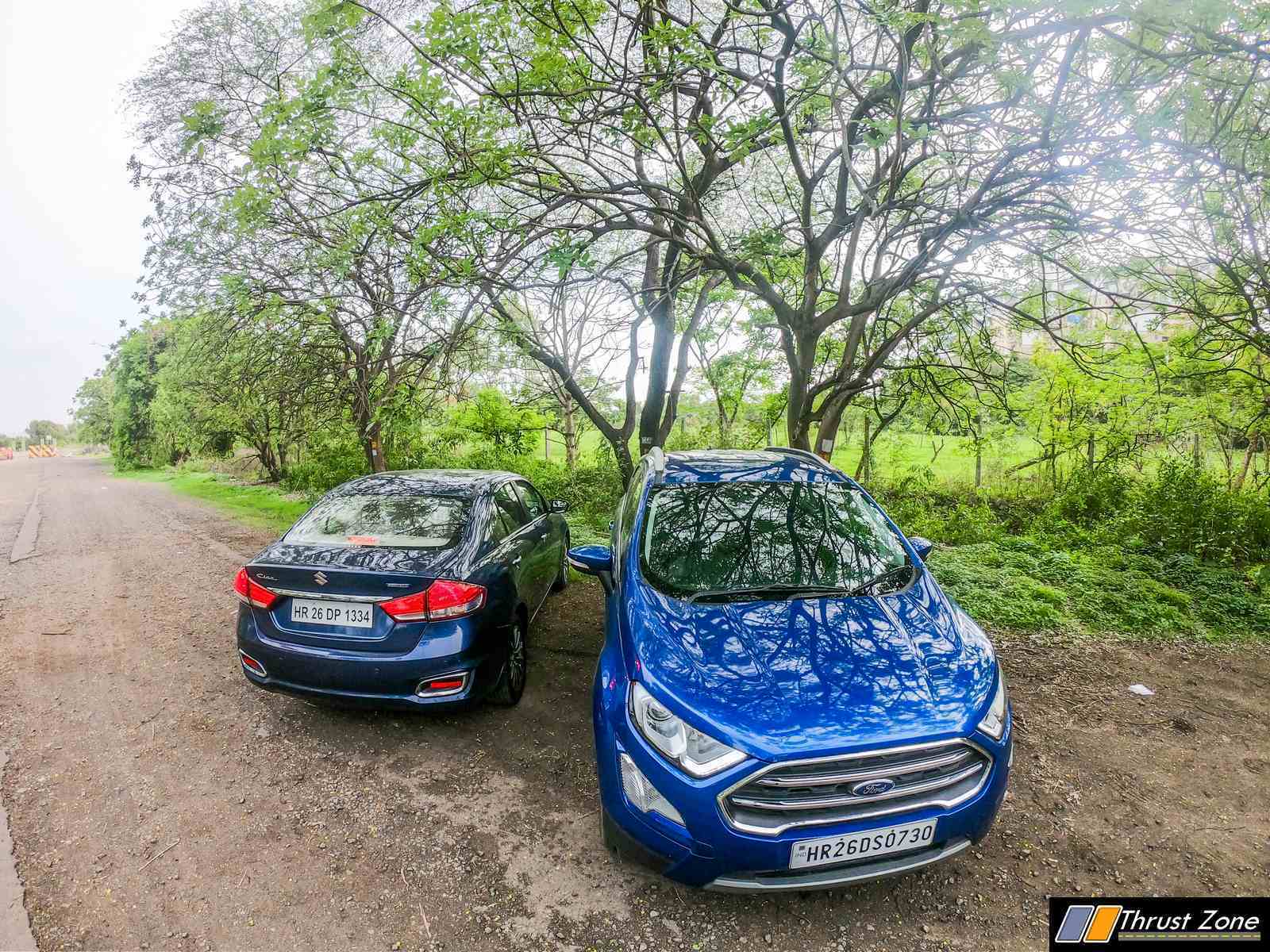 The Ford's engine at first drive impressed us by a subtle margin but, not entirely. The NVH levels were brilliant at low to medium speeds and engine made a great sound track at higher revs, almost sounded a project shed car. Driveability was taken care of rather smartly with cam profile slightly lifted so you would instant torque at lower revs but it would die out in the mid-range because the usual camshaft profile are mid to top-end focused. Also the linear power delivery didn't inspire much confidence so one would downshift to make quick progress.
The clutch was a bit snappy and gearbox also was a bit rubbery, but Ford fixed it for us and things were almost back to normal. All of this meant you had to seriously plan your highway trip and overtakes would be even more calculated, if you were enthusiast, that's not a problem. However, if you are normal commuter, it won't affect you much either. It is just, the engine could have been more flexible. It is just hiding the car's bulk well and providing a mere 9 km/l in the city and 11 km/l on the highway. Despite all of this, the highly dynamic chassis, the higher power output of 123 PS and sipping nature of the engine, it was the most rewarding to drive in total.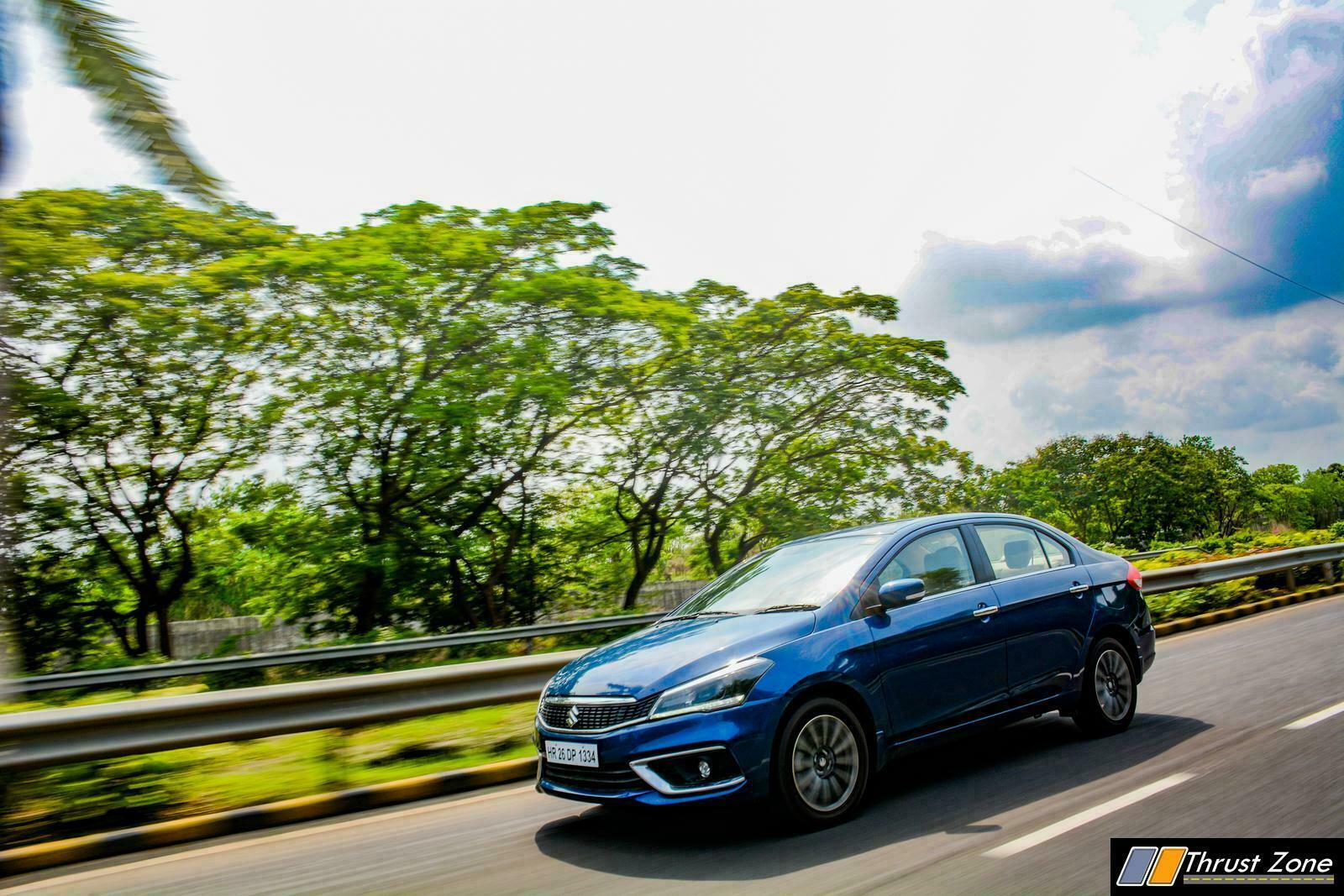 Ciaz's engine on the other hand feels conventional Suzuki engine, high on refinement throughout the rev range, but not sporty at all like the 1.2 motor. The sound is downright muted, the power delivery is now very linear and it feels like a commuter engine, completely opposite of all its rivals just like the City and Ecosport. Maruti is getting their engines to do what Hyundai does, do its job as uninterruptibly as possible.
Atleast the Hyundai motors end up making more power, which is all set to go in BS6, but still more than Maruti. However, Maruti's with its light weight construction and an engine which has account for every drop of fuel means it is very economical. We would get 10 km/l on a bad day and worse would be 8.4 km/l, which is better than the Ecosport. Highway numbers stood at 14 km/l. This is also because of the micro hybrid system called SHVS that Maruti has which gives start-stop and saves more fuel.
All of this with a 4-speed automatic, which downshifts quickly in traffic and cruises well enough on the highway. 1 or 2 more speeds in the gearbox, and it would have made it our only choice in the C-segment for everyone we would ever recommend. Low-end torque because of this light kerb weight and well done gearing means, it was acceptable. Mid-range and top-end were just about good enough for this class, as aforementioned earlier, nothing spectacular.
Overall, When you talk about the Ciaz it comes as a well made Maruti in a long, long time. The family car traits, the pleasant interior vs the one in Ecosport which has aged and could have been better and brighter for mass market. Still, the young person, like me, (being your 30's is considered being young? No idea!) You would choose the Ecosport as an ideal everyday commuter, appreciate the sporty black interior and do weekend trips with your nuclear family or couples with your pets. The boot is great and that allows for more flexibility. Ciaz comes with a large boot for those long journeys and more space in the back for adults so a great car for four-five adults going out for a trip.
This is not a comparison story to begin with and both engines in particular are good in their own way. Ford is sporty and powerful meanwhile the Ciaz engine is economy and easy to live with. If this was a comparison story the Ciaz would have an upper hand but the Ecosport always has found homes in tough times, every time a new rival came and even when there was confusion. There is a reason why the Ecosport still does well in the sales chart.
Infact, the Ciaz and Ecosport numbers on a monthly basis are sort of near to each other. 3-5k units a month is where both end up being. There is a reason to this as well because Ecosport offers a bit more in terms of features and safety equipment meanwhile the Ciaz is a bigger car and both priced very close to each other. Around 11 lakhs ex-showroom for top-end variant for these cars, this is bound to happen. Pricing decides segments, not bumper lengths! What more proof then you need to know that our market is the most value conscious market, not a 'cheap car loving market'.