Technology company Continental's Gurgaon plant achieved a remarkable milestone by producing five million Electronic Brake Systems (EBS). The achievement is especially significant because the milestone was reached in just five years, ensuring the production schedule was unimpacted despite the COVID-19 pandemic. The EBS portfolio comprises Electronic Stability Control (ESC) for passenger cars and Anti-lock Brake Systems (ABS) for passenger cars and 2-Wheelers.
In keeping with Continental's unrelenting commitment to safety, the localization of EBS units began in Gurgaon in 2016, while the manufacturing of electronic control units (ECU) for EBS was set up in January 2018 at the Bangalore plant. Apart from catering to leading OEMs in the local market, the EBS are also exported to other Asian regions.
Continental is rapidly expanding localization efforts in India. With its "in the market, for the market" approach, the entire value chain from R&D to design and production according to customers' requirements are expediated. This way Continental is enabling easy access to safety products by adapting globally proven technologies to suit the local market. The wide-scale production ensures cost advantage, especially in a value-driven market like India.
As a part of its efforts to ensure global production standards and quality, Continental has set up a state-of-the-art manufacturing facility with a focus on Industry 4.0 practices such as automation, digitization, and augmented reality for remote access in troubleshooting situations in Gurgaon.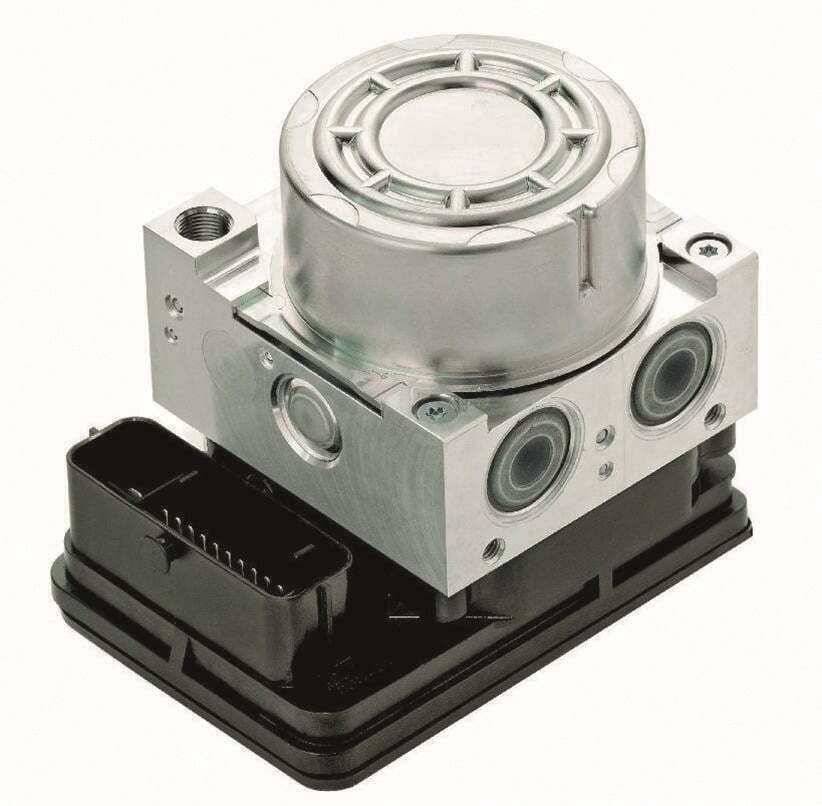 Anti-Lock Brake Systems (ABS)
A pioneer in technology, Continental ABS was first presented at the IAA in 1969. Continental has a variety of products catering to different segments of vehicles. For instance, the MK 100 ABS Entry has been designed for vehicle segments A, B, and C in the growing markets. The packaging is compact and extremely light, at less than 1200 grams. Furthermore, throughout the MK 100 product family, the hydraulic and electrical interfaces are compatible with each other, which makes the MK 100 easily applicable for platform concepts of car manufacturers wanting to benefit from a truly scalable product range.
Electronic brake systems for motorcycles have figured among Continental's solutions since 2006. Up until now, the two-channel ABS MK 100 MAB or three-channel MK 3-2 MAB (Motorcycle Anti-lock Brake System) has been available as a mid-range feature, while the MK 100 Motorcycle Integral Brake System (MIB) has been available as the ultimate feature. An affordable, high-performance entry-level system to improve the active safety of motorcycles, is the one-channel ABS, MiniMAB. With a box volume of significantly less than 300 cubic centimeters and weighing roughly 420 grams, the MiniMAB is light and can be easily applied to suit the widest range of 2-Wheelers.
Electronic Stability Control (ESC)
ESC, presently the most important active safety systems, prevents critical vehicle states from developing. At the same time, ESC is a prerequisite for further safety technologies like Advanced Driver Assistance Systems. The high-performance MK 100 system offers all functions, from basic ESC to a high-end system with the convenience and performance features of future brake-by-wire technology.
Continental develops pioneering technologies and services for sustainable and connected mobility of people and their goods. Founded in 1871, the technology company offers safe, efficient, intelligent and affordable solutions for vehicles, machines, traffic and transportation. In 2021, Continental generated sales of €33.8 billion and currently employs more than 190,000 people in 58 countries and markets. On October 8, 2021, the company celebrated its 150th anniversary.
The company has been present in India for close to 50 years through technology partnerships (Continental Tires since 1974) and joint ventures for its various businesses. Today, the tier 1 automotive supplier, tire manufacturer, and industrial partner operate across India – with about 8,000 employees across 13 locations, including seven plants that cater to the Indian market and a Technical Center that supports Continental's global R&D activities.