Land Rover Above and Beyond Off-Roading Experience In Aamby Valley – It gives you deep insight into how things work as you go deeper into the trails prepared for you
It is an understatement these days, and the time is 2018, that SUV's aren't popular in the Indian and worldwide markets right now. The pro's who have been making them since ages have also developed and helped evolve the SUV in many ways. The SUV's now come in different size and segment. They come with technology or come with old school levers instead of buttons. They are made from one chassis or two. Land Rover Above and Beyond Off-Roading Experience makes all these things come to life in a way.
Land Rover is one of them and claims to be a pro at this. Just like other British manufacturers and Englishmen, they love their off-roading too. They invited despite giving us Land Rover vehicles in the past to try a course which is far more complicated, challenging and interesting.
The boys and girls at Land Rover, which are experts trained by the company as well worldwide, travel the world to give a lifetime experience to customers and newbies as they put their machines through worst, do not modify their vehicles even one bit and let you go in the wild. Land Rover said that they did not change tyres, which was visible, The tyres pressures weren't low and they were road-going spec air pressure and there was no adding or removing any body parts.
Except for faux skid plates at the front and end which will get damaged and are for road use, were removed. The steed of the day for us was the Land Rover Discovery Sport. The vehicle which we already told you in our review that it has the capability off the road and on the road as we tested as much as we could. Honestly, we didn't put it through a man-made, challenging forest, that Land Rover boys and girls sent us through to experience their cars. Every car had an expert which was Land Rover certified and had an intense passion for off-roading.
Our expert, Kevin, was clearly one of them. As we chugged along, we learnt a lot. How to best use the system, how to tackle bad situations, which we were stuck in and how to use the Terrain response system which Land Rover has prepared in every SUV which also has a differential, a feature called APTRC (All Terrain Progress Control)which is basically off-road cruise control as it does the braking and accelerating for you, all you need to do is find a way, steer out of difficult situations.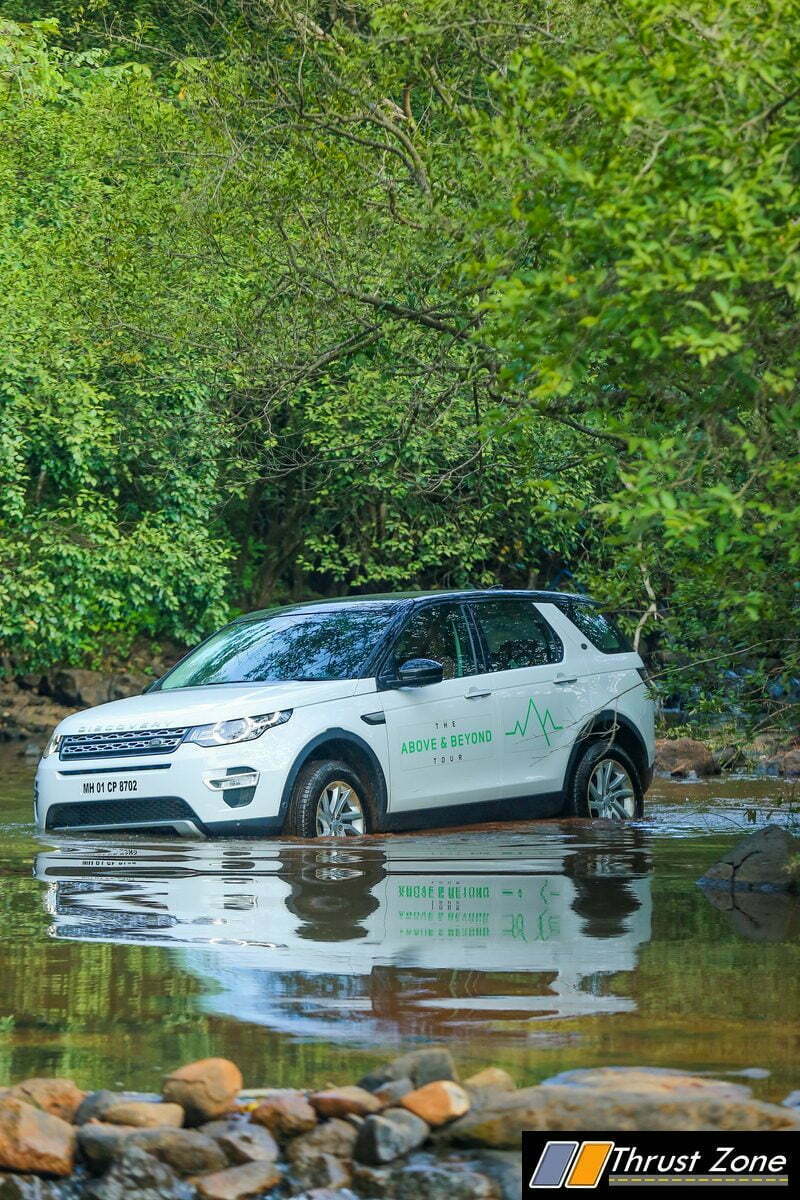 There are also modes to get out of Sand, Mut ruts and rocks and grass gravel and snow. We were in mud ruts and rock most of the time. We were told that the mode accelerates but shifts quickly into higher gears so that we have low-end torque always and we could climb over stones, rocks and slippery muck. The sand mode does the opposite, it doesn't shift up and when you are hitting the sand dunes, it lets you control the situation rather well.
The Discovery Sport and other SUV's clearly have a lot of low-end torque over its sedan counterpart for this situation and we could use it really well here. It was surprising how the SUV just went over anything and we were putting hardly any effort. Most time, not even braking, as the Hill Descent control would decide which wheel needs how much lock and yet keep moving ahead. Manual braking could upset that aspect and this is the reason why Mud, Ruts and Rocks mode also automatically engages hill descent control on its own. We started by going down and using this feature more than ever and were impressed 3 minutes into the drive.
We climbed the same situation but with 5 times more mud ruts and rocks which the SUV took with stock tyres, something that was required to be replaced with chunky tyres is what we thought, but the Discovery Sport, with a little splat and slip kept on moving ahead. The water wading was tested in a proper small river going through the forest and coming out and being on slippery rocks at 70′ degree angle was something to behold as the SUV just went through with precise throttle and braking which was handled by the APTRC.
As most of the course ended we were told to keep two things in mind, hold the steering properly and with thumbs out rather in so that when the steering revolves a lot in rocky terrain could crack your thumbs. Seating as high as possible is also a default thing do.
By now you know how to handle your Land Rover vehicle through tricky situations and the modes that will help you set free in most situations despite stock road going tyres. Land Rover repeatedly told that they do this practice all the time because the customer gets the same spec and has developed its spec in a way to maximize effortless-ness when coming out of the trick off-road situation. So when you get the opportunity to do the same, don't miss it and we certainly won't, especially when the mail invite says 'Above and Beyond'.