Honda Grazia vs Access 125 is need of the day as both manufacturers have rolled out their very best and there is finally an answer after much digging in
There is no denying the fact that our streets are now filled with scooters, more than motorcycles at a times as well. Despite, the largest selling two-wheeler is a scooter and a motorcycle at the same time. Splendor and Activa both sell 2 lakh units given take and the rat race for the end numbers every month is a different story altogether. Also, let's assume Splendor does well in the rural market while the urban market is going the easy way and opting for more scooters and that is why we see them? Probably yes!Scooters are coming in all cubic capacities and sizes.
110cc uncle and youth scooters and today, we can see two types of 125cc as well. Grazia 125 and Access 125 does look like a typical conversation between son and dad. A similar thing happened at ThrustZone headquarters as well. However, we decided to pen it down and will later send it to the concern higher management team to leave them with a decision. Here, we put the Grazia 125 scooter (No, it's not a Magazine) against the Access 125 (No, it is not a Mixer-Grinder) to tell you which is the right choice.
Styling
When it comes design, the Access continues to have a large slab of metal which are shaped and devoid of any lines. Be it at the front or rear. A chunky retro look alike headlamp makes it stand out. Pilot and turn indicator lights are seen in the tube like glass on the front apron. Meanwhile, the Grazia is the opposite with stubby panels with lines and slashes which makes it look edgy and substantial and does attract youth in the write color. It doesn't do that in orange color, but it does in colors such as white and red. Grazia has black alloy wheels which do give it a sporty look. Overall, the Access 125 is very conservative in design be it with the alloy wheel and or the exhaust design. Meanwhile, the Grazia is modern and rakish which should appeal to a younger audience.
Practicality and Features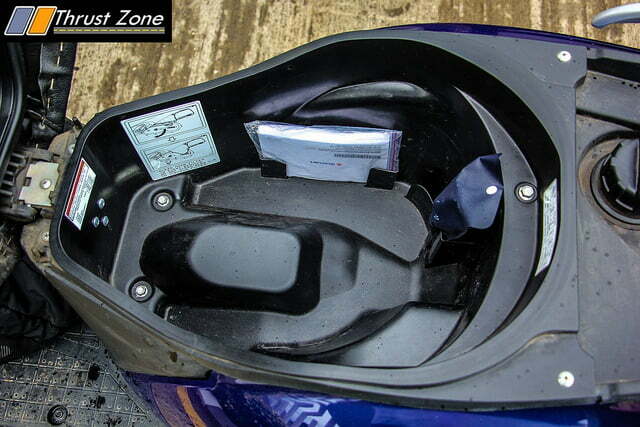 Both have comfortable ergonomics, you sit taller in the Access though as the Grazia gives you a lower seat height and stance which is easier for older as well as younger people. Seat base is the largest on the Access 125 by a big margin at 21 liters and so is the under seat storage which is longer but the width in both is the same. Hence, both cannot store full sized helmet. RVM is mounted well and both scooters provide great visibility with them. Switchgear on both scooters is the same. However, Access 125 gets just a small digital meter which shows trip and odometer along with service interval.
Grazia has a full digital cluster with a digital tachometer inspired from Africa Twin. It has one trip meter, clock, odometer, eco-meter, solitary turn-indicators to sweeten the deal. Both scooters have seat opening mechanism in the ignition lock area. Access also comes with a USB charging socket which is optional as the Grazia. Dua luggage hooks is always welcome, but the Grazia misses out on that. Both scooters have front pockets and lack of petrol filler caps. Large headlamp which is fixed below on the Grazia won't move with a handlebar, but that is a small price to pay.
Performance
When it comes to the engine. Both are smooth CVT equipped engines with a linear power delivery. Access has much refined over the previous Swish 125. However, it is still peaky with its instant and sporty throttle response and a kick in the pants feeling when compared to the Grazia by a subtle margin. Why? Grazia has an extremely linear rev range along with a 'soft' throttle response which makes it really easy to ride at any speed. Both are downright easy but the Access may not look sporty but it certainly behaves more sporty than the Grazia.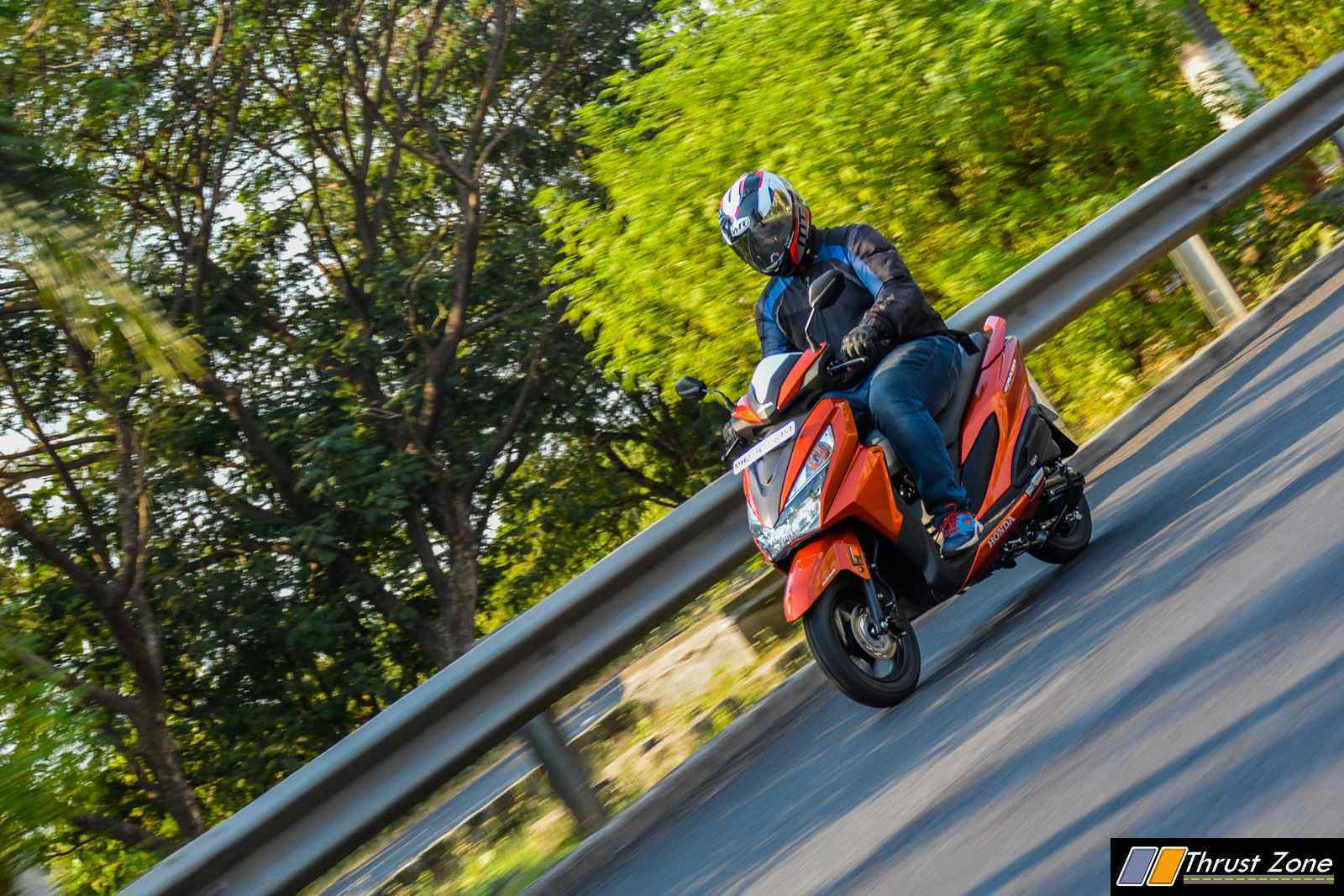 Access 125 also has a better power to weight ratio as it weighs 102 kgs vs Grazia weighing 107 kgs. Grazia compensates with .25 Nm over the Suzuki. Our tests show that the Suzuki is faster to 60 km/hr at 7.2 seconds and has a genuine top speed of 95 km/hr. Grazia does 92 km/hr and does 0-60 km/hr in 7.65 seconds. Access has performance up its sleeve but by a small margin. Access returns a class leading 46.5 km/l while the Grazia couldn't be tested for fuel-economy numbers, we expect it to deliver around 40-44 km/l mark like the Activa 125 which delivers slightly less at 42 km/l. Overall, the Access 125 has this area nicked and the sporty feel also makes it stand proud.
Ride and Handling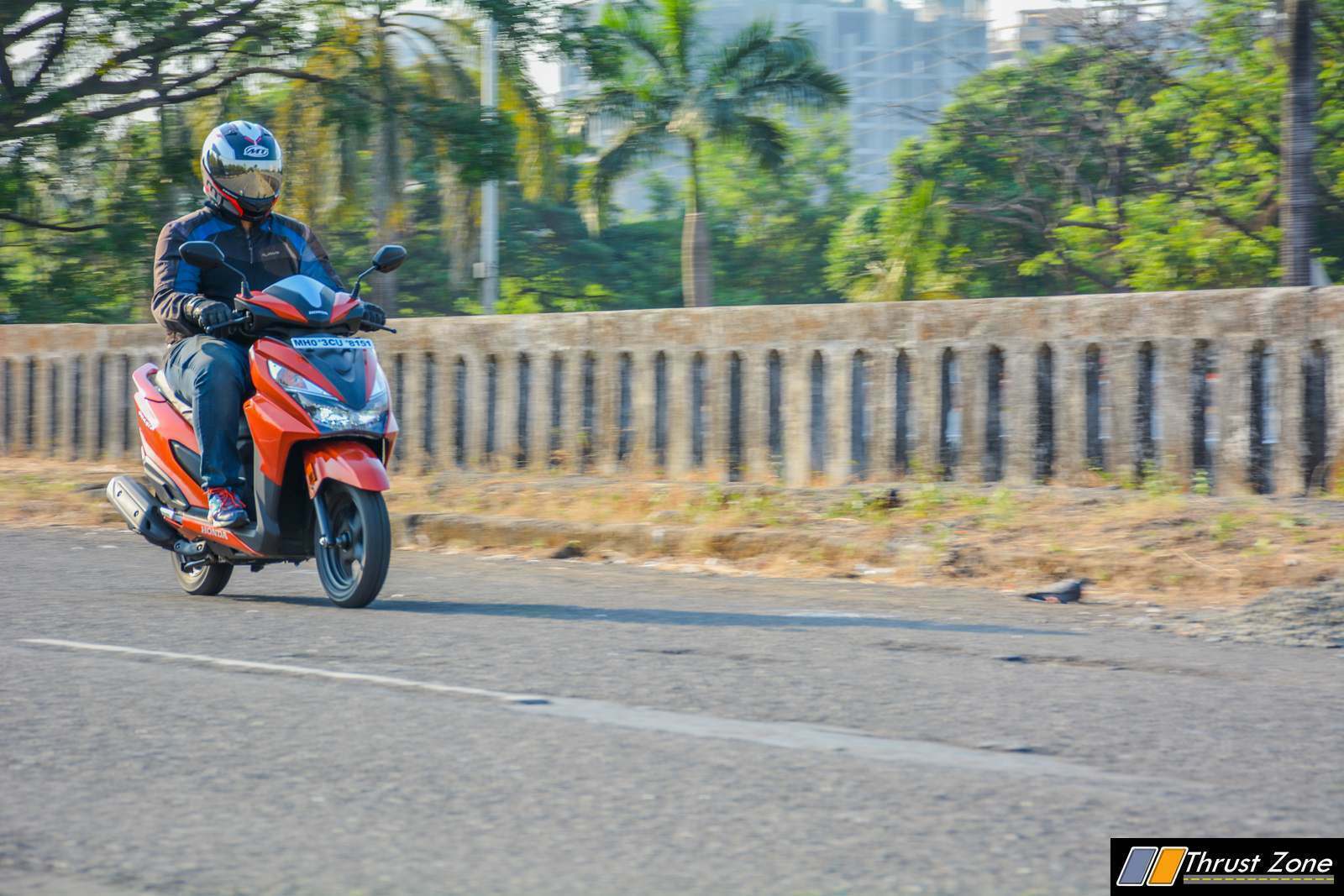 Dynamically, the Access 125 has a higher travel suspension which gives it immense fun to ride character and agility and a very forgiving chassis makes it even better to play around in the corners, tackling traffic or be it straight line stability. Grazia is the opposite in terms of suspension travel as it sits lower and offers less suspension travel and center of gravity is even lower. High-speed stability and cornering are confidence inspiring, but the suspension felt a bit less harsh than the Activa 125, but not as sporty tuned as the Access 125 at the same time.
Both scooters have 12-inch front wheels and 10-inch wheels at the rear along with telescopic suspension at the front and monoshock at the rear. Ride quality, as a result, is better on the Grazia but the Access 125 does ride maturely as well carrying its sporty intentions without disrupting the rider. Overall, the Grazia secures its place well and doesn't disappoint at all, but the Access 125 with its sporty dynamics should appeal more to the enthusiast.
Honda Grazia vs Access 125, Verdict
This may not be an apple for apple comparison, but the Grazia has to fight the dominating 125cc scooter in this category. Swish is temporarily gone but should be back and we think it will take the fight even further with the Grazia. For now, as we said in our first ride review of the Grazia that the scooter is a refreshing change from Honda. It is the best Honda scooter to date as well.
Features make it stand out, essentials and safety features are on offer as well. Grazia is a full Rs. 7,000 expensive than the Access 125 which only lacks LED Lights and CBS while both scooters offer similar features and both companies have kept it optional as well. Despite this and two passive safety feature onboard, it is the Grazia which makes more sense and wins this test because enthusiast know what to do and meanwhile, the Grazia is a unique all-rounder which does it all.