Ford Mustang NCAP Rating Star Stands At '2' as it doesn't have the active working well and passive features needed to meet these norms
In a disappointing turn of events, the Global NCAP has given the Ford Mustang only a 2 star rating. This means that the iconic Mustang has become the first car since 2008 from a mainstream car maker to get such a low rating. NCAP explained their dismal rating of the Mustang on the parameters such as insufficient inflating of airbags, rear passenger seatbelts allow passengers to slide under them, and the head of a child might hit the interior of the Mustang during a crash.
Regarding the dismal results, Matthew Avery, director of research at Thatcham, which works with Euro NCAP in the UK has said: "We have concerns about the Mustang's crash protection of adults and children, which also make it unsuitable for carrying rear passengers. Plus, it does not have basic life-saving technology such as automatic emergency braking [AEB] which is even available on Ford's Fiesta." Further adding to his disappointment from the American auto major, he said, "The most concerning part is the fact that Ford has made a deliberate choice. The car has been designed to score well in less wide-ranging US safety tests, and only minor updates have been made to meet required European (pedestrian) safety regulations."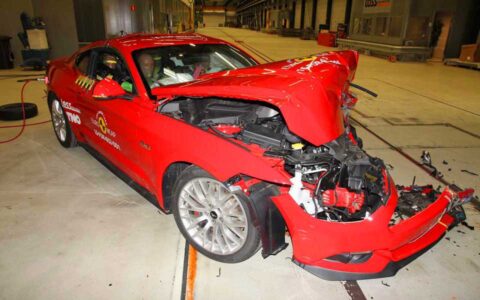 In the US market, the crash tests are conducted by the National Highway Traffic Safety Administration (NHTSA). Interestingly, NHTSA had given the same Ford Mustang full five stars. But it is to be noted that the US versions of the car also get a forward collision warning system as part of an optional safety pack. However, even in the home market, the Mustang does not come with AEB and lane departure warning systems.
Euro NCAP, visibly angry and disappointed at Ford said in a statement: "Ford did not expect Euro NCAP to test the Mustang and chose not to fit safety technology in Europe which is available to its American customers. Such an attitude to safety should trouble Ford's customers, whether they are buying a high-powered muscle car or a regular family car."
With all this bad publicity the only thing that is going for Ford is the fact that the updated 2018 Ford Mustang facelift will be available from September. This car has AEB with pedestrian detection and lane keeping assistance. Euro NCAP has said that it will be testing the facelifted Mustang once it is made available in Europe.