With the inauguration of Frontier Skoda Dealership in Jabalpur, ŠKODA AUTO India aims to strengthen its position in Madhya Pradesh and push forward its campaign of establishing a strong foothold in the central markets of our nation. The new state of the art dealership facility sports the new Corporate Identity and Design as a part of ŠKODA AUTO global redesigning process. The Czech auto manufacturer, under the purview of the 'INDIA 2.0' project, will have at least twice as many sales and service touchpoints, as it does today, by 2022.
Frontier ŠKODA is strategically located at 225 Rani Durgawati Ward, Nagpur Road, Devtal, Jabalpur and offers utmost ease and convenience across the region. The sales facility sprawls over an area of 2,800 square feet and accommodates three cars on display. A dedicated service workshop, located at Bheda Ghat Road, Byepass Crossing, Jabalpur is spread across 25,000 square feet and houses 12 service bays. With 18 trained personnel and staff members, Frontier ŠKODA has a capacity to service over 3,000 ŠKODA AUTO vehicles per annum.
Commenting on the inauguration of the new facility, Mr. Zac Hollis, Brand Director, ŠKODA AUTO India said, "To ensure preparedness for INDIA 2.0 launches, we at ŠKODA AUTO India are continually striving to expand our network reach, across the nation, so that not only more and more customers can experience our products but also enjoy easy access to our customer-centric aftersales solutions. Jabalpur is a key market for us in Central India, and we are confident that our partnership with Frontier ŠKODA will be pivotal for the brand and will further strengthen our foothold in Madhya Pradesh."
Mr. Anand Wadhwa, Dealer Principal, Frontier ŠKODA Private Limited said, "We are delighted to partner with ŠKODA AUTO India and introduce a new dealership facility in Jabalpur, Madhya Pradesh. The modern architecture and streamlined business processes will provide the ideal backdrop for the presentation of ŠKODA AUTO products. With the global best practices and processes of ŠKODA AUTO India and adapting them to suit our customers in the region, we endeavour to create a lot of value for all our stakeholders, especially our customers, to offer world-class service and customer care."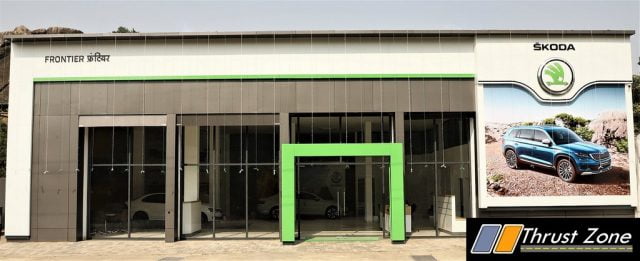 With the highest priority given to functionality, clear orientation, and transparency, ŠKODA AUTO India has successfully expanded its network to 83 sales and 58 service touchpoints across 69 cities across the nation. The Czech brand has invested over INR 1,200 million, along with its dealer partners, in the biggest rebranding campaign in its history in India.
In line with the 'INDIA 2.0' project, the corporate architecture, functional interiors, and rationalized business processes, aim to enhance the overall customer experience. The new dealership design architectural concept reflects ŠKODA AUTO's philosophy expressed in the slogan: "Simply Clever with a human touch".
The new architecture of the Frontier Skoda Dealership facility is characterized by clear and simple shapes, a harmonious colour concept, modular design features, and a modern lighting concept. The new exteriors of the ŠKODA AUTO dealerships will be the brand's powerful statement during both day and night – clear, transparent, modern, and open. In addition to sustaining ŠKODA AUTO's proven strengths, the company is placing an increasing emphasis on enhancing the emotional appeal of the brand.
It is conveyed by the sophisticated and logical arrangement of all the key elements, business areas, customer zones, and the use of cutting edge technology. The high quality materials, new design features, effective lighting solutions, architectural graphic elements, and warm wooden tones create an inviting atmosphere. Fresh hues, clarity, openness, and transparency – are the highlights of the new interiors of ŠKODA AUTO showrooms.