Neeraj Chopra brought India its first-ever gold medal in Athletics at Tokyo Olympics,2021 which made him an inspirational figure overnight. But India soon got another reason to celebrate as Sumit Antil brought India's second gold in Tokyo Paralympics. By achieving this feat, the entire country was proud of them and several rewards were announced for their accomplishment. Anand Mahindra was not behind to present both the athletes with the personalized gold edition of the newly launched Mahindra XUV700.
The presents were recently delivered to Neeraj Chopra and Sumit Antil being one of the few XUV 700 to roll in the streets with a normal customer waiting list extending all the way from 3 months to 11 months for a few variants. The XUV 700 presented to Neeraj Chopra had few personalized additions like the SUV's front vertical grill slats having golden accents and also 87.58 mentioned near the front fender which implicates Neeraj's astonishing throw of 87.58 whereas Sumit's XUV 700 has 68.58 mentioned in the fender that got them their gold medals at Tokyo Olympics.
There are some personalized additions to the interior of the car with 87.58 embroidered in golden hue on the passenger side of the dashboard, same goes for Sumit's vehicle which has his record throw of 68.55 metre embroidered in the passenger side of the dashboard whereas mechanically there are no changes in the car.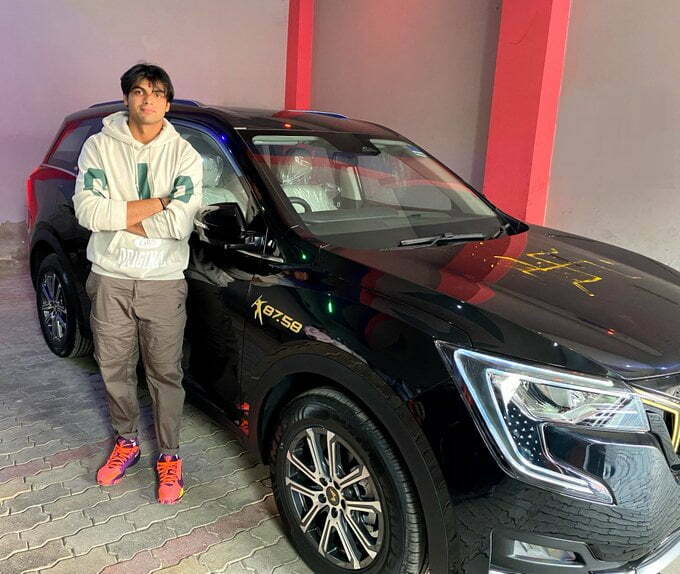 After receiving his gift, Neeraj Chopra tweeted: "Thank you @anandmahindraji for the new set of wheels with some very special customization! I'm looking forward to taking the car out for a spin very soon."
The XUV 700 is currently selling like hotcakes with record-breaking 50,000 bookings in just a span of two days. Out of which initial 25000 bookings on October 7th were completed in about 57 minutes. These numbers are self-explanatory of the craze XUV700 has created in its segment. Now Mahindra just released how they have adopted a unique strategy to deliver these cars in a planned manner without causing much delay to the bookings they have accepted.