Mercedes AMG GT Concept is a 4-Door version of the AMG GT with a Hybrid Powertrain and a stunning Design.
What if you loved the Mercedes AMG GT but wanted a four door? You can be happy now, since Mercedes know your desires well and has unveiled this gorgeous Mercedes AMG GT Concept at the ongoing Geneva International Motor Show. This striking and stunning Mercedes AMG GT Concept in essence is the 4-door cousin of the AMG GT. The company states that this model will not only complement the sport car but will also let the AMG portfolio expand beyond its traditional performance models. Created as a part of 50th Anniversary celebrations of the AMG, the Mercedes AMG GT Concept is special for the company.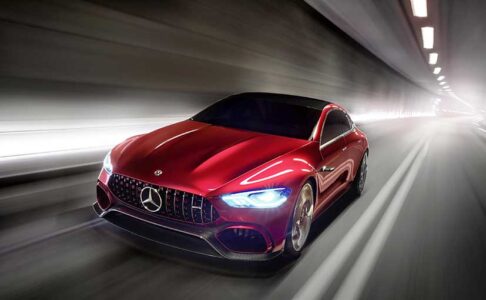 The Mercedes AMG GT Concept design has this design that inspires nostalgia, yet with a particularly AMG's angry and modern way. The basic style of the Mercedes AMG GT Concept is inspired by the current AMG GT that arrived two years ago. However, the concept also gets a Panamericana grille and thin, horizontally positioned LED tail lamps. And as is with every concept, this Mercedes AMG GT Concept also signals towards the design direction future Mercedes AMG products will head to. As per Mercedes, this Mercedes AMG GT Concept will form a production variant that will launch in 2019. This production version will be based on the MRA platform currently used by the C-Class and the E-Class.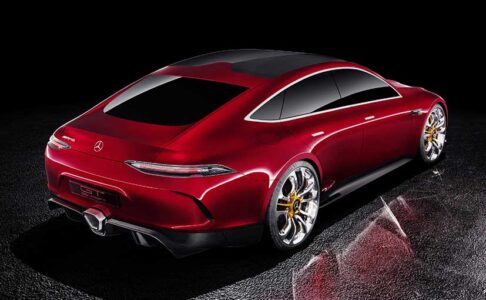 At the show, the Mercedes AMG GT Concept was displayed with power source being a petrol-electric hybrid driveline. This new power train is a combination of the AMG's twin-turbocharged 4.0 litre V8 petrol and an electric motor. This system delivers an insane combined power output of 805bhp. This means that the Mercedes AMG GT Concept can do 0-100kmph in less than 3 seconds, that's really fast. This new hybrid-powerplant is thanks to the company's F1 team and charges the battery while driving as well as under braking. As per the company, the Mercedes AMG GT Concept can either be driven purely electrically or with the petrol power only or in an optimal combination of both.