Harley-Davidson 2018 Fat Bob just took a massive step up in design, engineering, and quality to woo its customers but could backfire with purists
'
Enchanting –
One of a kind aesthetics and exhaust note
Superlative chassis, brakes, engine
Standard safety feature
Clutch is surprisingly light and a welcome move
Unsatisfying –
Priced a bit higher
Could do with better seats
Monday Morning. Harley Davidson board meeting decides its time to flip to the other side of the blueprint it has been hiding in one of its safes and reveal the world its modern plan its been hiding from purists. Milwaukee engines are brought in, the designs are changed, motorcycles exit one range to enter other range, engines are modernized and made to produce less NVH than the previous motorcycle had, has been changed. No more wooden front end, missing gear shifts and much more was supposedly behind that map, which was evidently called, progress. It did it all and now it has had success.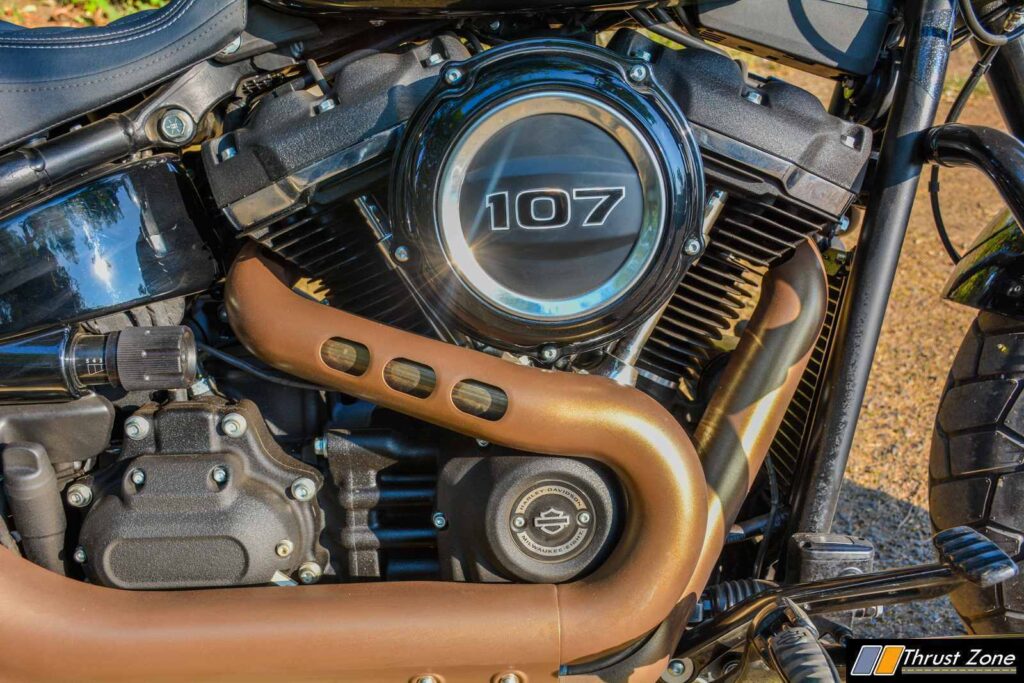 All of this has come because of drastic measures had to be taken because one its old rival broke out of the cemetery and turned out to be alive working its coffin with a table-lamp on designing marketing schemes and tactics to finish the game once and for all. Harley is striking back with many models and this one is going to be that attracts new customers to the showrooms, something Harley wants, it won't agree, but needs it as the cult is growing older but not larger. We are the first to sample the Fat Bob on India as we get a first ride with the motorcycle. Let's find out.
Styling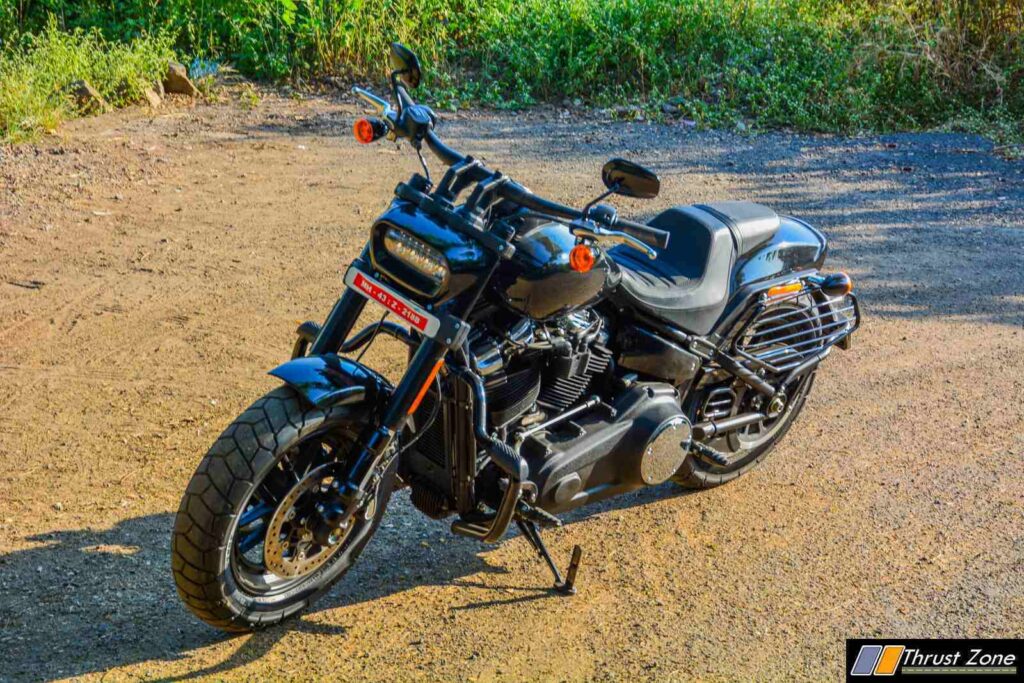 "That headlight," said every millennial in the world the day the pictures came out. Almost reminds you of the geometry box you had in your school but this has high powered LED lights which we are told illuminate the dark like the sun. The narrow handlebar, the boxy shape, the Softail rear end which eliminates the twin shocks and has a monoshock. The tail-light has been kicked out and the stop lamps are very cleverly put into the turn-indicators. Harley tells us accessories are available for traditional folks. Overall, the motorcycle looks very eye catching with its well designed and more curvy and dominating exhaust pipes. The tank is little more customary and should help purist a bit from the shock.
Practicality
This part includes how the seat is very soft and won't go well on long journeys. The mirrors which are well positioned and the footpegs which are well finished and placed forward for that 'Harley' feel. The solitary turn-indicators button is the coolest idea and invokes smile when you get used to it. Palm grips are downright cheap and the plastic and metal around the handlebar don't invoke richness, the same you paid to get this bike, but that's fine for most customers. Handlebars are adjustable to make things suit your needs.
The instrument cluster has a welcome thought called a tachometer along with fuel efficiency parameters. Something which can be controlled by the button seen on the LH switch. Pillion seat looks like it can drop your partner to shopping center while you go for a ride to the cafe with your Harley buddies in the evening because it's small and can support your the pillion for a short amount of time.
Performance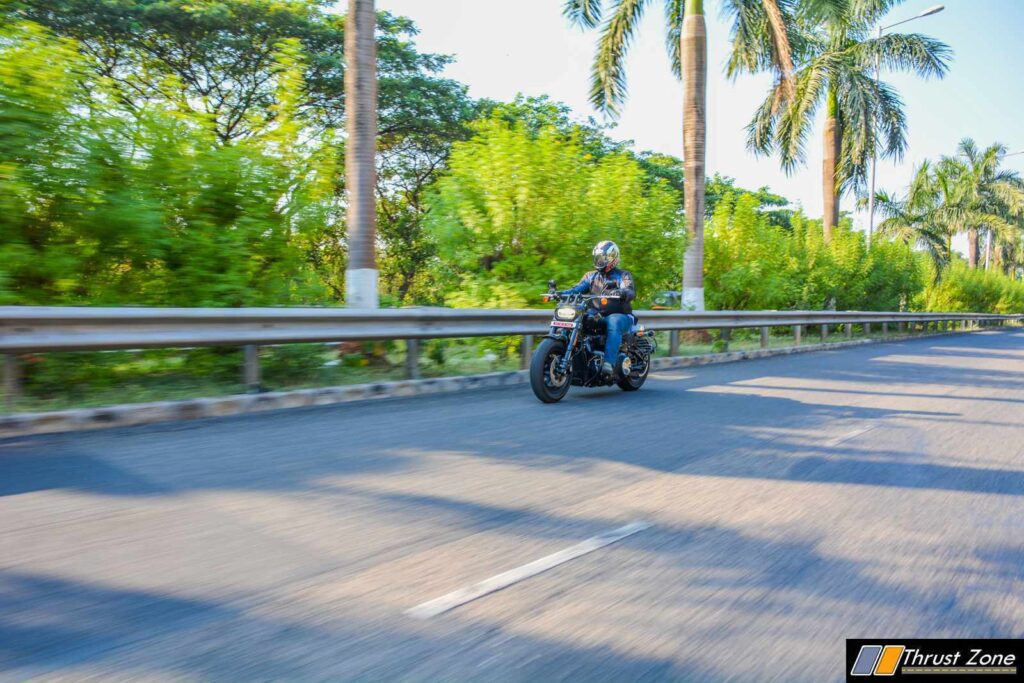 Milwaukee engines are just so good now that is hard to believe how could Harley do this in the first place when you compare to the yesteryear motors. The 107 cubic inch motor is low on NVH, still makes potato-potato noises at all RPM and is just about loud as stock. Sometime later in the ownership, the riders will end up getting proper "You can hear me from a 3 km away exhaust". The 1,745cc engine makes around 145 Nm of torque that is exactly what a Honda City petrol makes.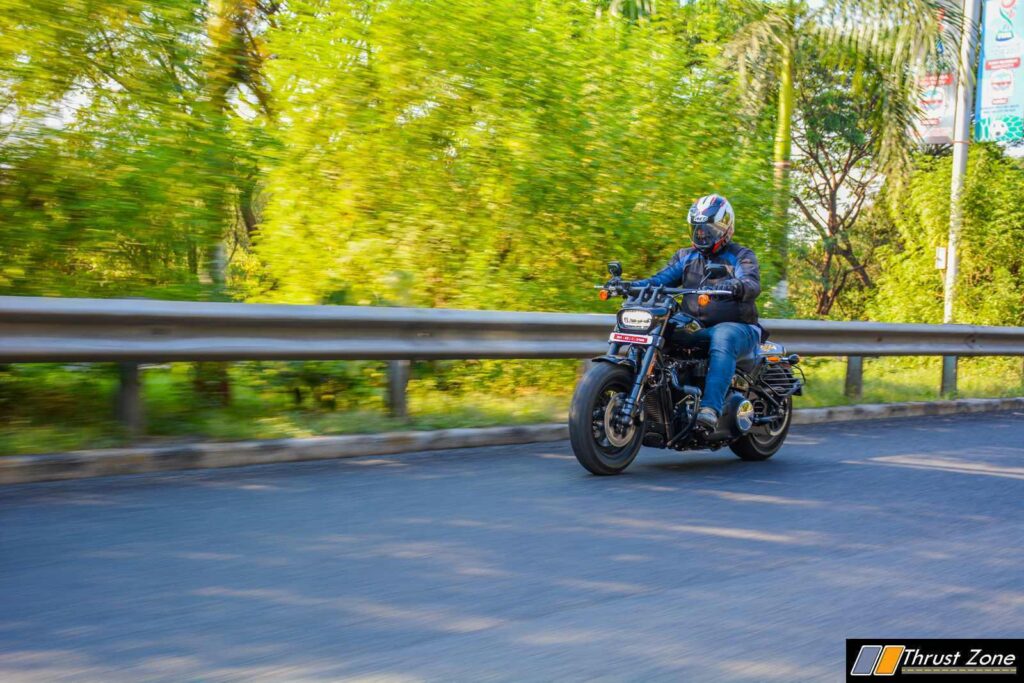 Something that comes at 3250 RPM which on the road meant power comes as early as 2000 RPM and goes all the way till 5000 RPM after which the power and torque is cut abruptly but the engines rev to a 'rather soft redline cut for a Harley' at 6000 RPM. Attention to detail, Harley, nice. Fab Bob weighs 309 kgs which is surprisingly well hidden as the motor does 140 km/hr on an open road without much fuss.
However, post that it feels that the performance has bogged down but we are sure when we road test for a longer time on a long stretch of road, we will have a proper GPS number for you. Gearing is tall and makes for a stress-free riding at any given speed on the highway. Those speeds are 100-120 km/hr. The 6-speed gearbox is almost smooth, but once we had a hard time getting neutral which lasted 35 seconds plus. Clutch is surprisingly light and a welcome move.
Ride and Handling
Again, the revised chassis with new SHOWA forks with dual bend valves do a charismatic job of making the ride almost magic carpet-like. At the same time, we felt that the feedback has been robbed of it because of the same but by a margin which is the size of an ant. Front-end feels like it has been borrowed from a sports bike but more unbalanced weight has been added (because it weighs 309 kgs).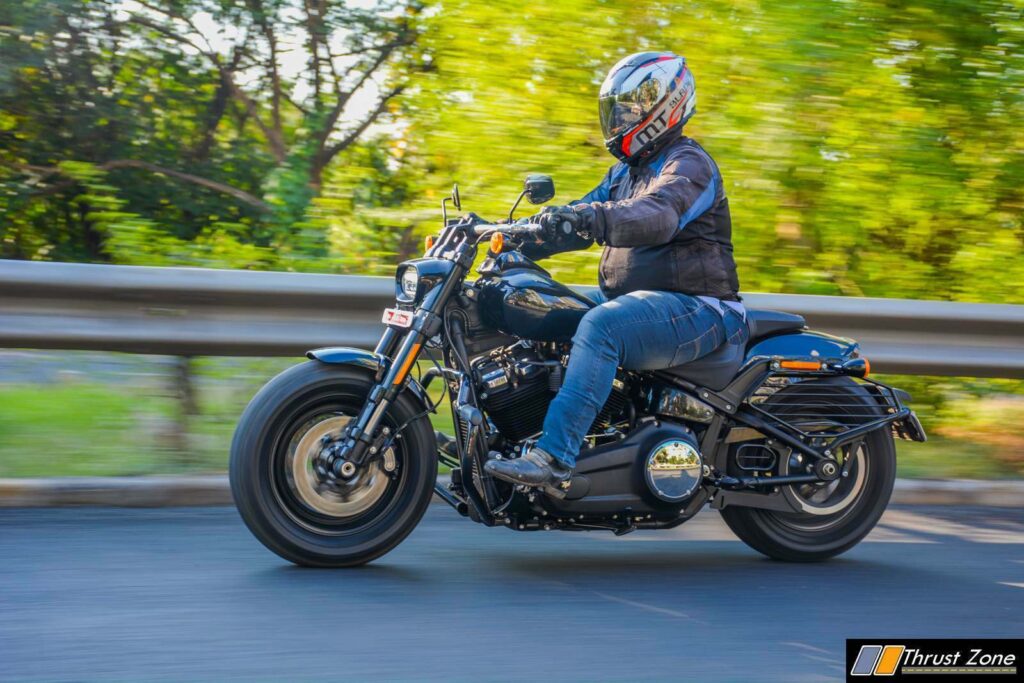 However, the front-end is well weighted, the rake is at 28 degrees, which is far away from sporty but the handlebar and rider positioning helps you get a quicker steering when compared to the previous version. Monoshock at the rear instead of dual shocks help that even more. Tyres performed well and brakes continue to be just about adequate not sporty or class leading.
Harley-Davidson 2018 Fat Bob Review, Verdict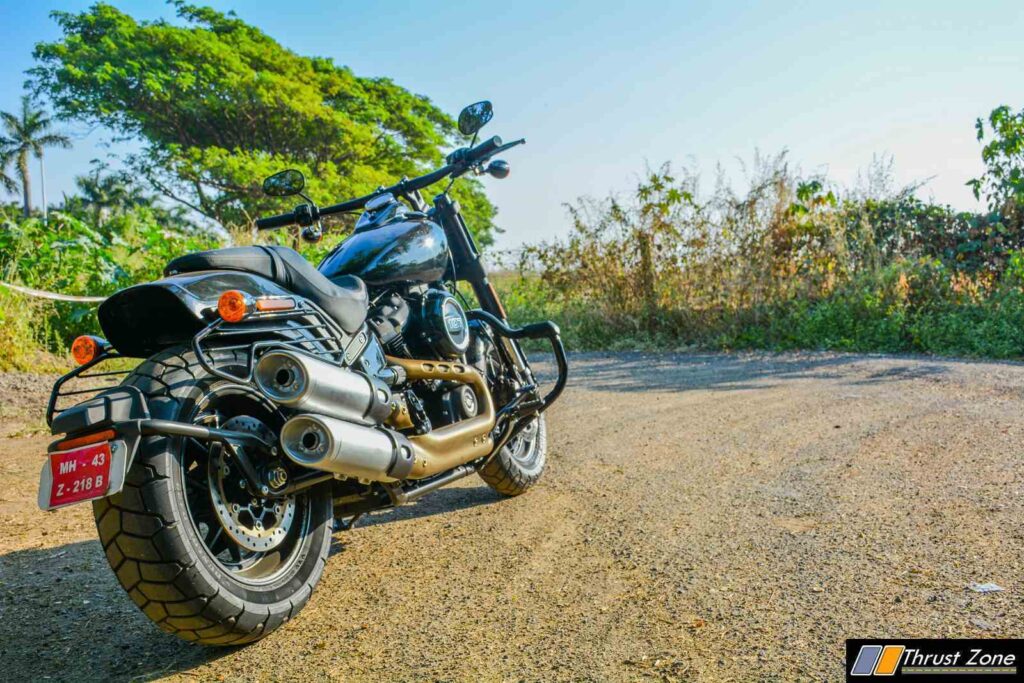 Clearly, our first ride tells us this is almost not a Harley. As most of the unnecessary movements from chassis and engine are gone. The smooth and linear torque curve, the almost sporty behavior from the chassis, the very well connected front is something to look forward if you buy this bike and ride it. 107 Fat Bob is so impressive, we cannot wait for the 114 which is said to be even better. For now, the Fat Bob 2018 is something we think, as sportbike lovers, as masses and critics of the brand would end up buying some day. Trust us, it not just because of styling, because there is now so much more to look forward to.
Price: 13.99 Lakhs ex-showroom Pan India.
2018 Fat Bob Review
Design

Performance

Dynamics

Features

Safety

Value

Practicality