Honda City 7 Lakhs Units Sold In India as the four generation model comes with diesel, which has helped dramatically the company to boost sales
Honda Cars India today announced that its bestselling premium sedan Honda City has sold 7 lakh units since its first introduction in the country in 1998. The car, now in its fourth-generation version, enjoys a huge brand loyalty. India being the largest and most important market for the Honda City, currently accounts for over 25% of the car's worldwide sales.
Honda City is bestseller model in India and the only premium sedan to achieve cumulative sales of 7 lakh units in the country. With a strong legacy of four generations, the City brand has evolved with the changing tastes and aspirations of our customers. India has always been a strong market for Honda City and currently accounts for 25% of its worldwide sales. It's a complete package of sporty looks with driving performance, high fuel efficiency, best comfort and a rich equipment list.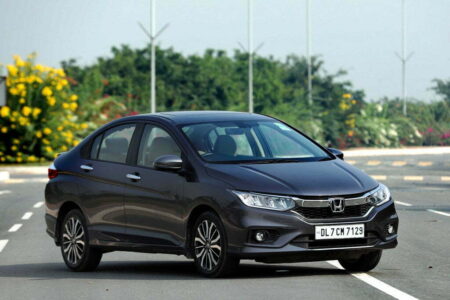 Honda City journey in India to 7 lakh cumulative sales in India and beyond:
Cumulative sales Milestone Achievement
First introduction
January 1998
100,000 Sales
March 2005
200,000 Sales
October 2007
300,000 Sales
March 2010
400,000 Sales
September 2012
500,000 Sales
November 2014
600,000 Sales
February 2016
700,000 Sales and counting
October 2017
Generation-wise sales of Honda City in India
Cumulative sales in India since launch
7 lakhs Fuel Type
1st Generation City (1998 – 2003)
59,378: Petrol
2nd Generation City (2003 – 2008)
177,742: Petrol
3rd Generation City (2008 – 2013)
192,939: Petrol
4th Generation City (2014 – till current period)
269,941: Petrol/Diesel
Honda City is a highly successful sedan with presence in over 60 countries, registering cumulative sales of 3.6 Mn units. Currently in its 4th generation, the Honda City delights the customers with some of the best in class interior features and much more. Available in Manual Transmission (both Petrol and Diesel) and Advanced CVT petrol, the Honda City adopts the best of Honda's power-trains to achieve a perfect balance of performance and fuel economy.
The current 2017 City offers some of the best-in-class features such: Keyless entry, Electric Sunroof, Steering Mounted Audio and Bluetooth handsfree, advanced 17.7 cm touchscreen infotainment system called the Digipad, Reverse Camera & Parking Sensors, Cruise Control, Automatic Air-conditioner, leather seats, 16 inch diamond alloy wheels and safety at its best with ABS (Anti-lock braking system) with EBD, & Airbags.