In one of the disturbing incidents related to electric cars, Hyundai Kona EV has been reportedly exploded in Île Bizard, Montreal, Canada. The explosion was so powerful that it blew off the door of the garage although no fatalities were caused by the incident. According to the owner of the Kona EV, Piero Cosentino, at the time of the explosion, the car was unplugged and no charging was taking place. Cosentino purchased the car in March earlier this year and according to the news report, there is nothing inside the garage which could be possibly construed as a source of fire or explosion.
Following the explosion, firefighters arrived at the scene immediately, controlled raging flames, and now investigating the matter in detail. Hyundai is still to comment on the incident as there hasn't been any official response from the company till now. Interestingly, this is the very first incident of Kona catching the fire that we have witnessed so far. In fact, what makes the situation even more serious is the fact that the Kona not only caught fire but it actually exploded and that too when it was unplugged and not being charged. This is also being blamed on the heat wave that is intensified over Europe and America.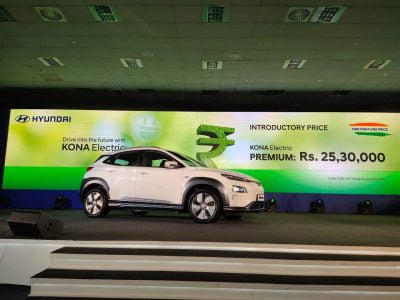 We are expecting that Hyundai is going to investigate this matter in detail and come out with an explanation or reason behind the explosion. Just so you know there is an intense heat wave that has hit the Montreal of late and many are linking the increased temperature to this explosion. Now whether the temperature difference could really cause these kinds of explosions or not is still to be established and at this point in time, these are part speculations only. Just recently Hyundai Motor India Limited has launched Kona SUV in Indian market at a price of Rs 25.30 lakh and this incident doesn't bode well for the South Korean car maker. Let's wait what Hyundai has to say about htis.