Jeep India has introduced Jeep Wave® Exclusive, a premium customer experience program that ensures a hassle-free and enhanced ownership experience by offering a range of services. The new program comes with the introduction of the new BS6 phase II compliant range and promises to offer a unique and premium experience beyond the showroom and through the customers' ownership journey.
Jeep® Wave Exclusive Program is available to the entire Jeep line-up and is filled with exclusive benefits to deliver Jeep owners the utmost care and dedicated 24/7 support. The premium customer care program entails 3 years of Jeep Comprehensive Warranty, Jeep Express Service packages starting in 90 mins, Jeep Courtesy Edge & Segment First Customer Contact Programs – Jeep Genius and Jeep Adventure Concierge to help customers gain unparalleled ownership experience.
Commenting on the launch of this premium service program, Mr Nipun J Mahajan, Head of Jeep Brand India, said, "Jeep® Wave Exclusive is our commitment to an excellent and enhanced ownership experience for our Jeep customers. Jeep is a global premium brand, and we want our customers to experience the premium Jeeplife throughout their ownership journey. With the high-quality aggregates and uncompromised build, the Jeep Wave® Exclusive offerings will provide our customers with the peace of mind they expect from the brand."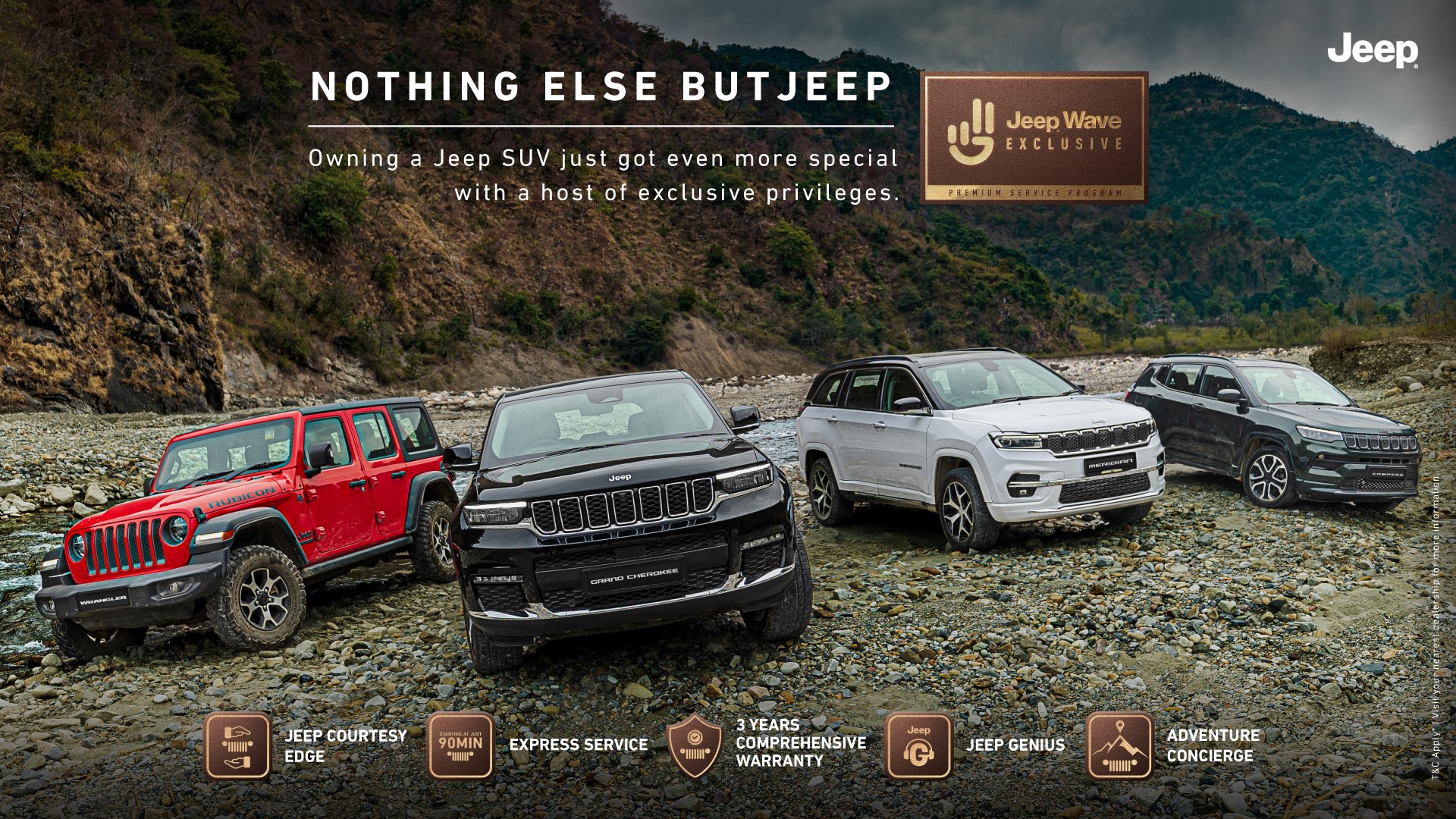 Listed below are the details of the Jeep® Wave Exclusive initiative:
· 3 years Jeep Comprehensive Warranty that provides hassle-free customer experience covering all the parts with exclusions limited to consumables and wears & tear. This class-leading warranty across the range highlights the confidence Jeep India has in its products and service offerings.
· Jeep Express Service starting at 90 minutes offered for swift action on customer support. The same also assures quality service with time-saving benefits. As an added convenience, customers can also avail pick-up and drop-off services.
· Jeep Courtesy Edge offers a loaner Jeep SUV / mobility solution if mechanical repairs take longer than 96 hours.
· Jeep Genius Segment first exclusive online service for customers to explore the full potential of their Jeep, Brand Capability & Product Features.
· Jeep Adventure Concierge Segment first exclusive offering for Jeep customers for their curated Offroad Adventures
Jeep Wave® Exclusive program will apply to all existing purchased or leased Jeep® Brand vehicles except for the Jeep Comprehensive Warranty which will be available for vehicles purchased from 1st April 2023 onwards.