Kia Carens, with its three-row seat configuration, has made its global debut on Thursday. It is expected to get the Indian market launch early next year and the company has already started accepting bookings for the same. Carens will be available in two configurations – six-seat and Seven-Seat. Upon arrival, Carens will be pitted against the likes of Maruti Suzuki XL6, Toyota Innova Crysta, Mahindra Marrazzo, and Hyundai Alcazar. In this specification comparison review, we pit these contenders against each other to find which one of these comes on the top.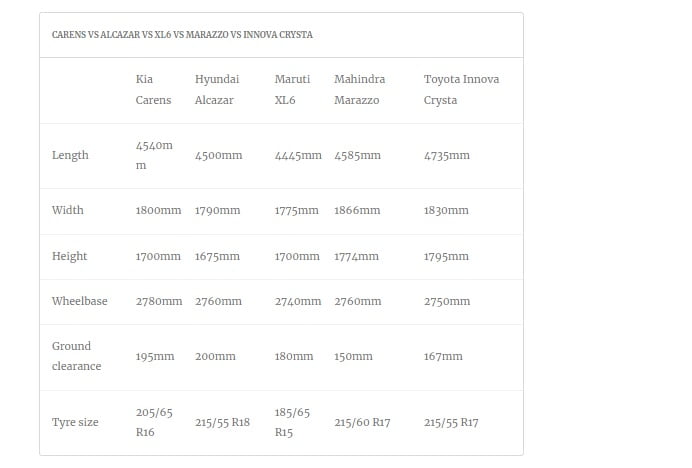 Dimensions
Although dimensions are yet to be revealed officially, Kia Carens office has the longest wheelbase of 2780mm. It's 4540mm long, 1800mm wide, and stands 1700 mm tall on the ground. In comparison, Toyota Innova Crysta is the longest and tallest while Mahindra Marazzo comes across as the widest car in this comparison. Hyundai Alcazar features the highest ground clearance and also comes equipped with the largest tires. Maruti XL6, on the other hand, is the smallest people mover in this comparison.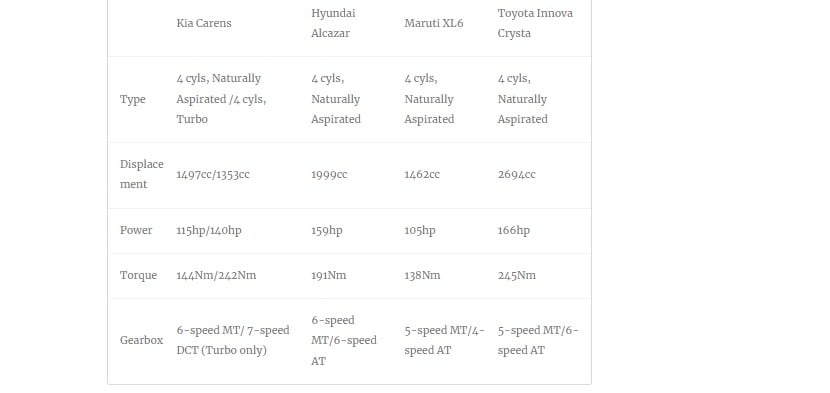 Petrol Engines
Mahindra Marazzo doesn't come with a petrol engine while Carens has got two gasoline powertrains both of which have been borrowed from the Seltos SUV. The first option is the 1.5-litre naturally aspirated engine that puts out 115 bhp and 144 Nm and comes mated to a 6-speed manual transmission. The second option is the 1.4-litre turbocharged petrol engine that churns 140bhp and can be had with either a 6-speed manual gearbox or a 7-speed DCT.
Toyota Innova Crysta has the most powerful petrol engine with an output of 166 bhp and 245 Nm and comes mated to a 5-speed manual or 6-speed torque converter unit. Hyundai Alcazar also dishes out the powerful performance of 159bhp and 191Nm with its 2.0-litre petrol unit and features both 6-speed MT and 6-speed torque converter units. Maruti XL6 is the weakest performer here but it is the only MPV that features the arrangement of mild-hybrid with lithium-ion battery and integrated starter generator.
Diesel Option
Maruti XL6 is not available with an option of a diesel engine. Both Carens and Alcazar use a 1.5-litre diesel engine that provides an output of 115bhp and 250Nm, the least amount of performance in the lot. Both engines can be had with 6-speed manual and torque converter units.
Mahindra Marazzo also features the 1.5-litre capacity engine though it puts out stronger performance than Korean siblings with its output rated at 121bhp and 300Nm. On the downside, Mahindra comes only with an option of a 6-speed manual gearbox with no auto gearbox on offer. Toyota Innova Crysta is the most powerful with an output of 150 bhp and 360 Nm from its 2.4-liter oil burner and features both 5-speed manual and 6-speed AT gearboxes.