Kia has unveiled further details of the interiors of the EV3 and EV4 concept vehicles and the game-changing eco-friendly materials and methodologies used to create them, which will play an essential role in the brand's transition to a sustainable mobility solutions provider.
When creating the interior of the Kia Concept EV3, Kia's CMF (Color, Materials, Finish) design team took inspiration from the element of Air with optimum use of light and transparency throughout the cabin. As with the Kia Concept EV4, the Kia CMF team also utilized an array of innovative sustainable materials that reduce the vehicles' environmental impact, provide greater design freedom, and afford unprecedented levels of color choice and trim finish.
For the Concept EV3, the Kia CMF team deployed natural – as opposed to carbon – fiber structures to deliver a lightweight, slimmer seat design. The exceptionally strong, sustainable fiber weave enables more elegant, modern aesthetics, complemented by soothing natural tones. For the seat covers, the CMF team applied 3D Knit technology. This process not only results in a visually stunning 3D effect with an exceptionally soft surface but also delivers class-leading efficiency with reduced stitching and joins, plus zero waste material.
The material Kia chose for the inside of the Concept EV3's console table was not manufactured – it was grown, as Marília Biill, Head of CMF Design at Kia, explains. "Mycelium, which comes from mushroom roots, combines excellent strength with an extremely soft surface. Developing grown materials, a process referred to as bio fabrication, is a major goal for Kia.
"Using Mycelium enables us to mimic the processes we see in nature and leverage it to design more sustainable solutions – the material can be grown in any shape you want using a mold. The use of Mycelium is still at a very early stage, and, as part of Kia's Sustainability Strategy, we are working with partners to accelerate development of the material. One day, by growing our own materials, we'll be able to simplify processes, adapt forms and most importantly, be closer to nature in its essence."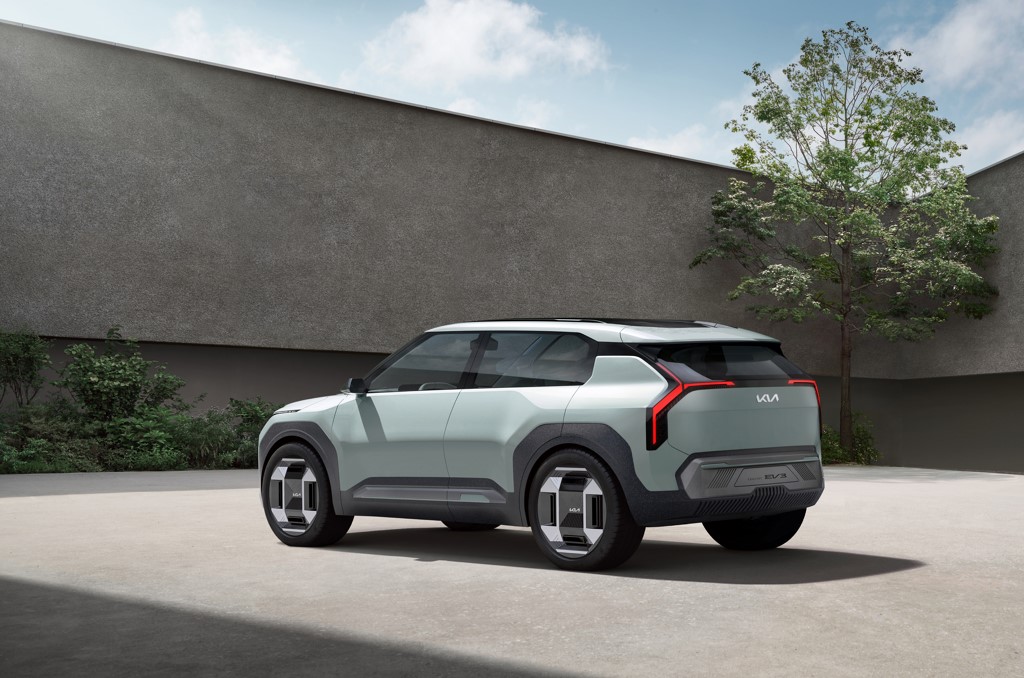 For creating the Concept EV4's cabin, the Kia CMF team took inspiration from the element Earth. By applying natural dyes to 100 per cent recycled cotton, using madder roots and walnut shells, the team can take advantage of a near-endless range of tonalities and hues, courtesy of nature.
Determined to give the Concept EV4 cabin an ambience of sheer uniqueness and exceptional quality, Kia wove fabric stripes by hand and applied them to the car's storage area and dashboard. This handcrafted approach creates a 3D effect as stunning and as beautiful in execution as the 3D Knit finish used in the Concept EV3 seat covers.
To elevate the aesthetic appeal and functionality of the Concept EV4's console table, Kia's CMF designers turned to hemp fibers. "Hemp is a rapidly growing plant that requires minimal resources to cultivate," explains Marília Biill. "Not only is it highly sustainable, but it's also highly moldable too, which means it is a very versatile material to work with, plus it enhances the EV concept's cabin with its beautiful rich color."
While many of the materials and methodologies utilized in the EV3 and EV4 concept vehicles showcase solutions Kia is investigating to implement at scale in the future, the brand has a long history of integrating sustainable materials into its products, starting with the use of bioplastic and sugar cane bio fiber in the 2014 Soul EV.
Earlier this year, with the launch of the EV9 flagship electric SUV in March, Kia further escalated its commitment to minimize its impact on the environment when producing vehicles with the introduction of 10 must-have sustainable items for all new Kia model lines.
Kia's 10 must-have sustainable items include bioplastic. Produced from biomass sources such as vegetable oils, corn extract, sawdust and sugarcane, bioplastic is used in vehicle components such as dashboards, consoles, pillars, and trim. Kia identified Bio Polyurethane (PU) as an optimal leather replacement, as the material incorporates plant-based components and provides exemplary support, cushioning, and durability. Vehicle carpets can be created from 100 per cent recycled PET, and Kia offers the option of a proportion of this material being sourced from recycled fishing nets.
Kia's EV strategy: Expanding EV line-up and charging infrastructure to make EVs more accessible to customers
Kia announced its plan to develop a wide-ranging EV line-up priced from $30,000 to $80,000, featuring existing models such as the EV6 and EV9, as well as future offerings tailored for the popular B- and C-segments. The brand aims to introduce smaller EVs like the EV5, EV4, and EV3, with prices ranging from $35,000 to $50,000, to accelerate the widespread adoption of EVs.
In emerging markets with slower EV adoption rates, the initial launch will focus on the EV6 and EV9, with subsequent releases of strategic models including the EV5, EV4, and EV3. This approach aims to diversify product offerings and cater to various customer preferences.
Efforts are underway to establish a reliable system for EV production and battery supply, with the brand's goal of expanding its global EV production facilities to a total of eight by 2025. These facilities will encompass research, development, production, and supply, with Korea serving as the central hub. In Europe, it will focus on the production of small and medium-sized EVs, while in China, the emphasis will be on mid to large-sized EVs. Strategically designed EV models tailored for emerging markets will be produced in India. Kia also plans to introduce a diverse range of EV models in North America, in response to the Inflation Reduction Act (IRA).
Furthermore, the brand is actively establishing battery joint ventures to ensure a stable global battery supply system in sync with its global EV production network.
Kia EV model line-up: A rapidly expanding comprehensive range of models to meet diverse customer needs
Each EV model plays a key strategic role in accelerating the EV transition by expanding the appeal and democratization of EV models to an ever-broadening customer demographic.
While each model is created uniquely to meet specific and diverse customer needs, they share common elements such as the brand's cutting-edge electric platform technology, the innovative 'Opposites United' design philosophy, and the brand's sustainable color, material, and finish (CMF) strategy. The latter entails incorporating sustainability at scale through action, such as using ten must-have sustainable items in the construction of each model, including bio plastic, bio paint and recycled PET or fishing net carpet.
The Kia EV5 SUV: Designed and engineered to meet the needs and desires of millennial families
The Kia EV5, the third dedicated BEV in its line-up, is built on the brand's dedicated EV platform, E-GMP. It introduces a new era of electric mobility and distinctive SUV design. Featuring a form shaped by the brand's unique design philosophy 'Opposites United', it combines exceptional versatility and outstanding comfort with advanced technology, dynamic performance, and pioneering safety to deliver a harmoniously balanced vehicle.
The EV5 features an interior that completely reimagines the vehicle's interior space. Drawing additional inspiration from the recently launched larger EV9 SUV, it offers an extensive interior space that is closer in concept and execution to a home lounge than a traditional car cabin.
Electric Powertrain and Driving Experience
The EV5 will be offered the company's dedicated EV platform, E-GMP, providing a solid foundation for the vehicle's performance and contributing to its excellent overall driving dynamics.
Production of the EV5 will take place in both China and Korea, and the Chinese market will have access to three variations: standard, long-range, and long-range AWD.
The standard model, equipped with a 64kWh battery pack and a 160kW motor, is expected to have a driving range of 530km per charge according to the Combined Charging and Load Cycle (CLTC) standards. The long-range model, featuring an 88kWh battery and the same 160kW motor, aims to achieve a range of 720km per charge. The long-range AWD model will feature an 88kWh battery pack and a combined output of 230kW, with a front-wheel 160kW motor and a rear-wheel 70kW motor. With AWD model, Kia is targeting a driving range of 650km based on the CLTC standards. Additionally, the model offers fast-charging capability, allowing the battery to be charged from 30% to 80% capacity in just 27 minutes.
For Korea, all variants of the EV5 models, including standard, long-range, and long-range AWD versions, are in development, with potential adjustments being considered. The standard model will have a 58kWh battery and a 160kW front motor. The long-range model will feature an 81kWh battery and the same 160kW front motor. The long-range AWD model will include an extra 70kW rear motor, resulting in a combined power output of up to 225kW. The driving range of each model will be tailored to meet market demands.
The EV5 battery has been engineered to function effectively throughout all four seasons, even in extreme hot and cold weather. An advanced heat pump system, an already popular feature of the EV6, has been incorporated into the EV5 to manage the battery's temperature, ensuring consistent performance regardless of external conditions.
It will offer regenerative braking system and an i-Pedal system that allows drivers to both slow down and accelerate using a single pedal, thereby minimizing fatigue, and enhancing the comfort of driving.