Locally Produced Mercedes-Benz GLC SUV India doesn't get the price down by much, but lowers waiting period of the SUV
Mercedes-Benz as we all know is on a roll. With products lineup every single month for an entire year, there is always something to be expected from the brand. Today, the GLC is the news. The manufacturer did launch the car some time back but this time there is more news that delights the pocket. Since four months of its launch. The Mercedes-Benz GLC luxury SUV has become one of the bestselling models for the company in India today.
Mercedes-Benz India, all this time, was importing the SUV as Completely Built Units (CBU). The pricing was higher than expected. Mercedes had promised locally assembly of the SUV very soon. Today, that day has come. Mercedes has started assembling the GLC at its Chakan Plant, in Pune. Locally Produced Mercedes-Benz GLC SUV will not just help the German manufacturer meet demand sooner. However, it will also help reduce the price of the Mercedes-Benz GLC, which is a main criteria. The Locally Produced Mercedes-Benz GLC SUV now attracts huge taxes and duties concessions.
Locally Produced Mercedes-Benz GLC SUV will be available in both petrol and diesel engine options. The engines are mated to an all new 9-speed automatic transmission. The GLC 300 comes with a 2.0 litre petrol engine, which can slash out 245 PS and 370 Nm. The diesel GLC 220 on other hand is above the 2.0 litre mark and is a 2143cc unit that is good for 170 PS and 400 Nm.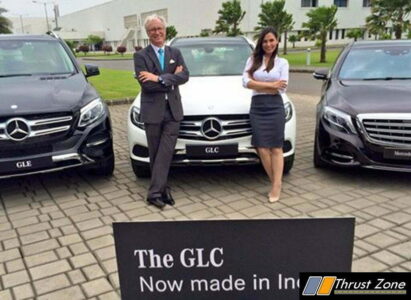 The imported GLC was priced at Rs 50.7 lakhs for petrol variant. Meanwhile the diesel engine on the other hand was priced at Rs 50.9 lakh (ex-showroom, Pune). However, with the Locally Produced Mercedes-Benz GLC SUV the petrol for unknown reasons see's a price increase as it it priced at Rs 51.90 lakh for petrol. However, diesel comes down by a good margin and is priced at Rs 47.90 lakh. Both prices are ex-showroom, Delhi.
Locally Produced Mercedes-Benz GLC SUV is positioned in between the smaller the Mercedes-Benz GLA, and above it is the E-Class based Mercedes-Benz GLE. The C-Class based GLC fits in between and already has competition from the likes of the Audi Q5 and BMW X3 and upcoming Volvo XC60.
Locally Produced Mercedes-Benz GLC SUV Prices
GLC 220d Style: Rs 47.9 lakhs
GLC 220d Sport: Rs 51.5 lakhs
GLC 300 Sport: Rs 51.9 lakhs