Volkswagen ID Concept Unveiled At Paris Motor Show will help VW cut down emission significantly and boost image post diesel scam
Volkswagen is embarking on its journey to the future of electric vehicles at the Paris Motor Show with the world premiere of the I.D. The car is a highly automated electric car that will cover a distance of 400 to 600 kilometers on a single battery charge. Volkswagen is looking even further ahead with this concept car: in "I.D. Pilot" mode, the electric car is capable of fully automated driving. However, that technology should be ready for series production in 2025. The latest generation of the e-Golf for example, with a zero-emission has a range of up to 300 kilometres. Volkswagen Tiguan, which has launched the digitisation of the car interior with its Active Info Display and head-up display. We thus see the same on the I.D. concept car.
The production version of the I.D. is set for a launch in 2020. The price will be on par with comparably powerful and well-equipped Golf. Volkswagen has also set itself the goal of selling a million electric cars. The year 2025 is the production version of the I.D. which will help make a decisive and its contribution towards the electric stable will help in the ramp-up of e-cars from VW.
The factors that will change everything about mobility with its innovative design language. When it comes to the interior, too. The spaciousness and the intuitive, clear functionality will allow to see mobility in a completely new way. Volkswagen aims Smart Sustainability as it is advancing the development of innovative high-volume production of electric cars. Key area will be Automated Driving is going to make things safer and more comfortable.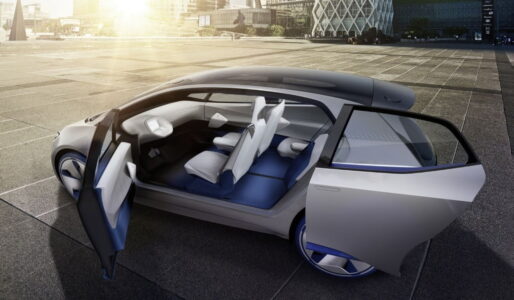 ID concept has a long wheelbase with very short overhangs. The front end structure in addition, adds to the highest level of safety. This enables a high front wheel steering angle and thus a sensationally tight turning circle of just 9.9 meters. The flat lithium-ion battery integrated in the floor, which lowers the vehicle's centre of gravity and thus resulting in 50-50 weight distribution. Suspension set will include a multi-link rear axle with an integrated drive unit and decoupled subframe.
This axle layout makes for optimum driving dynamics and better NVH. There will be new options which will be intuitive to operate and feature new display and control. I.D. is Volkswagen's first compact concept car based on the new MEB vehicle architecture. MEB standsfor "Modularer Elektrifizierungsbaukasten" ("Modular Electric Drive Kit")