In order to make its presence felt in the electric vehicle category, Mahindra & Mahindra has got some ambitious plans up its sleeve. The Indian automaker is looking to launch eight new electric vehicles in the Indian market by 2027. These vehicles will include four new SUVs along with the same number of derivatives from the existing product line of the company.
Also, Mahindra is planning to come up with three new SUVs that will be unveiled in their concept form in the upcoming month of July 2022. These vehicles are designed by the Mahindra Advanced Design Europe Division of the company that is currently being led by Pratap Bose.
In the run-up to the launch of these vehicles, Mahindra has now teased prospective buyers with interiors of its upcoming Born electric SUV concept. The overall theme of the concept is quite sporty with dual-tone red and black stitching taking the centre stage in the teaser.
The interiors of the SUV are leagues ahead and nothing like anything that we have seen in the electric SUVs so far – the steering wheel is uniquely designed and this coupled with the setup of dual-screen (as witnessed on the XUV 7OO) add to the overall appeal of the concept. Further, one can't miss the fancy lever and the central console-mounted rotary knob on the SUV.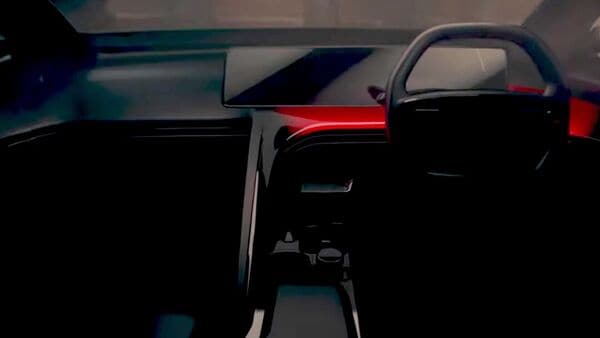 The exteriors of all upcoming electric SUVs will be different – aerodynamic panels, couple-like roof profiles, and C-shaped LED DRLs. All these vehicles will feature advanced connected car technology and expect Mahindra to offer advanced driver assistance system (ADAS) as part of the overall package in all these vehicles.
Just so you know ADAS offers a number of conveniences to the driver including the automatic emergency braking system, front collision warning, adaptive cruise control, lane departure warning, and traffic signal recognition among others.
According to the reports, the upcoming electric SUV line-up from the house of Mahindra will include the XUV 9OO coupe, eXUV7OO, and eXUV3OO among others. The testing of the eXUV3OO has already been started and it is expected to make its market debut sometime next year. The production version of the SUV is expected to be called XUV4OO and it is likely to get two battery pack options as a part of the package – 350V and 380V.