Mahindra Electric Automobiles today unveiled a powerful and distinctive new visual identity for its forthcoming range of Born Electric Vehicles.
https://youtu.be/Slq54C-sEac
Revealed at the Mahindra Futurescape in Cape Town, South Africa – a showcase of Mahindra's Go Global vision in Auto and Farm – the new visual identity was introduced for the first time on the 'Vision Thar.e'. Along with the unveiling of the new visual identity, Mahindra also launched an inspiring brand anthem and sonic identity. These were masterfully conceived in collaboration with music maestro and Padma Bhushan and Padma Shri recipient, AR Rahman, winner of Oscar, National Films, Academy Awards, Grammies, BAFTA, Golden Globe to name a few.
The new visual identity serves as a hallmark of quality and innovation for customers opting for electric vehicles. It symbolizes a blend of revolutionary engineering, cutting-edge technology, and environmental responsibility, offering a distinct and appealing option for those driven towards a sustainable future. It encapsulates Mahindra's ambition to lead in the electric vehicle revolution, providing a clear and unique value proposition for modern, eco-conscious consumers.
Different Dimensions of the New Visual Identity:
· The infinity symbol – represents the constant flow of energy, the fluid synergy of the driver and the SUV in multisensory harmony.
· The racetrack – highlights the racing pedigree imprinted in Mahindra's DNA and the pursuit of exhilarating electrified performance.
· The circularity of intelligent sustainability – powered equally by science and creativity towards a positive planet.
· The Mahindra 'M' – rock-solid heritage reimagined for next-generation mobility.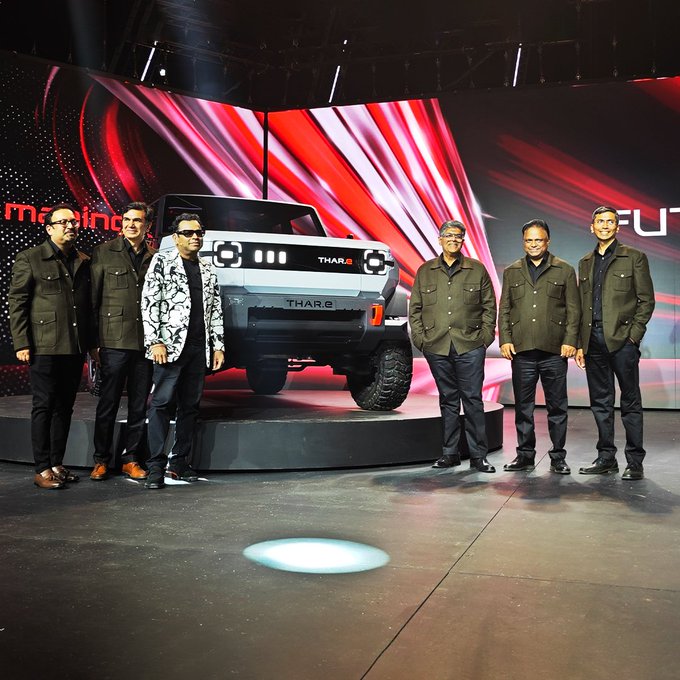 Mahindra Electric Partners With Harman And Dolby For EV Sounds
The Brand Anthem:
Conceived in collaboration with music maestro AR Rahman, the Brand Anthem emphasizes the profound connection between music and the human experience. It defines the very concept of a "Chalaang" that symbolizes the spirit of Rise. With lyrics by Anvita Dutt Guptan (Hindi) and Kavingar Snehan (Tamil), the music is composed by AR Rahman, and sung by multiple award-winning artists, the Brand Anthem called "Le Chalaang", represents the leap towards unleashing an electrifying future through a timeless exploration of new possibilities.
· Lyrics: Anvita Dutt Guptan (Hindi), Kavingar Snehan(Tamil)
· Music: A. R. Rahman
· Singers: Alexandra Joy, Simran, Ria (Hindi), Alexandra Joy and Rakshita Suresh (Tamil)
· Anthem name: Chalang