AMT cars are taking the market by storm. Manufacturers are using it to make automatic cars, the most demanded transmission in the world, more affordable. AMT are essential manual clutch pedal removed and replaced with a brain that is run by a computer. They are essentially manual gearboxes with an automatic clutch which is the sole problem while driving in today's traffic situation, something that can be much worse in bumper to bumper of metro cities in India.
Mahindra, Maruti, Tata and Hyundai have all offered in various that exist or have come and gone. Mahindra tried its hand first with the TUV 300 AMT but didn't go really well. The AMT on the XUV 300 is an all new unit and comes from a different manufacturer all together and is also built with a local tech from Mahindra also. Mahindra is now offering the AMT XUV 300 diesel in two trims which is the W8 and W8 (o) and W6 as well very recently. The W8 (o) is what we drove comes with all the bells and whistles from the manual version and nothing has been skipped.
The five key highlights such as leather seats, steering modes, sunroof, front parking sensors, heated mirrors are distinct to Mahindra XUV 300 continue to be offered. Rest of the list is the same as before. 7 Airbags, dials that change color, climate control, rear parking sensors with reversing camera, Apple Car play and Android Auto are on offer with even more features on the list when it comes to the top-end variant that we drove. It was reassuring to see all these features in the AMT version because manufacturer end up skipping on offer top-end variants with automatics.
Mahindra is being proud of offering so many features and an automatic gearbox and further increasing the price tag of the compact SUV which is already priced high, but not devoid of value. Exterior also continue to be identical as before and its large dimension and foot print on offer with LED treatment of lights and 17-inch wheels ruling the show.
However, most importantly after this small brief about interior and exterior, its time to know how it drives. The XUV 300 diesel AMT is the same engine as the manual counterpart. The 1.5 diesel make 115 PS of power and 300 Nm of torque, these numbers are the highest in its class. 6-speed AMT is on offer. The shifting at part throttle is brilliant and since the engine is good on NVH and smoothness in terms of revving freely and quickly, the progress is also quick enough. The longer you accelerate it will take time to shift up.
At part throttle it shifts around 2000 RPM, keep the revs building and it will shift at 3000 RPM. This is a great features to climb a gradient with luggage and passengers. Even if you are in a hurry to clock 70 km/hr from a stand still and begin cruising in the city, first three gears are felt a bit, but the other three gears change so smoothly, that you barely realize them and you continue to built speed as well and reach 90-100 km/hr.
There is a manual mode but there is no sports or parking mode as always with any AMT. All of this means and it does translate into good highway behavior that we found out. It can cruise at high speeds and reach there quickly and the gearbox as we said shifts quickly and smoothly after the first three gears. We would say this AMT does a great job for now and is good enough for every day duties. With a mileage of a constant 15 km/l in the city, it is quite impressive.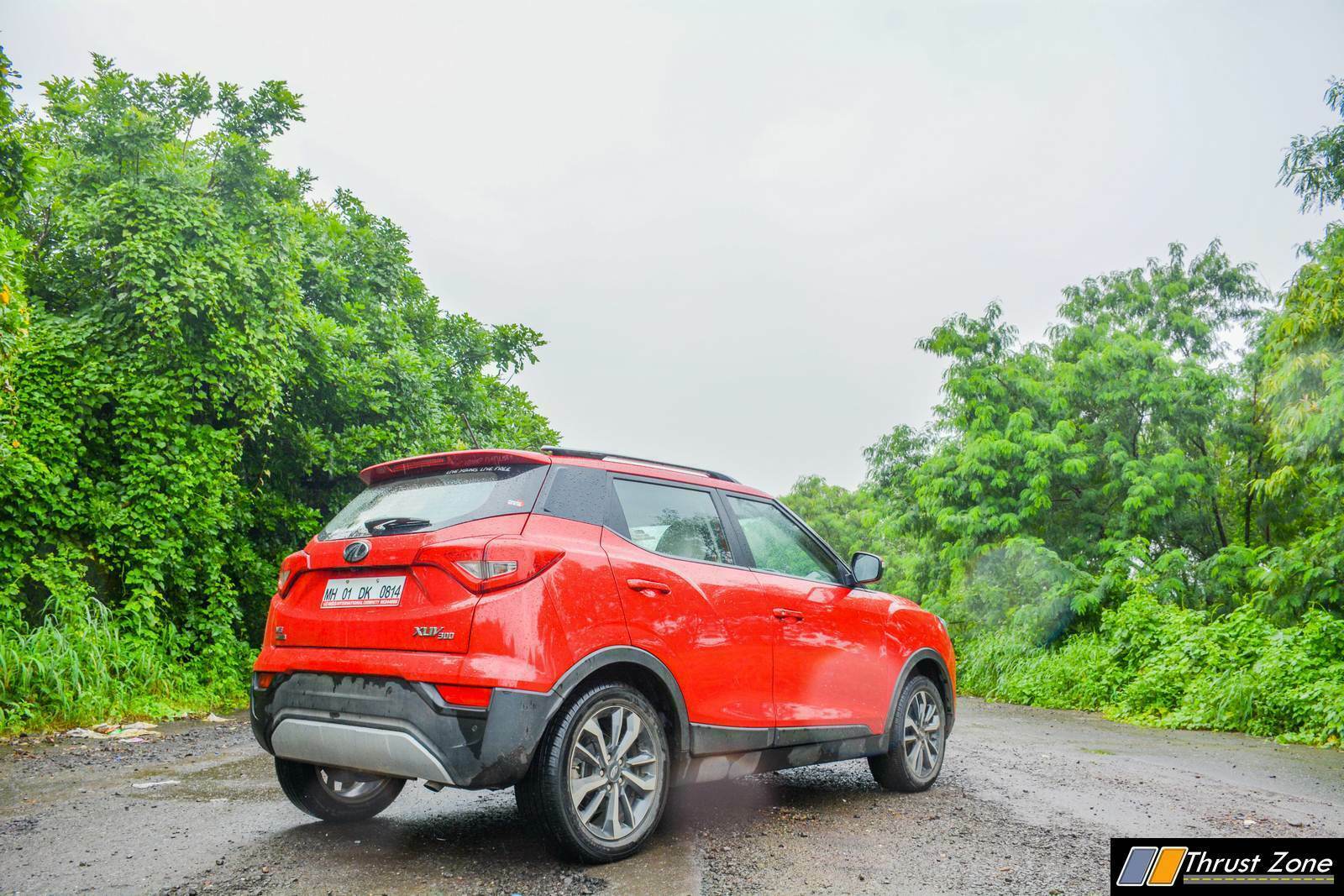 Priced at 12.69 lakhs ex-showroom Pan India. We think it continues to be just about enough value for money considering the plus size feature list that the XUV 300 offers over all its rivals. The massive foot print, high on performance and practical nature along with good driving dynamics makes the XUV 300 diesel AMT a good package in a market where a competition is intense. Mahindra clearly has more on offer this time. Almost no compromise, best premium compact SUV with a diesel AMT required? XUV 300 is the best choice in its class.