Mahindra & Mahindra Ltd., today took the wraps off the all-new XUV700 (pronounced as XUV, 7 double 'Oh'), marking a brand-new era for the company. Fittingly launched just hours ahead of the country's 75th Independence Day, the XUV700 represents India's rise as a confident, bold, global powerhouse that is set to take a leadership role on the world stage. The XUV700 comes with unmissable crafted looks, pleasing interiors and exceptional ride comfort. Bookings will begin before the festive season. The XUV700 will come in variants that include diesel and gasoline, manual and automatic options and with 5 and 7-Seater capacity. It will also be available in an optional All-Wheel-Drive (AWD) spec.
Speaking about Mahindra SUV focus and the unveil of XUV700, Dr. Anish Shah, MD & CEO, M&M Ltd. said, "It is sheer passion that drives our people to create advanced, adventure-ready vehicles, with an unmissable presence. We are ready to lead the core SUV segment with nine new exciting SUVs planned for launch by 2026. And our most ambitious addition, the XUV700, is throbbing and pulsating with technology, power and intelligence to let people explore the impossible."
Rajesh Jejurikar, Executive Director, Auto & Farm Sectors, M&M Ltd, said, "Every once in a while, an automobile comes to change the future course of its manufacturer and in the process, it transforms the segment itself. The XUV700 marks the beginning of a whole new Mahindra and a new era and for the SUV segment in India. We have raised the bar on best-in-class features, technology and design. Our customers are in for a longstanding treat with the innovative new XUV700."
Variants and Top features
There is an XUV700 for everyone who seeks a rush with the widest range of offerings you will find in the segment.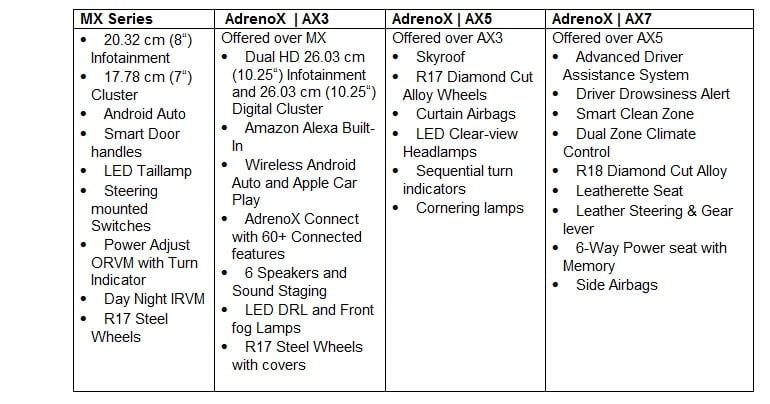 Here are some salient features available in select variants and some features will vary by variants.
The sensuous and sophisticated exterior of the XUV700 presents an extremely aerodynamic design for an SUV.
· The authentic SUV stance and the wide track hints at performance ably supported by the overall vehicle dynamics.
· Similarly, the large grille is meant to send as much air to cool the engine while paying homage to classic XUV family cues.
· When you are in the business of cheating the airflow, conventional door handles had to give way to invisible 'Smart door handles', a first-in-segment by XUV700.
· Prominent wheel haunches above the arches, especially at the rear help achieve a sporty stance, making the XUV700 look fast even while standing still.
The all-independent suspension set up of the XUV700 was developed with varied road surfaces in mind.
· The front suspension is made up of McPherson strut with FSD (Frequency Selective Damping) technology and stabiliser bar
· The Rear suspension is a multi-link system with FSD and stabilizer-bar.
· While superior ride comfort is guaranteed, it also provides unparalleled dynamic capabilities in tune with the performance on offer.
· The XUV 700 also comes with an AWD variant that instils further confidence to tackle tough terrain and difficult weather conditions.
The XUV700 interior is all about achieving harmony through contrast. So, it is not a surprise that you will find buffed chrome co-exist with polished black surfaces. Yet, you can't miss the sophistication thanks to the seamless twin 10.25-inch floating displays screen that replaces the conventional Cluster with binnacles.
Light shades of upholstery and the Panoramic Skyroof makes the interior feel spacious and calm. Seats are engineered to provide supreme comfort over short and long distances. Superior surfaces and textures lend the XUV700 an inimitably luxurious ambience. State of art Smart Filter Technology (VR-LED) ensures clear and pure air for the occupant eliminating odour, dust, micro-allergens, and pathogens.
The XUV700 will be available in Gasoline as well as all Aluminium Diesel engines with New Generation 6-speed Manual and Automatic Transmission options. The powerful 2 litre Turbo GDi mStallion Engine (Gasoline) spools out 380 Nm of Torque between 1750 and 3000 rpm and develops 200 PS at 5000 rpm. This engine provides refined motoring and linear power delivery. The 2.2 litre Commonrail Turbo Diesel mHawk Engine is known for its torque and is available in two tunes – a 185 PS version with 420 Nm (manual)/ 450 Nm (Automatic) and a 155 PS variant with 360 Nm (Manual Transmission).
Select diesel option also comes with four drive modes (Zip, Zap, Zoom) & a Custom mode to alter performance as well as steering sensitivity on demand.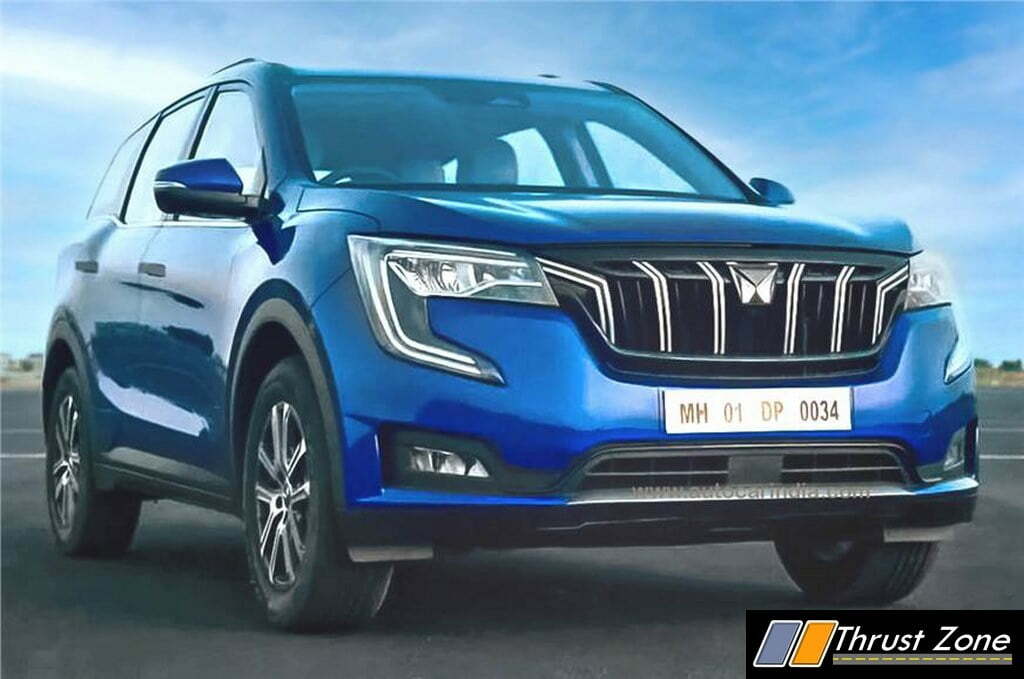 World Class Safety
Safety is one of the core pillars of the XUV700 experience, it incorporates many pathbreaking safety features.
· The XUV700 comes equipped with ADAS (Advanced Driver Assistance Systems) which includes, Forward Collision Warning, Autonomous Emergency Brakes Using both camera and radar FCW will warn of a possible collision and if you don't react the AEB system is designed to automatically apply the brakes. ADAS system also features: Lane Departure Warning, Lane Keep Assist, Adaptive cruise Control, Smart Pilot Assist, Traffic Sign Recognition and High Beam Assist.
· Apart from that the XUV700 comes with Driver Drowsiness Detection which nudges the driver in case he is feeling drowsy.
· The Auto Booster Headlamp switches on automatically when the vehicle exceeds 80km/h at night and auto high beam assist at disable mode, increasing visibility and therefore making the driving experience safer.
· Another unique function in the XUV700 is the Personalised Safety Alert which alerts the driver if he exceeds a set speed. It can be programmed to sound out in the voice of a loved one.
· The XUV700 comes with 7 airbags which includes curtain airbags (extending up to 3rd row occupants), driver knee airbags, driver side airbag and passenger side airbag keeping up with its safety promise, in addition to standard dual frontal airbags. Apart from that XUV700 comes with driver seat-belt lap pre-tensioner in addition to standard seat-belt retractor pre-tensioner for driver and co-driver. Anti-lock braking system (ABS) with electronic brake distribution (EBD) is also standard.
· The XUV700 crashworthy structure is designed to protect occupant in case of collisions. Additionally, XUV700 equipped with frontal and side crash sensors for robust airbag deployment.
Sci-fi technology for seamless, immersive, connected experience
The XUV700, the first of a new generation of SUVs from Mahindra that will build upon the legacy laid down by iconic cars like the XUV500, comes packed with a whole lot of segment-firsts, like the AdrenoX technology platform that underpins its immersive sci-fi experience.
· AdrenoX, an innovative cockpit technology for a cutting-edge driving experience with 60+ connect apps and several built-in apps.
· An outcome of a global collaboration between Mahindra, Visteon, Bosch, Sony and Amazon. AdrenoX is the result of three years of development that brings to life an SUV engineered for excellence and an intelligent hi-tech driving experience.
· The gateway to this impressive line-up of world-class experiences is through an integrated 10.25-inch dual screens and SmartCore™ The cockpit domain controller software architecture is built with multiple operating systems – Android, QNX and the controller is a 3rd Generation Qualcomm® Snapdragon™ Automotive Cockpit Platforms developed in collaboration with Visteon.
· Under AdrenoX, Mahindra and Amazon have teamed up to deliver India's first vehicle with Built-in Alexa functionality enabling hands-free access to entertainment, information, and vehicle controls. Alexa voice assistant supports in vehicle controls even in an offline mode.
· AdrenoX will also bring an Immersive Audio Experience to its customers adopting 3D Sound Technology by Sony.
The interiors and its features vary depending on the variant.
Note: Optional packs will be announced at a later date and will include features like Immersive 3D Sound by Sony, electrically-deployed Smart Door Handles, 360 Surround View, Blind View Monitoring, Electronic Park Brake and Wireless Charging.
Pricing details (ex-showroom) below for select variants. For the rest of the variants the prices will be announced soon.
MX Series
MX Gasoline ₹ 11.99 Lakh
MX Diesel ₹ 12.49 Lakh
AdrenoX
AX3 Gasoline ₹ 13.99 Lakh
AX5 Gasoline ₹ 14.99 Lakh
Above prices are for 5 -seater manual transmission